Travelling from Holy Island in Northumberland to Jerusalem. What an adventure!
That's what I thought when I got a call from Simon Reeve to join him on his latest travels for Pilgrimage With Simon Reeve.
What drove our ancestors to take on these epic journeys?
No doubt some of our intrepid ancestors would been just as excited by the thought of the adventure as well. Although we've got it easy today compared with them.
Pilgrims of the past had to travel by foot, on horseback or by boat on perilous sea crossings. All the while they had to avoid robbers, disease, hunger and exhaustion.
Health and safety guidelines wouldn't allow us to give Simon a taste of all these things but as a traveller himself he had always wanted to retrace the footsteps of our pilgrim ancestors.
Working with Simon was great fun. He's happy to throw himself into any situation and has that adventurer spirit which is shared by pilgrims of the past and present.
Neither of us are religious and I think when we set off on this journey, across the mud flats to Lindisfarne, we weren't sure what to expect or what we'd find.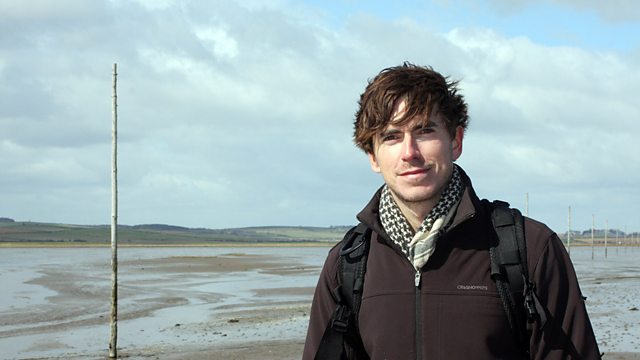 Simon Reeve follows a line of posts marking out the Pilgrims' Crossing at low tide
It's raw nature out in the North Sea and we experienced some of the harshest filming conditions on the entire shoot, strong winds being the biggest factor and especially challenging for a sound recordist.
We had hoped to catch a lift with some local fishermen back to the mainland but the conditions made it too dangerous. Mind you looking through a camera while bobbing around isn't much fun.
The stunning beauty of Lindisfarne and that entire stretch of coastline more than makes up for its harsh climate.
No wonder our ancestors chose this spot to be closer to God.
Making a travel documentary means that you're constantly on the move. Just when you're settling in to one place, you're off to the next.
With long car, train and plane journeys the crew gets to know each other pretty well. For me that's one of the best things about being on the road but I draw the line at playing 'I spy'.
My colleague Damian O'Mahony took over directing the next leg of the journey to Rome but I joined up with Simon in Istanbul to film the final leg to Jerusalem.
I would recommend this journey to anyone, religious or not. So much of our own history and culture comes from this part of the world.
A particular highlight for me was meeting a group of Greek Orthodox monks at the Mar Saba monastery in the West Bank.
The Mar Saba monastery is built directly into the side of a mountain deep in the desert
Very few film crews are allowed inside and although we managed to get beyond the front gates we were unable to show you the extraordinary 1500-year-old chapel adorned with hundreds of skulls of monks, martyred in holy wars.
Behind a thick curtain we were shown another dark room packed with bones on which was placed more skulls.
We were then taken to the main chapel where we saw the partially preserved body of St Sabbas, a devout Christian who founded the monastery in the middle of the desert.
Although macabre it was actually very moving and although I would have loved to have shown you these sights, perhaps in hindsight some places are better left as sacred.
And so we finally made it to Jerusalem, but not with the blisters that have accompanied so many pilgrims who made it this far over the centuries.
It's an amazing place to film and a dream for directors. Lots of atmospheric, narrow streets with pilgrims from the major Abrahamic faiths all making their way to their sacred sites.
If like me you're a bit of a people watcher, then Jerusalem is a great place to be.
Our final destination here was the Church of the Holy Sepulchre.
On arrival priests scurried us into the sepulchre itself, allowing us just a few precious minutes to get the shots we needed while other visitors waited for their turn.
It suddenly dawned on me that I was standing on the spot where Christians believe Jesus rose from the dead.
If the camera is a bit wobbly at this point it's because it's hard not to feel an enormous sense of awe at the significance of this spot. Fortunately Simon held his nerve better than me.
Chris Mitchell produced and directed episode one and episode three of Pilgrimage With Simon Reeve.
Pilgrimage With Simon Reeve is on Tuesday, 3 December at 9pm on BBC Two and BBC Two HD, and 11.20pm on BBC Two Scotland. For further programme times please see the episode guide.
More on Pilgrimage With Simon Reeve
BBC: Watch an interview with Simon Reeve 
BBC News: The man who carries a 25kg cross everywhere
The Telegraph: Simon Reeve: A pilgrim's progress
The Daily Mail: Simon Reeve reveals how he was moved to tears making a series on ancient pilgrims
Comments made by writers on the BBC TV blog are their own opinions and not necessarily those of the BBC.