Rev. - Directing the second series
As the director of Rev. it's hugely exciting to see the second series go on air even though I am still very busy finishing the last couple of episodes.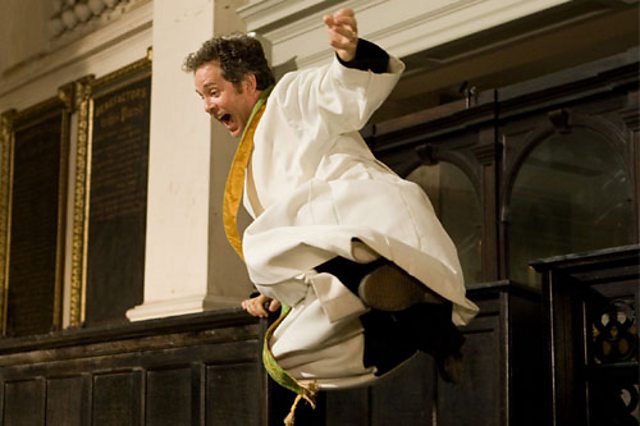 Rev. Adam Smallbone (Tom Hollander) jumps over a pew
I watched episode one of series two on two TVs at home to get a sense of how all our painstaking attention to detail sounded and looked on domestic screens.
It seems like a long time ago (over two years actually) since I first read an early draft of the first ever Rev. episode.
I really connected with the script - as a parent with kids at a London Church of England school, I was drawn to the 'on your knees avoid the fees' story alongside a discussion of the miraculous beauty of a snail's shell.
The potential of gritty inner city life slammed up against discussions of faith and spirituality felt like a very potent and contemporary mix to me.
Moving on to series two has been a mix of fun and worry.
Many decisions have already been made on series one - the key locations, core cast and tone of the show has been set.
But there is the 'difficult second album' pressure to live up to the acclaim and awards of series one.
The main challenge in developing the new series was deciding what to change and what not to.
Episode two introduces the new curate, Abigail
It's important for the show and the characters to evolve and to offer fresh stories, but not to change the essence of the show created in series one. (See the above clip.)
The atmosphere on set was far more relaxed and fun this time around, with actors really settled into their characters.
In episode two we had the challenge of filming wild animals for the crack squirrel sequence.
Our crew waited for hours during the main shoot in a local park but had no luck. So we managed to stretch our budget and find the money for a dedicated squirrel filming unit to go out a few weeks after the shoot finished.
Our location manager had spotted some good mangy-looking squirrels near one of our locations and we returned stealthily, set up our camera, laid out mixed nuts and waited.
Eventually several squirrels emerged and we got our shot.
Peter Cattaneo is the director of Rev.
Rev. continues on BBC Two on Thursdays at 9pm.
For further programme times, please visit the upcoming episodes page.
Read a Q&A with Olivia Colman, who plays the vicar's wife Alex in the series.
To read a post by Steve Evets, who plays Colin, please see the BBC Comedy Blog .
Comments made by writers on the BBC TV blog are their own opinions and not necessarily those of the BBC.