I'm the executive producer of Laura Hall: My Battle With Booze. We read about Laura, like so many people, when she hit the headlines earlier this year.
Newspapers named her the "poster girl for binge Britain", while a judge even called her "despicable and rotten".
She'd become an overnight tabloid sensation for the worst possible reason - consistently getting drunk and offensive, mostly directing her drunken anger at the police, while out and about in her home town of Bromsgrove, and beyond.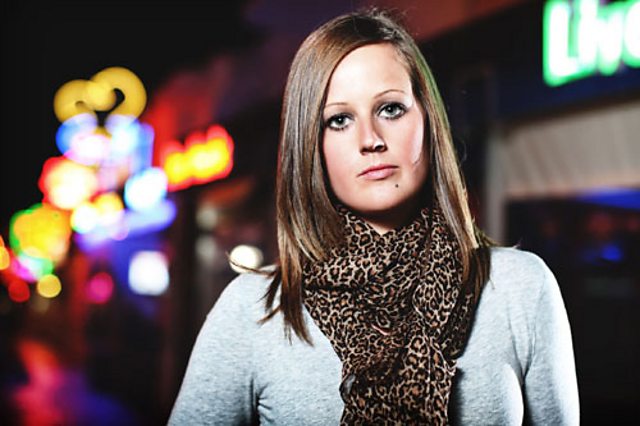 As so often is the case, we thought there might be more to Laura and the stories about her than the papers were saying.
We wanted to take a look at the girl behind the lurid headlines and find out whether there was more to Laura Hall, and reflect the problems that she was going through and drive discussion around them.
We felt that a documentary that did this properly would sit well on BBC Three, a channel that's proving to be a home for popular documentaries with real social purpose.
So we made contact with Laura. And true enough, when we met her, we found that she was articulate and clever, and from a good home.
Danni Davis, the director, struck up a relationship with her and was struck by the fact that Laura had real insight in to the depth of her problem with alcohol.
Laura felt the system had demonised and failed her rather than helped her. She didn't appear to be the epitome of the drunken lout.
We were fully aware she had 39 convictions, from drunk and disorderly to assaulting a constable, plus a range of public order offences - and that she could behave terribly.
But it quickly became clear that here was a girl that was vulnerable and needed help.
A magistrate even asked in court one time where the help was for Laura. Clearly Laura's was a young life that shouldn't be simply written off.
We told Laura that we wanted to film over a period of time to see if she could come good on her promise to stop drinking and go in to rehab.
She'd already sold her story for money in the past but we made it crystal clear that she would not benefit financially from making this documentary.
We told her that we would make a thoughtful film that examined the issues around her behaviour and alcoholism, which tried to show her attempts to stop and that ultimately gave a fair portrait of her.
We were clear that if she behaved badly we would show it, as this is the nature of an observational documentary, but that we would balance it.
However, throughout filming, the welfare of Laura was always of the utmost importance.
Laura saw that a film with the BBC might have the best chance of showing the other side to her. She turned down offers from other parties that had money attached.
We then went to BBC Three, where we knew that the Dangerous Pleasures season was gearing up for its second run.
This strand of documentaries, that already had broadcast films like Nicola Roberts: The Truth About Tanning and Sun, Sex And Holiday Madness, had built up a reputation for filming with young people who live life to the extreme.
These people are then prepared to share their experiences with a wider audience, and be frank about the detrimental effects their choices have on their lives.
Laura, who is very honest, and who wanted to show how destructive a force alcohol was on her life, would be an ideal part of this season.
BBC Three saw the potential in the film. Laura would speak directly to its core audience and give them a clear and stark warning of the dangers of alcohol abuse from a first person perspective, without preaching.
The programme was there to reflect real life and living in modern Britain. We set about making the film and it was a very up and down six months.
At one point we filmed her coming out of 55 hours of custody with nothing but a plastic bag, yet within weeks we saw her take the bold decision to go in to rehab.
We did work closely with Laura despite making her no promises about the shape or content of the film.
We had a thick set of protocols agreed with lawyers and editorial policy that governed our behaviour at all times.
One of the main points for us was that making this film didn't make her difficult life worse.
We took our duty of care to her very seriously and had plans drawn up if she hurt herself or others.
We were always ready to do the most responsible thing and it was clear we'd never incite her to do herself or others harm or break the law.
The film is now finished and I'm glad to say that Laura managed to get rehab therapy, and is now working towards recovering from her addiction.
Although the road has been tough and there has been obstacles to overcome, she's only 21. Her life will be hard from here on in but I hope she stays motivated.
She shows that no matter how bad an addiction seems, you can have the inner strength to fight it - but an addiction can be there for life. So I think our aims and ambitions for the film have come through.
I hope the people watching it will find that there's more to Laura Hall than we think.
I hope the film will also make people think about what more can be done to help people who harm themselves and how society treats young addicts.
Finally, I hope it makes people challenge their own behaviour and treat other people and themselves with more respect.
Meredith Chambers is the executive producer of Laura Hall: My Battle With Booze.
Laura Hall: My Battle With Booze is on BBC Three on Monday, 24 January at 9pm. The programme is part of BBC Three's Dangerous Pleasures season.
Comments made by writers on the BBC TV blog are their own opinions and not necessarily those of the BBC.