Autism, Disco & Me: Jimmy's in the mood for dancing
When I was asked to produce a documentary for BBC Three about how disco dancing has changed 10-year-old James Hobley's life, it seemed like an interesting opportunity to make a potentially quirky documentary about a cute kid who is a great dancer. It had to be a winner.
That initial euphoria was then replaced with anxiety. James - known as Jimmy - has autism. I knew very little about the condition, didn't know anyone living with autism and had no idea of how it would work out, making a film where the central character is only 10 - and autistic.
I rang Sheila, Jimmy's mum, within 10 minutes of being asked to make the film. As the lynchpin of the Hobley family I knew she'd be the key to the success of my relationship with all of them. We had to get on well as I'd be spending the next five months following their lives and I needed them to trust me.
From that first call, Sheila was warm, reassuring and very open. She's a great communicator. Sheila's two other boys, George (Jimmy's twin) and Alex, 16, both have autism too. But it was Jimmy who was the most profoundly autistic, and whose future Sheila feared for the most.
When a leaflet advertising disco classes dropped through their letterbox by chance, Sheila took the twins along, little realising she was embarking on a course that would change Jimmy's life.
Sheila talked about how she and her husband Andy believed that dancing had clicked a switch in Jimmy's head.
She told me that at seven he'd been unable to read and write and lived in a world of his own. Within months of dancing he had started to read and write and had found something he truly enjoyed.
"I think he was always dancing," she said. "He was always dancing in his head but he needed a dance teacher to show him the steps."
My next call was to the National Autistic Society. I wanted some advice on working with a family living with autism and how to make the filming process as easy as possible for them. I also wanted to check out Sheila's assertion that dancing had initiated such profound changes in Jimmy.
The press officer said that they had heard similar stories from other parents but as far as they were aware there had never been any academic studies to show the link between dance, or any other kind of exercise and intellectual development.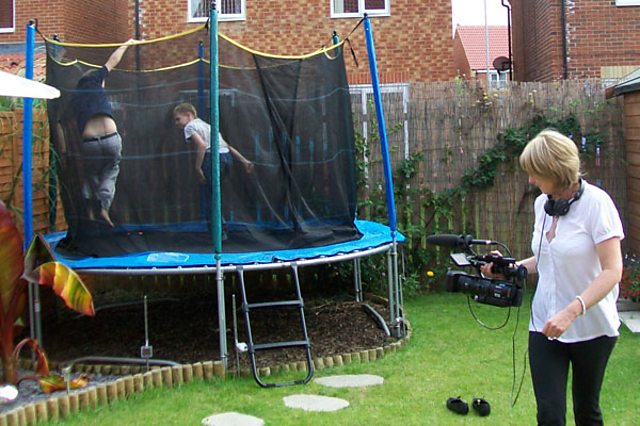 This was disappointing as I was hoping to really explore this theme in the film. My relationship with the family and the story they had to tell was now even more important, as the documentary would solely rely on their personal experiences.
Within days, I travelled to Redcar to meet Sheila, Andy and the boys. Kimi Gill from the National Autistic Society came too, principally, I think, to represent the family's interests.
Once again, Sheila was engaging and it was clear we'd get on. Andy was equally relaxed and let Sheila do most of the talking.
When the boys came in from school, my first impressions were telling. Jimmy leaned against the door frame watching what was happening without saying a word. Alex said hello, then disappeared upstairs not to be seen again. George came bounding into the room talking and full of news about his day.
On the drive back to the station, Kimi told me she thought that Jimmy and Alex were more typical of people with autism: quiet, reserved and finding it hard to make and keep eye contact. George is unusual with his openness, eye contact and huge emotional intelligence.
The next time I met the boys was with my assistant producer, Alan, and Jimmy was a different character altogether - happy, chatty and fine abut being filmed. George was also very keen to appear on camera and to do some filming himself. It was Alex, the older son, who was the most uncertain and reserved. He stayed that way for the rest of our time with the family.
I asked Jimmy to show us some of his warm up routines and we filmed him the first evening with his dance teacher, Anita. It was clear that Jimmy has a real gift for dance.
As he told us: "When I'm on the dance floor I feel free and like I don't actually have a disability, I feel like everybody else."
It was lovely to see the relationship he has with Anita and how well they work together. Over time we saw just how much hard work Jimmy has put into his dance with five disco classes a week, a ballet lesson on Fridays and competitions at least twice a month.
The first insight came when we filmed the large dance class on Saturday morning. The class runs for three hours and is incredibly intense. Those kids are fit and incredibly bendy! It gave us a clue as to the championship levels of dance we might see at the competitions.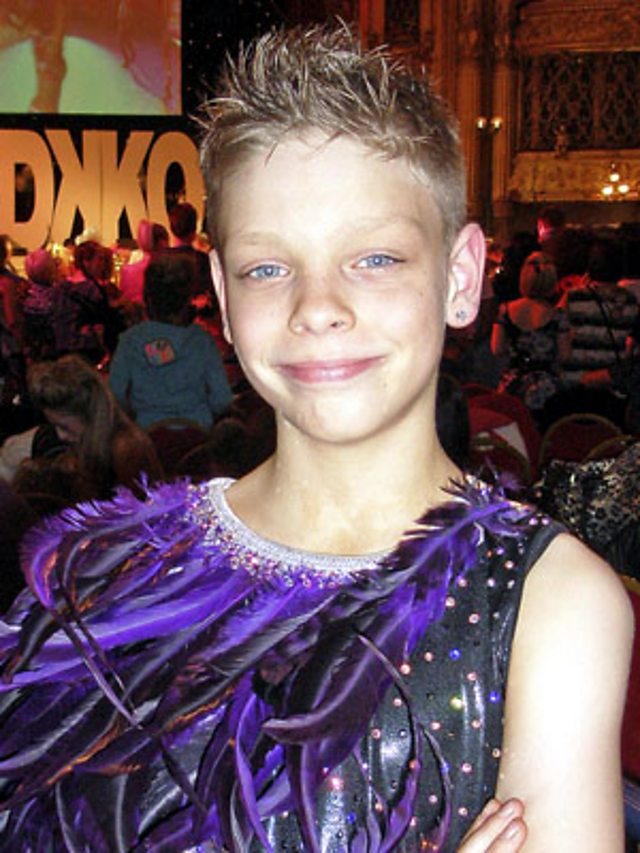 We saw our first dance competition in Gateshead in September, two months after filming had started. The first thing that hits you is the volume - it's so loud we had to lip read - and that goes on for 10 hours or more.
The next shock is the transformation in the dancers from super-fit kids to exotic birds of paradise with amazing costumes, bright orange tans and Las Vegas showgirl make up (seemingly obligatory for all the girls from four to 20). Some of the dancers are incredible.
Jimmy was a star and we thought, with perhaps some bias, that he was fantastic. As he says, he really comes alive on the dance floor, his concentration and memory for routines is amazing.
These competitions do take their toll on the family. The days are long and with no-one to mind him at home, George has to come too. He says he finds it really boring and you can see why - there's lots of hanging about between rounds.
Competitions are also expensive. Costumes can cost upwards of £700, and then there's the travel, food in the venues and entry fees. It's not a cheap hobby and the family have had to make sacrifices. George seems to feel it the most keenly.
Over the months working with the family, Alan and I got a real insight into just how difficult it can be living with children with autism. We learned that we had to stick to arrangements and promises as changes affect their mood for the rest of the day.

As all the boys had short attention spans, we filmed with them in a concentrated way for perhaps 10 minutes and then they'd lose interest and we'd have to have a (long) break. Other than these basic similarities the boys are very different characters and their autism presents in different ways.
Jimmy is very focused on his goals and likes being on his own doing his own thing, paying little heed to anything else whereas George is the opposite. He craves attention and loves talking.
Like most teenagers, Alex wants to be with his friends and is desperate to be accepted by them as "normal". This was a strong theme for Jimmy too and it's wonderful that he may be able to go to a mainstream school now.
The boys are happy and relaxed at home where they feel safe but unsure and unsafe in the outside world. They have no road sense and little comprehension of danger and consequences. A parent has to be around all the time and they can't enjoy the simple pleasures of playing out on the street or going to play with other children.
It puts a huge strain on Andy and Sheila especially as George also has behavioural problems and enjoys challenging strangers and his parents in public spaces like the supermarket.
Over the months I spent with the family I became really fond of them all. I learned that autism can manifest itself in many ways and it's hard to describe absolute characteristics. Each boy was totally different and affected differently.
One thing they did all agree on was that they are going to find it really hard to survive financially beyond school. They all said they knew getting a job was going to be really hard and to live an independent life was almost a dream.
Perhaps this was one reason they were so supportive of Jimmy - he has a chance to live his dream of becoming a professional dancer and really making the most of his opportunities. I really hope he does.
Liz Bloor is the producer for Autism, Disco & Me.
You can read an interview with Sheila Hobley, Jimmy's mum, on the BBC Three blog.
Autism, Disco & Me is on BBC Three at 9pm on Thursday, 6 May. The programme is part of BBC Three's Living With Autism season