Shetland: The relationship between Perez and Tosh
I play the character of Tosh in Shetland, or Detective Sergeant Alison McIntosh if we're being proper about it.
She is a young, bright, ambitious employee of the Shetland constabulary who has been promoted beyond her years by DI Perez who sees great potential in her.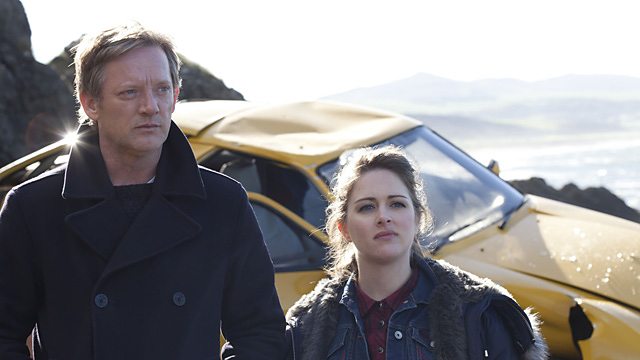 DI Jimmy Perez (Douglas Henshall) and DS Alison McIntosh (Alison O'Donnell)
When I got the part I understood that the programme would be based on the books by Ann Cleeves but it all happened very quickly and I didn't have to time to do any reading before we started filming.
When Shetland returned I read all of the books and enjoyed them immensely.
I love crime fiction anyway, my mum is a great lover of Agatha Christie, and she passed this passion on to me.
Although Tosh doesn't appear in the books (the character was created for television) it was extremely useful to understand how atmospheric the books are and how deftly Ann uses the uniqueness of the location to feed the sense of mystery and tension.
My relationship with Douglas Henshall is not dissimilar to the relationship between Perez and Tosh in that he is a very experienced and knowledgeable actor, but this is my first proper television role so he has become something of a mentor.
Raven Black: Perez gets a forensic update on the case from Tosh
He always keeps me right and answers my (probably annoying!) questions and I know I can go to him to talk about anything if I need to.
In real life though, we are also great pals. During filming we spend a lot of time in hotels away from our loved ones so we will tend to hang out together and have great fun.
Every few weeks a new batch of actors will arrive, people come and go, but Dougie is my constant and I don't know where I'd be without him.
In this series we see Tosh progressing in her role as DS. She still makes mistakes and needs Perez to keep her right but I think she is growing in confidence and becoming more adept at handling that level of responsibility.
In Dead Water they attend a wedding as part of their investigation and Tosh gets to glam up a bit which was fun.
Dead Water: Perez and Tosh attend a traditional Shetland wedding but tensions are running high
I love her practical, comfortable clothes but she has a fun side and the make up and costume departments really successfully helped me to show that for the wedding scenes.
My favourite memory from filming was the three days we spent on Fair Isle.
It's a tiny little island 20 minutes from the main island by plane, with only 65 permanent residents.
It's a unique and magical place and the people were so welcoming and hospitable.
Filming can be solitary.
You spend a lot of time waiting around in your trailer on your own but as we were so limited in what we could take there, we all spent our down time together at the bird observatory and ate all our meals together round a big table.
Consequently we all really bonded and got to know each other and it felt like we were sharing a really special, once in a lifetime experience.
Alison O'Donnell plays DS Alison McIntosh in Shetland.
Shetland continues on Tuesday, 1 April at 9pm on BBC One and BBC One HD. For further programme times please see the episode guide.
More on Shetland 
BBC Scotland announces the return of Shetland
BBC Writersroom: Shetland: Author Ann Cleeves on seeing her books adapted for TV
BBC One: Shetland: Interviews with the cast
Comments made by writers on the BBC TV blog are their own opinions and not necessarily those of the BBC.