Ryanair is a business worth billions, carrying almost 80 million passengers a year. For a journalist, dealing with a company that size usually means negotiating with a massive PR department.
At Ryanair, it's different, as I found when making Flights And Fights: Inside The Low Cost Airlines over the past few months.
Chief executive Michael O'Leary on Ryanair's profit-boosting schemes
You either talk to Robin, the head of communications or his assistant Michele. There's nobody else. But, amazingly, I found they were almost always at their desks and answering their phones.
In the age of email, when it's often impossible to actually talk to someone, it was a refreshing change.
Direct communication is in Ryanair's DNA. Chief executive Michael O'Leary, has an aversion to anything which interrupts what he calls "a culture of action" – including such new-fangled technology as voicemail.
I once called Howard Millar, the deputy chief executive and got this blunt message: "You have been forwarded to a voicemail system. The person you are calling does not subscribe to this service. Goodbye."
In other words, try again later and waste your time not mine.
And although Ryanair staff do use email, they are strongly discouraged from sending emails instead of walking down the office and talking to the person they're dealing with.
The founder of Ryanair's biggest low cost rival in the UK, easyJet, shares O'Leary's desire to keep things simple.
Sir Stelios Haji-Ioannou says he had the advantage of not knowing much about the airline business when he launched easyJet.
That's why he didn't take no for an answer when he asked his staff to sell the drinks and refreshments on board.
"It sounds trivial but when I went to the catering company and said I wanted to sell coffee on the aeroplane, they said we don't have a way of selling coffee. Nobody has done it before... So I said, 'Let's find a way of selling coffee.'"
Minutes to go: How long does it take an easyJet crew to turn around a flight?
Stelios and O'Leary were both larger than life characters, always ready with a soundbite and happy to play the role of underdog in relation to the established airlines.
The media lapped up the competition between these new pioneers of low cost travel and the established airlines.
Stelios stopped chairing easyJet more than 10 years ago, so we met in his London townhouse.
My colleague Erica Gornall and I were ushered into the front room, and told by Stelios' head of communications where he liked to be filmed (in front of the marble fireplace).
In fact, he's not keen on interviews these days, and it took us five months of gentle persuasion before we were allowed to bring our camera along.
Stelios now runs easyGroup, which is a collection of businesses spun off from the original easyJet idea. But easyJet is still the giant.
As its biggest shareholder with more than a billion pounds worth of equity, Stelios says, with a smile, he still keeps an eye on the business.
At easyJet headquarters in a converted hanger at Luton Airport, there's still a palpable no frills culture.
Chief executive Carolyn MacCall shares a desk with her PA at the edge of acres of other staff, underneath live screens running tickers of the latest numbers of seats sold.
O'Leary does have his own office, or rather, he works in the conference room, from where he can survey his colleagues through a window. But he's not grand.
There's a shed behind the Ryanair office which sells pre-packed sandwiches and soft drinks.
I stopped there for a snack while we were filming, and the woman behind the counter told me that O'Leary was in most days to buy his lunch to take back to the office.
Stelios and O'Leary have a mutual respect. O'Leary told us that Stelios should be given credit for not living off the fortune he would have inherited from his shipping tycoon father.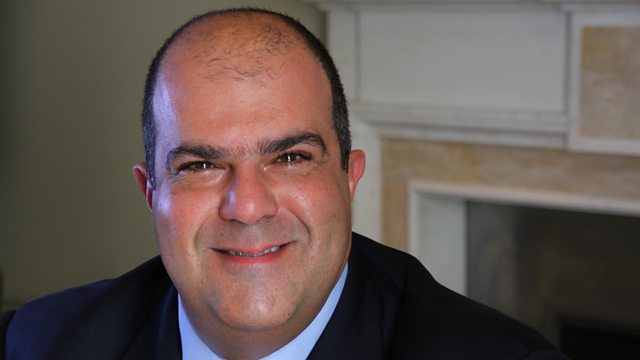 Sir Stelios Haji-Ioannou: It would've been embarrassing to go back and say, 'Dad I've lost it all'
And Stelios told us that O'Leary had done well to improve his financial position at Ryanair.
"I think Michael is undoubtedly a very clever man. It's amazing how he managed to get the founder of Ryanair, the late Tony Ryan... to gift him such a big part of the company."
He adds with a chuckle, "but timing is everything, and he was in the right place at the right time."
It hasn't always been like that between them. There was a legal dispute which O'Leary, characteristically, offered to settle with a race round Trafalgar Square - why waste the chance for some free publicity?
When Stelios said he might find himself at a disadvantage in such a contest, O'Leary refused to spare Stelios' blushes and suggested he'd be happy to try sumo wrestling instead.
If most businessmen were as outspoken and colourful as Stelios and O'Leary, business journalism would be a much livelier, and easier, trade.
Charles Miller is the director and producer of Flights And Fights: Inside The Low Cost Airlines.
Flights And Fights: Inside The Low Cost Airlines is on at 9pm on Thursday, 20 June on BBC Two and BBC Two HD.
More on Flights And Fights: Inside The Low Cost Airlines
BBC News: Ryanair and Easyjet: The history of the peanut airlines
Comments made by writers on the BBC TV blog are their own opinions and not necessarily those of the BBC.