A towelling bathrobe nearly brought an early end to my time as presenter of BBC Cardiff Singer of the World.
An enthusiastic young producer had decided we needed to know how the competitors relaxed ahead of their moment in the spotlight.
A new hotel had just opened in Cardiff Bay, boasting the city's first spa facility (this was 1999). So we presented a programme of highlights from there, with me introducing arias while lying robed on a deck-chair, fake red cocktail rakishly positioned to my side.
A colleague interviewed the singers as they were pummelled on a massage table. Not quite how we would style it today.
There are better ways, I have subsequently learned, to get to know the competitors.
The 20 singers that come to Cardiff are at the top of their games, brilliantly talented performers in their late 20s and early 30s, just on the edge of breaking onto the international opera circuit.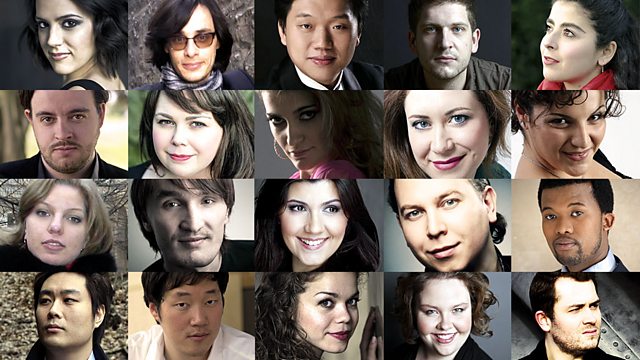 The final 20 competitors were chosen from over 400 singers
Winning or even reaching final of Cardiff Singer can be the final push their careers need. My fellow presenters and I try to engage with them all during our 10 days in Cardiff.
Some are keen to talk, wanting to know about camera angles, audience figures, checking they will be able to have a DVD of their appearance to send to agents and promoters.
A few singers will express surprise at having been selected, others will be brazenly confident, making it clear they have to come to win – nothing else is of interest.
Some will happily navigate their way around central Cardiff alone, striding between hotel, Wales Millennium Centre (rehearsals), Dora Stoutzker Hall (Song Prize) and St David's Hall.
Others wait for guidance, keeping heads low until interpreters and helpers come to the rescue.
The distinguished list of past winners – including Anja Harteros, Nicole Cabell, Karita Mattila, Dmitri Hvorostovsky and Katarina Karnéus - creates a sense of respect around Cardiff Singer.
In 1983 Finland's Karita Mattila won the very first Cardiff Singer Of The World
You sense that from the nervous energy at the welcome reception as the singers share stories of long journeys and forgotten phone chargers.
Rehearsals start the next day – with just minutes to establish the vital relationship with conductor. Then it's heads down to work.
The next time I see them is in the make-up room on the fourth floor of St David's Hall.
You need hairspray? Outside please – the chemicals it contains can play havoc with a singer's vocal chords.
'You're always looking for voices that give you that tingle'