Blue Peter: Overcoming my phobia for a record-breaking swim
In the five years I've been a Blue Peter presenter this is one of the hardest things I've done, but also one of my proudest moments.
I wanted to do one final challenge on the show that would push me both physically and mentally, and hopefully inspire people young and old to take up something they're not necessarily comfortable with.
As part of the BBC's Big Splash, which aims to get more people swimming, the Blue Peter team came up with a huge challenge for me - to set two world records by swimming across the Palau trench in the Pacific Ocean, roughly 550 miles east of the Philippines.
At 8,000 metres deep, it's one of the deepest points of the world's seas.
There was just one problem. I could barely swim a length of a swimming pool.
I've always been really scared of water - especially deep water. I arrived in Birmingham from Nigeria when I was eight, and by that point most people in my year group were in their pyjamas grabbing weights from the bottom of the pool.
I was the kid with the fluorescent armbands on both my arms AND legs.
The thought of putting my face in the water completely petrified me. It just seemed so unnatural and, for some reason, I felt every time I was in water I would drown.
I have noticed that the black community in general tend to have very few role models for swimming. The one I can remember was Eric the Eel's valiant efforts at the 2000 Olympics.
I've heard many stories as to why 'we' as a community don't swim - heavy bones, not wanting to get our hair wet, the list goes on.

The training sessions of just over 10 weeks were immense and I am so surprised at the amount of progress I made.
I was hypnotised as part of the process to help make me comfortable in the water.
I've learnt to believe that what the mind believes the body achieves, and that the negative thoughts in my head were simply untrue.
With all this in mind and a mile-long swim behind me (at the Big Splash launch in Salford Quays) it was time to set out on the biggest challenge of my life.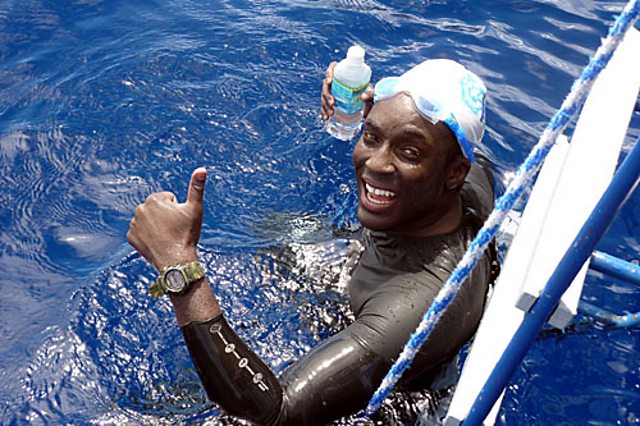 Andy Akinwolere after his record-breaking swim
It took two days to get out to Palau. From the moment we arrived I just wanted to get the swim over and done with.
Chatting to the locals only heightened my anxieties, with tales of squid, sharks and choppy weather conditions.
At that point I was close to turning my back on this challenge, but it was impossible. We had flown half way across the world to do this and there was a possibility I could be the first person on this earth to swim in the location.
I was told that the five-mile swim would be harder than a marathon. That thought kept playing in my mind.
My fears moved away from the depth I was about to face, and more on whether I had enough in me to cover the distance.
I woke up in the morning to a world covered in water. The reality of my challenge had truly set in.
As the cameras were getting into position I took a quiet moment to myself and chanted "You are going to do this" several times.
I looked out into the ocean, jumped in and never looked back.
The big swim itself was daunting. If I had thought of the depth, the potential of coming across creatures in the sea or even the distance there is no way I could have done it.
I was doing this for people who could not swim - they were my constant motivation to keep going.
The swim was made harder by the fact that I was not allowed to touch the boat. I had to feed whilst treading water.
Three hours 30 minutes later, and with an aching leg and a mouth full of saltwater, I heard the air horn to signify the end of my swim.
It was gruelling and more painful than I could have imagined, but I am so glad I did it.
I'm now the world record holder for the deepest recorded location in an open water swim and for being the first person to swim across the deepest part of the Palau trench.
I really hope people can look at what I did and give swimming a go too.

Andy Akinwolere is a Blue Peter presenter.
Andy's Big Splash: Blue Peter Special is on Monday, 20 June on BBC Two at 4.30pm.
Find out more on The Big Splash website.
Comments made by writers on the BBC TV blog are their own opinions and not necessarily those of the BBC.