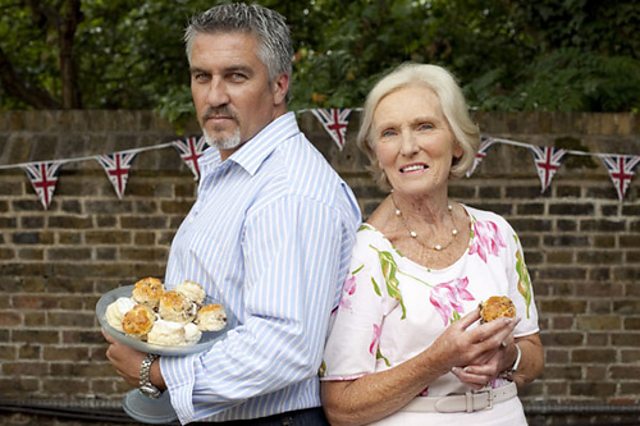 How did you come to work on the Great British Bake Off?
Quite simply - I was asked. I've written about cakes for years, and was thrilled to be asked to be given the opportunity to use my expertise to judge others.
Making a TV programme seems very different to how I imagine writing a cookery book must be - what are the differences that you enjoy?
The processes are very different, when writing a cookery book. With writing a cookery book, you have to research the recipes, then test them, and finally find a way to translate only the best recipes into language that everyone can understand.
By contrast, being a judge was about applying my knowledge, using everything I've learned to deconstruct the perfect bake, which is almost the other way round.
Some of the contestants would come in with recipes that I'd never tried myself, so I had to refer to the basics - texture, taste, appearance - to judge their attempts, but to explain what they could have done better.
Mel says she comes from a tradition of strong baking women - like an army - where did your love for baking come from?
My love of baking came from cooking at school - I wasn't very good at Latin and maths, so cooking was one of the first things that I did that I was any good at.
Baking has been important to my family for generations, both my mother and my grandmother baked. Families are a great resource for passing on baking expertise, and fostering a love of good cake.

Did you do home economics at school? What did your teacher think of your cooking?
It was my teacher, Miss Date, who encouraged me to cook. She gave me every possible encouragement, at a time that I wasn't much cop at school. The first thing that I ever took home was a treacle sponge - my father gave me great praise which I rarely got for any schoolwork, and I've loved to cook ever since.
Are you a messy cook?
No, because it's me that has to clear up later.
Do you ever use ready meals or other shortcuts when you're in private?
Not really - I'll usually muster up something from the fridge and the store cupboard. But I do sometimes take shortcuts, I use puff pastry, stock cubes and I use my freezer as a long term store cupboard.
What's your favourite thing to bake?
Traybakes - they're quick to bake, wonderful to eat and good for every occasion.
The contestants are baking competitively and Sue talks about baking being about "solitude, peace and calm". What feeling does baking give you?
Sue is perfectly right - it's a wonderfully solitary activity. The only company I usually have are my recipes and my dogs, but I love cooking with my grandchildren. It gives me great satisfaction, especially knowing that you're making something that other people can enjoy. It's never work, always a pleasure.
What were Mel and Sue like to work with?
They were just wonderful, and both are quite keen on baking which was a wonderful surprise. But most importantly, they approached every situation with good humour, which made everyone relax, and particularly made the whole experience much more fun for the contestants.
Mary Berry is one of two judges on The Great British Bake Off.
Update 2015: Series six begins on Wednesday, 5 August at 8pm on BBC One.
Series one of The Great British Bake Off began on BBC Two on Tuesday, 17 August 2010.
You can see Mary's Victoria Sandwich recipe from The Great British Bake Off, and other recipes from the show, on the BBC Food website.
If you're inspired to organise a bake sale, you can download tips, bunting and more recipes from the Get Baking For Children In Need page.
Fiona Wickham is the editor of the BBC TV blog.