In The Flesh: Playing Kieren is a challenge I love
I play Kieren Walker in BBC Three's In The Flesh.
I prepared for series two slightly differently in that the second series kicks off nine months after the first, so I had to think about what Kieren's life had been like in the months in between.
Kieren has been mourning the second death of Rick, and coming to terms with life in Roarton without him, and also without his best friend Amy.
He feels lost and lonely. Again.
Only this time he's not seeking a way out of living, he's looking to somehow start a new life.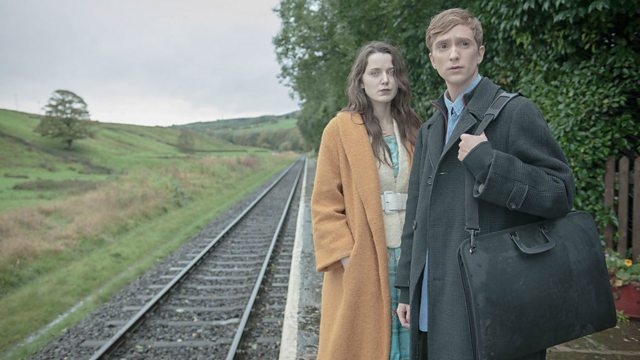 Kieren (Luke Newberry) and Amy (Emily Bevan): Is Kieren doing the right thing by leaving?
Over time he develops a desire to travel abroad and sets his sights on Paris to become an artist.
I wanted to feel the need to escape, the feeling of being trapped and restricted, the need to be creative and get out of my own head.
I watched a lot of cinema, especially films focusing on relationships.
Blue Is The Warmest Colour was a beautiful portrayal of love, and how wonderful AND devastating it can be.
Stoker directed by Park Chan-wook focused on a dysfunctional family and a vampire.
Also during filming, Emily Bevan (who plays Amy) and I kept our creative juices flowing by binging on emotionally complex French cinema!
I think one of my favourite moments was the first day arriving on set. We were so excitable and thrilled to be back!
We filmed the zombie rave so that was a great scene to kick off with.
A rabid rave: Kieren and Amy let their hair down at an undead only party
Filming was quite different this time as we had three new directors and a new make-up team.
The first series was shot in about eight weeks and this series was roughly four months.
That's a long time being to be covered in mousse make-up!
It was like being on three different shows. All three brought their own unique methods of working, and yet they all shared a vision for the series.
The whole process of playing Kieren is a challenge and that's what I love about it, but one of the most difficult scenes to film was when Kieren tries to look at himself without his mousse on in the bathroom mirror.
It's a mentally and emotionally complex moment and also an extremely tricky scene to get right make-up wise.
Make-up designer Davy Jones did a fantastic job, ensuring that when Kieren wipes off the mousse you see his pale skin underneath.
Sounds easy, but it was actually a technical nightmare and required extreme focus and elements had to be re-shot at a later date.
Watch the trail: Dead or alive, it's time for Kieren to pick a side