United: Busby Babes and the Munich air crash
"We've found the penalty spot," is the cry I hear from one of the art department as he manfully digs at the vast white blanket of snow, under which is a football pitch - apparently.
This poses a slight problem as we're attempting to film a scene for United with the Busby Babes in pre-season training, which usually takes place in August.
It was always going to be dicey, weather-wise, to film in the north in late November and early December, but to encounter the worst winter since records began was rather testing to say the least.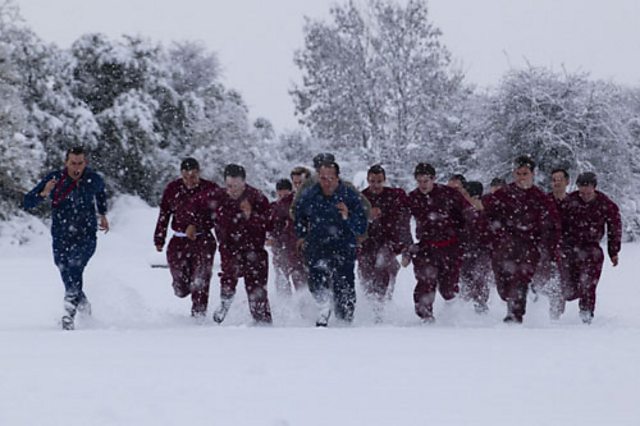 But, sat in the slightly warmer edit suite a month later, I was almost glad of the extremes we faced. It gave the film a hard-foughtness I really liked.
It was a cold, hard and difficult shoot and it shows on the faces of the cast - but it works.
The people they are portraying were tough and heroic and their story so remarkable, so emotional, and so inspiring. If it had been too easy it wouldn't have felt right.
United and the story of the Busby Babes and the Munich air crash is sacred ground to many. And, more than any film I've ever done, I felt the responsibility to do the best job possible.
We were dealing not just with real people but legends in every sense, and I wanted to honour and celebrate the lives and achievements of those involved, so every decision had to be carefully considered.
Thankfully, with the incredible cast and crew we'd assembled, we were able to attempt to be as true to the real story as possible, but it's a constant consideration.
For example, we know the exact fabric that was used on the seats of the plane - so in our film this is correct.
But what people exactly said and did is impossible to be definitive about.
Yes, there are plenty of personal accounts and testimony, and we have studied them forensically, but they differ greatly, even between two people sat next to each other, because human memory is personal, subjective and unreliable.
So Chris Chibnall, our brilliant writer, had to find a way through that was truthful and balanced but also worked in its own right as a film. And he did so magnificently.
Also, in making a drama rather than a documentary, we had to make editorial choices.
We never intended this film to be the definitive story of the Babes and the crash - that would be impossible.
For me, drama works best when it focuses on one or two people. So our film is only one story, one aspect.
We could have told 50 other stories, focused on 50 different people. And they all would have been as valid.
But we chose, at the beginning of the project, to focus on the stories of Jimmy Murphy and Bobby Charlton, which means many people associated with the club and the crash don't appear or feature in the film.
That's not because they weren't as important, or because we didn't research our facts, but because in this one film we can only tell one story.
I kept getting asked if we cast actors who could play football?
But although it's a film about a football club, we consciously avoided most 'actual' football.
Not that our cast weren't quite tasty with a ball. Some were, in fact, very good players, but the football is not really the point.
This is the story of a team, a band of brothers, who experience a tragedy and then attempt to survive. In a sense they could have been soldiers, miners, or any group or family.
United is a human story of how, in the face of terrible loss, the human spirit endures. And we were blessed with a quite extraordinary cast to deliver this.
In David Tennant and Jack O'Connell I don't think we could have asked for two finer leads, ably supported by all the other cast.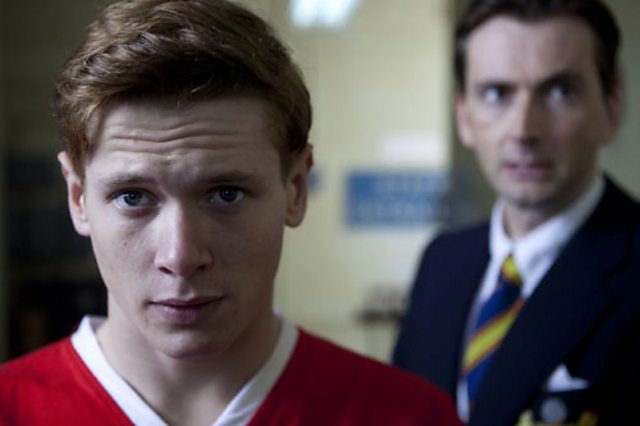 I sat and watched the film alone in a cinema yesterday and I wept again - it still gets me every time, and trust me I've seen it hundreds of times.
Every time I cry at just how sad and shocking the events we are portraying were and how incredible it was and how big an impact it had not just on those involved, but the whole country.
As one fan I spoke to said, It was the Diana of its day, in an era not given over to false sentiment or emotion.
So I'm very pleased with the film, but more relieved that it is the vision we wanted to portray.
Others will no doubt pick holes and have their opinions - but my intention in making this film was to be as truthful as possible to the facts, and to honour the people by making the best film possible, to be enjoyed and remembered.
Everyone involved in the film gave 110% (to borrow a footballing cliché) and worked tirelessly to achieve this, sometimes in the most difficult conditions.

I thank you all and salute your genius - I truly believe it was worth all the effort.
I hope United will be seen by millions of people (fingers crossed) so everyone will know of the incredible Busby Babes, their amazing achievements and their memory will live on.
Back on set, the good news is the diggers have managed to clear the penalty area - the bad news is it has started snowing again.
James Strong is the director of United.
United is on BBC Two on Sunday, 24 April at 9pm.
As a companion piece to United, BBC Two will be showing a documentary, Sir Bobby Charlton: Football Icon on Thursday, 28 April at 9pm.
John Motson has written an overview of Sir Bobby Charlton's career for Inside Sport.
Comments made by writers on the BBC TV blog are their own opinions and not necessarily those of the BBC.