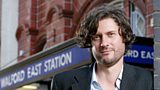 Diederick Santer
Executive Producer,
Blog posts in total 2
Posts
Well, I'll settle for that! A near faultless performance from cast and crew alike, and a brilliant actress delivering the killer cliffhanger to 16.6m stunned viewers. It was everything I could possibly have hoped for - a truly memorable event to mark 25 great years of EastEnders. I'm very proud ...

EastEnders has never played it safe - whether that's by breaking taboos, like giving Mark Fowler HIV when no one else would talk about it, or by allowing a load of teenagers to take over the show as we did with our spin-off series E20 a few months ago - and we're certainly taking a big risk by d...