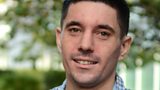 Matt Hewitt
BBC TV Blog
Blog posts in total 3
Posts
The directors behind BBC One's 2015 festive animation about a leafy green hero (Sprout boy) explain how their ideas germinated.

As Lord Sugar's hunt for the next big thing in business enters its tenth series, we look back on moments from previous years that best showcase the candidates' unique abilities.

Watch clips of well-loved brother and sister relationships in BBC comedy series from the last 30 years, to mark the start of BBC Three's new sitcom about the worst siblings in the world.