TV blog
Featured Post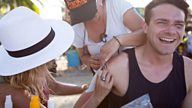 Why did Joe say he'd always choose Budgie as a travel companion over his own character, Kyle?
Posts
Who's your favourite W1A character, after Izzy?

Oh well I think that has to be Will Humpries, played brilliantly by Hugh Skinner. He's so infuriating, yet loveable at the same time, and Hugh is just so funny.

What made you laugh the most in the new series?

Hearing the two Hughs (Bonneville and Skinner) riff on the trials and tribulations of Syncopatico... W1A's fictional software system.

What made you cringe the most, watching it back?

I can't tell you that! It happens later, in episode three or four. It involves Sarah Parish's character (Anna Rampton) and a loo...

How long do you see Izzy having before she reaches the levels of Lucy Freeman – or even Anna Rampton - or will she be driven away from the corporation?

Izzy is a very driven, ambitious individual so I reckon she has her sights set on having as much autonomy as possible, as soon as possible. But! that's a lot easier said than done with Will around as she essentially has his workload on her plate too.

You said...

Debbie Horsfield

Writer and executive producer

I don't think any of us in the production team were prepared for the way Poldark has continued to generate a buzz across social media and in the press throughout its entire run. It's always great to be talked about but this has gone beyond what any of us ever imagined!

The fact that Poldark has been mentioned in connection with anything and everything from the general election...

When I got this role, the first thing my mum said was "Don't get a tattoo!" I don't have any. I thought about getting one when I was out there but the Maori tattoos have such important meaning to them that I'm not sure what mine would say yet. I had Kyle's tattoo applied every morning by the make-up team.

We filmed the naked scenes quite early on, so we were...

I found out I was being sent caving for Secret Britain after a Q&A session in the Countryfile tent at our summer special. Someone asked what I would hate to do. I said anything in tight spaces. My executive producer then came up to me chuckling about story ideas for Secret Britain.

So the proposal was that I squeeze my way into Britain's deepest cave – Ogof Ffynnon Ddu in the Brecon Beacons – to witness a remarkable secret, the beautiful stalactites deep below ground. When these kinds of challenges come up, I'm usually asked weeks beforehand when the reality of it seems a long time away....

Mali Harries took a break from filming series two of Hinterland in the wilds of Ceredigon to share a few thoughts on the feel of this weekend's feature-length special.

Working in two languages – English and Welsh - is a real challenge. You can't literally translate it line for line, as there are differences in the syntax and rhythm. The meaning is often the same, but the colour can vary between both languages.

Sophie Maden

Researcher, BBC TV blog

Actor Tom Felton is delving into the world of superfans in a BBC Three documentary which he presents and directs. Now, 14 years after making his Harry Potter debut as Slytherin baddie Draco Malfoy, we asked Tom the unthinkable… here's what he had to say.

Well, you know I got stitched up with this. When we were filming the last sequences of me on the computer and me on the phone just to sort of fill in the documentary if we needed to, one of the cameramen put his laptop in front of me and just said have a little browse so we can just film it.

He opened up Pottermore, the site that deduces...

Tom Felton

Actor and director

BBC Three documentary Tom Felton Meets the Superfans marks the former Harry Potter actor's first time directing and presenting a programme. So what was going through his mind in these two key scenes?

The Rupert ruse

When I told Daniel Radcliffe that we were doing this documentary, the first thing he said was: "Oh you've got to go and see Brian". Brian is a fan like no other kind of fan....

Everyone's talking about the solar eclipse and for Stargazing­­ Live, Liz Bonnin took a flight over the Faroe Islands to film it as it happens. You can hear more about Liz's report from the plane in Friday's 9pm programme.

The little plane we used to capture live images of the Aurora Borealis on last year's Stargazing Live is on duty again, this time kitted out with seven cameras. Flying above any risk of cloud cover to witness the total solar eclipse on Friday will give us an unobscured view of one of nature's most spectacular events.

We aim to fly at roughly 25,000 feet at a speed of about...

On landing the part

I was very chuffed to get my Ordinary Lies part, because I really wanted it! It's such brilliant writing and I've known Danny Brocklehurst's writing for many years and admired all his stuff, so it was just so great. As well as being high drama, Ordinary Lies is quite funny, as that's how Danny writes. Most of us have that in us anyway. When I got the job, it was one of those moments when you think: "Ah, thank god for that!"

I've never actually been in any of Danny's stuff before, this is the first time, so hopefully it's the start of a beautiful friendship!

And on pretty...