THE AFTERMOUTH: BIG NIGHT, BIG VOICES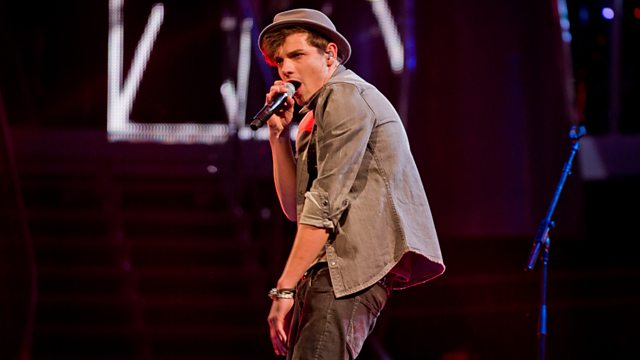 Wowee. Week four of the live shows has made us feel a bit like this ___________. Yep, we are speechless after tonight's show. After all the pressure-fuelled performances, pyrotechnics and that SPINNING PIANO, we are stuck for words.
After a slight technical malfunction, (that's live TV, folks) Jessie and her team recovered like champions and kicked off the show in spectacular style singing 'We Are Young'. They set the world on fire, they burned brighter and they were phenomenal. Full strike.
Max Milner risked it for a biscuit (or place in the semi-final, whatever) and proved quite nifty with a loop pedal during his rendition of 'Black Horse and The Cherry Tree'. It made will.i.am feel good, and Danny thought he smashed it.
Cassius stood on a spinning piano for his knock-out performance of 'Turning Tables' (gettit?) For viewers who fancied singing along, the lyrics were even on screen! He's so considerate… Shortly after this, a very dizzy Cassius crashed into the audience, but it was worth it because the coaches loved it.
Bo Bruce (whose hair seems to have miraculously grown in the last week?) turned in another mesmerising performance singing, 'Love the Way You Lie'. The coaches loved the way she sang.
Vince Kidd sang 'My Love Is Your Love' and we loved it. In true Vince Kidd style, he transformed the original and poured some reggae sauce all over it. *Does the Butterfly*.
Aleks Josh gave a chilled out rendition of 'Better Together' that was awash with beach vibes. So much so that we were tempted to roll up our jeans. Our better judgement (i.e. security) prevented us from doing so.
Becky Hill rocked out and unleashed a shocking stampede of awesomeness, singing 'Seven Nation Army'. It was seven times dope. Tom launched into an anecdote about Janis Joplin. That's how you know it was good.
David Julien proved that Voice fame hasn't gone to his beautiful head of curls and turned up with about a million suit cases. What a diva (not really, they're just props). Singing 'She Will Be Loved', we reckon he will be loved for that very performance.
Toni Warne (AKA The Lady in Red) sang 'Sorry Seems To Be The Hardest Word' but she needn't worry about that – her performance was flawless.
Danny O'Donoghue joined his artists to close the show with a bang. Singing 'Somebody That I Used To Know', Danny led his troopers into glory and they assembled themselves on set like an art installation. Pure class.
So four artists must go tomorrow, but before that happens. Let us know, who were your favourites? What were the funniest moments? Did anyone make you cry/ swoon/ faint?
Bye!