The Aftermouth: The Lives Have Begun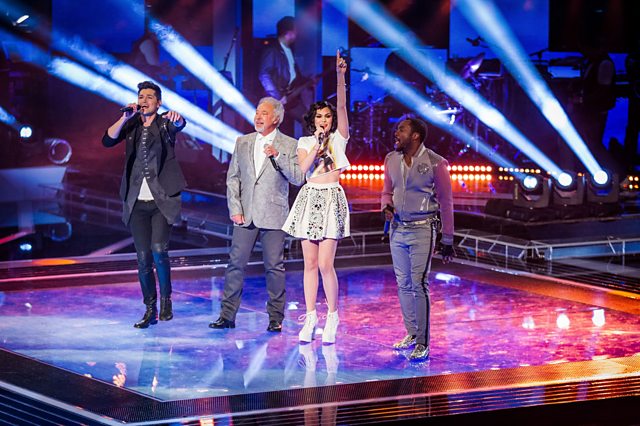 Coaches show one
What's that word? Three letters… Begins with 'w'. Oh yeah, WOW.
The first live show of The Voice UK was so good, we thought our ears had died and gone to heaven. Luckily they are still firmly on the sides of our head but they are ringing with the sound of some super-mega-fresh performances.
Our four coaches kicked-off the show in style joining forces on stage once again to give an exhilarating rendition of U2's 'Beautiful Day'. It was amazing to the power of 4 - don't you think?
And then it was back to business as Team will.i.am and Team Tom took to the stage to sing for a place in semi finals. We had live instruments, dancing and plenty of soul (on a pole or otherwise).
Here's what sent the internet into a mesmerised flurry…
Joelle brought the house down with her rendition of 'I'm Going Down' (and THAT dress).
Sam strutted his stuff with a slew of dancers singing 'A Little Respect'. Request granted.
Frances belted 'Ain't Nobody' and got up-close-and-personal with her male dancers. Ooh-er.
Adam brushed-off an injured arm to play guitar and sing 'All My Life' like an absolute rock God.
Jaz brought a touch of jazz to the proceedings to sing 'At Last'. Reggie said he looked like an R&B cowboy.
Leanne's voice proved to be as timeless as her monochrome dress, singing 'Who Knew'. Tom knew. That's who.
Sophie sparkled throughout her strong performance of 'Titanium'.
Matt and Sueleen cooed some properly lovely harmonies with a guitar in hand.
Tyler showcased some seamless falsetto singing (quite aptly) 'Higher Love'.
Ruth sang every note ever invented and then held one of them for approximately 10 minutes.
Oh yeah, and Reggie looked pretty suave in the V Room.
Goosebumps… hairs standing on end… Yep, we've got all the symptoms of Voice-itus.
Let us know – who were your favourites? What did you think of the coaches' performance? There's plenty of space especially for your comments below.
Oh, and have a look at the artists in rehearsal here while you're at it too.
Fist-bumps all round! (Yeah, we're cool)
x