"Oh Ian! You're breaking my heart!" - listener discussions to 1 May 2012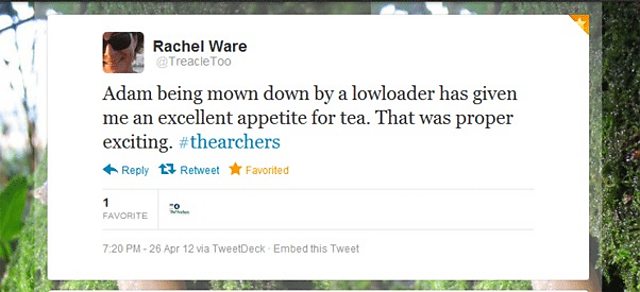 Listeners have been gripped by Adam's plight. There were tears as Ian and Jenny kept a vigil by his bedside, and fury at Debbie's reluctance to fly in from Hungary. There's been some speculation that Jenny favours Ian over Chris, but why? Surely it can't be because Chris is part Horrobin?
Usha's inability to speak out about Carl's wife has sparked a huge debate. Whilst almost everyone thinks Carl's a rat, they're not sure whether Amy knows he's married.
And finally, there's a poem in honour of this summer's village fete, in keeping with the Olympic theme: "If there was a medal for Soldiering On, We'd give it to Jill since Phil has gone..."
Here's my pick of listener discussions on The Archers message board, Twitter and Facebook between 26 April and 1 May 2012

With Adam at death's door, listeners offered Ian hugs and most crossed their fingers hoping that Adam would soon wake up. There was much praise for Stephen Kennedy (Ian) and Angela Piper (Jennifer) for the touching scenes in the hospital. A few noted with suspicion that David Archer was once again at the scene of a crime...
My heart is pounding ten to the dozen after that! #theArchers (@pollypanad on Twitter)
David does seem to be at the scene at a number of fatal & near-fatal accidents doesn't he? *Columbo face* #thearchers (@flamingnora on Twitter)
#thearchers Oh Ian!!! You're breaking my heart! Sobs (@MoiTrez on Twitter)
I'm in tears. I can't bear this. (Skyebird)
Yes and I have just realised with horror that of course there is no epi tomorrow.. Stephen Kennedy made it so real I can visualise him drinking blooming awful coffee all weekend as he keeps his vigil... (Ginslinger Redux)
Jennifer is incredibly touching in this episode. #thearchers (@BeckyIBe on Twitter )
Add your thoughts on the Aw thread on the message board

Debbie's refusal to rush to her brother's bedside was seen as typical, selfish and, for some, a practical decision. Would Adam have done the same in her shoes?
Debbie, what's the going rate for a soul these days? #TheArchers (@Airscaper on Twitter)
Shame on Debbie. She's turned out to be quite her step-father's step-daughter, hasn't she? #thearchers (@fairy_with_hair on Twitter)
What is Debbie going to do if she comes back? Another one hanging around being miserable! Jenny, stop trying to make her feel guilty. (Chris Vickery on Facebook)
I expect she'll email: Dear Adam, sorry I can't get away from my very Important Work but don't worry, I'll definitely come to the funeral when I can multitask by Helping Dad Sort out the Mess you've left behind. Love Debsxx (old cath)
Madam was happy enough to see the back of her so he could be the one who ran the deer, exploited Polish workers, etc. Would he have gone to Hungary if the position were reversed? I'm sure the graceless, miserable git would have had hundreds of reasons why he couldn't make it. (Thomas_Bosque)
Add your two pennyworth in The return of Debbie (or not) thread.

A Medical Bulletin from Tony's Consultant at the "Ambridge Wellbeing and Wellness Clinic" has appeared online, kindly asking visitors to behave while they're at the hospital:
"The young lady who unplugged Adam's ventilator in order to power her laptop must not return. We don't care how important Facebook marketing is to her boyfriend's empire"
Does Jenny favour Ian over Chris? Is it favouritism? Snobbery? Or...?
Chris is Susan Carter's son - nuff said! (mick-the-miller)
Adam is Jenny's only son.....I think he's her favourite! (Angela Stepney)
Ian treats her civilly. Did not marry Adam in secret and barge in to her house. Did not destroy Adam's career prospects. Did not expect her to do his laundry... He also has the advantage that his mother is dead and doesn't keep inviting her to ghastly parties. (Ginslinger Redux)
Join the debate on the Does Jenny prefer Ian to Chris? thread.

Listeners think Usha's in an impossible position, but is she being a bit of a wuss when it comes to telling Amy and Alan about Carl? Some think Carl needs warning about "Red Mist Amy" once she finds out about Carl's wife, but is she really ignorant of the facts? Or is there another twist to come and Carl will be found to be blameless after all?
#carl #thearchers Gives rats a bad name.... (@potterwigwam on Twitter)
I don't think it's as simple as it appears. Carl may yet turn out to be cool. (Martin Cross on Facebook)
A seeming love rat can have good reason to cheat. Open relationship, going through an amicable divorce, etc (@roifield on Twitter)
#thearchers When did Usha lose her mind? This is ridiculous! TELL HER! Idiot! (@CookieLouise on Twitter)
How on earth can a Solicitor, who is described as level headed and clever, who must surely be able to separate the wheat from the chaff, be so wet and weedy? Limp Lettuce has more get up and go than she has with her dilemma! Why can't she tell Alan? (Eyeorelady)
I don't think she should tell Amy, the messenger always get shot! (June Hurst on Facebook)
If I was in Usha's shoes, I wouldn't want to tell Alan either. He just gets so blooming up-tight about everything and agonising about things - especially when it comes to Amy. He can create a problem where there is none. (Bette)
#thearchers but who will 'Red Mist Amy' try to do away with first when she finds out? Carl? Usha? Mrs Carl? Alice? Rev Dad? (@johnjohn21 on Twitter)
Should Usha spill the beans? Have your say on the message board: For goodness sake Usha.

And I'll leave you a poem inspired by the coming village fete
"Ambridge Olympics" by Bert Fry:
I am the best at Ploughing
Freda's the best at Frying
Tony's the best at Moaning
Carl is the best at Lying.
If there was a medal for Soldiering On
We'd give it to Jill since Phil has gone.
Alan Franks should win the prize
For eating all the cakes and pies;
Usha Franks deserves one too but
There isn't a prize for keeping your mouth shut. (Minihohum)
Read more on the Village Games, Cultural Olympiad thread.

Tayler Cresswell is host of The Archers message board.