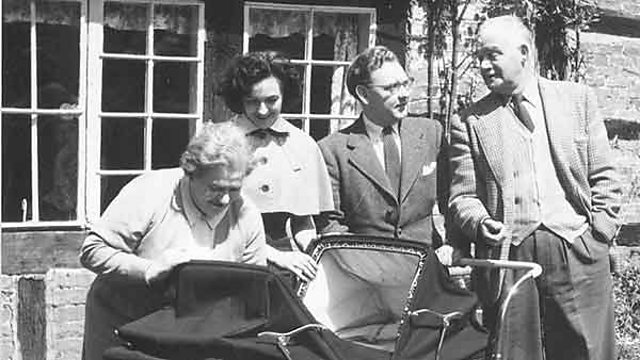 The Archers celebrates its 60th anniversary on 1 January 2011. Over the next six weeks, we look back at the main storylines in each of its six decades.
First, the 1950s, which started with Britain still subject to food rationing and ended with the country (at least according to Harold Macmillan in 1957) never having had it so good.
In Ambridge, the decade saw young farm manager Philip Archer making his way in life, despite a tragic bereavement. His sister-in-law Peggy was forced to bear the brunt of her husband's waywardness. And a much-respected village character was charged with homicide.
Do you remember these storylines or characters? What else do you remember of The Archers in the fifties? Share your memories and thoughts by using the comment box at the bottom of this post.

1951
The Archer family welcomes in the new year at Brookfield Farm. Dan and Doris are joined by daughter Christine, sons Phil and Jack, Jack's Londoner wife Peggy, and Phil's beautiful and moneyed girlfriend Grace Fairbrother.
Phil became farm manager to Grace's father, Estate owner George Fairbrother. Grace became jealous of Phil's friendship with Jane Maxwell, who looked after Fairbrother's poultry flock.
Peggy gave birth to her third child, Tony.
Dan retired his working horses, Blossom and Boxer.
Village opposition to Fairbrother's plans for mining ironstone led to sabotage and violence, but technical problems eventually stymied the scheme. Disillusioned, he took Grace for an indefinite stay on the French Riviera.
1952
Grace's absence increased Phil's ardour. Disappointed Jane Maxwell left and Grace took over the hens on her return from France. But she was not a natural poultry keeper. Instead, she set up a riding stables with Phil's sister Christine.
Discovering just how wealthy Grace was, Phil resolved not to marry her until he'd saved £2000 of his own money. But while he embarked on a pig breeding business, the Squire's nephew Chive Lawson-Hope appeared on the scene. Phil had a rival.
Christine's boyfriend Dick Raymond turned out to be engaged. Christine was nearly tempted to travel to Ethiopia with the eccentric Lady Hylberrow.
Always a bit feckless, Jack gave up his smallholding and went into business in Cornwall with wartime pal Barney Lee. But when Barney took an interest in Peggy they were soon back in Ambridge. Jack applied to be licensee of The Bull.
1953
Thriller writer Mike Daly and supposed fiancée Valerie Grayson were revealed as wartime secret agents, now living under cover. Grey Gables owner Reggie Trentham promptly married glamorous Valerie.
Grace played for time when Clive Lawson-Hope proposed, but Phil stuck to his money-raising plans, so she went to Ireland on a horse management course.
Peggy had to take over the licence of The Bull when Jack was caught serving drinks after hours.
A bearded young man in a gypsy caravan became the butt of suspicion, but proved to be former university lecturer John Tregorran, who'd had a win on the football pools.
1954
Grace returned from Ireland and Phil finally proposed.
The Squire sold up. Dan managed to scrape enough to buy Brookfield and George Fairbrother bought the bulk of the Estate.
Drink and depression caused Jack to spend four months in a mental hospital.
1955
Incomer Carol Grey worked hard to convert Jack's old smallholding into a market garden. She knocked John Tregorran off his bike but nonetheless he proposed soon afterwards. She thought he was joking.
Grace and Phil married and moved into Coombe Farm. But just five months later, Grace was killed trying to rescue her horse Midnight from a stable fire at Grey Gables. The tragedy meant that most in Ambridge didn't notice the launch of the new television service, ITV.

1956
Foot and mouth at Brookfield. Over 170 cows, sheep and pigs were slaughtered. Dan started the slow business of rebuilding his herds.
Christine married fellow equestrian Paul Johnson, despite his family's pretentions to social superiority over the Archers.
1957
Gamekeeper Tom Forrest warned off Bob Larkin, a rival for barmaid Pru Harris's affections. Some time later, Tom struggled with a poacher. His gun went off, killing the man, who turned out to be Bob. Tom was tried for manslaughter but acquitted.
Having first caught her with his cine camera at the fete, Phil sought out and courted townie Jill Patterson. She eventually married him.
Walter Gabriel gave up his ramshackle farm and bought a minibus, setting up as a local carrier. Phil and John Tregorran helped him out when the bus was hijacked by Teddy boys, who slashed the seats.
Dan's outspoken sister-in-law Laura arrived from New Zealand, and looked set to stay.
1958
Jill gave birth to twins, Shula and Kenton.
Only a few weeks after marrying Tom, Pru Forrest had several months treatment in a TB sanatorium.
A fire in the Dutch barn at Brookfield destroyed half the oat crop.
Dashing skiffle guitarist Jimmy Grange started work at Brookfield.
1959
Jack and Peggy bought the Bull, with the help of a loan from Aunt Laura, although Jack remained as unreliable as ever.
To Walter's chagrin, Peggy's redoubtable mother "Mrs P" married her second Perkins - stonemason Arthur - and moved to London.
Phil had tussles with the new Estate owner Charles Grenville, who had his own ideas about farming.
Jill was very understanding when a stained glass window in memory of Grace was installed at St Stephen's church.
Jill gave birth to her third child, David.
When Dan had a serious fall, leading to a broken leg and pneumonia, Grenville lent him Phil to manage Brookfield.

Keri Davies is an Archers scriptwriter and web producer.
Picture shows Gwen Berryman, Patricia Greene, Norman Painting and Harry Oakes (Doris, Jill, Phil and Dan Archer) after the birth of the twins Shula and Kenton in 1958.
Relive the decades with The Archers Timeline, complete with archive photos and audio clips
Read the storylines from other decades: