'I am absolutely, completely furious at Shula' - Listener discussions to 11 December 2013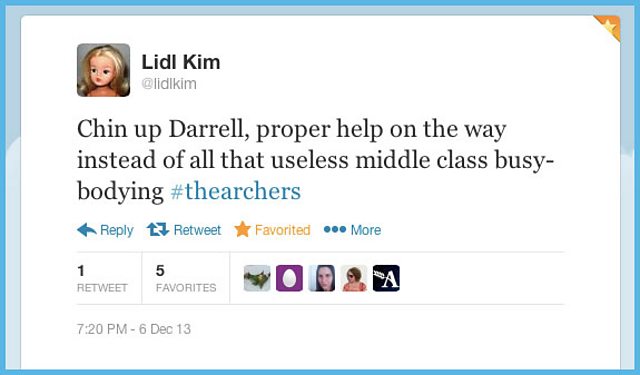 Post from @lidlkim on Twitter
Darrell's storyline is making for uncomfortable, yet gripping, listening for some. The Grundy lads are at it again but some think it's time they buried the hatchet.
It's all go at Lynda's panto rehearsals, and Jess's party looks likely to be the most anticipated event in Ambridge this month! And finally, listeners run for cover as a tearful Leonie arrives at Ambridge Hall...
Here's my pick of online discussions between 5 and 11 December 2013
The build up to Darrell's suicide attempt – Shula's tirade and his run-in with Rosa in The Bull – upset many listeners.  However Neil's intervention was applauded
Now, I know it's just fictional, but I am absolutely, completely furious at Shula's behaviour. (@SparkleWildfire on Twitter)
She has bumbled about for weeks (feels like years!) & then snapped & crushed him completely, like a girl bored of a pet project. & all coz he spoilt Alistair's tea!! (Maggie Mumford on BBC The Archers Facebook page)
Not cheering, I know . I wanted to weep when Darrell wouldn't get up, prior to the plate dropping scene. Grim listening, I know but that scene brought it home to me and was convincing. I found it sad. (Chris Walmsley on BBC The Archers Facebook page)
Shula was extremely keen for him to see a doctor but now seems to have completely forgotten about this route, even though Darrell is obviously 10 times worse than when she first took him to the GP. Shula is a lot of things, but she's not stupid. We are expected to believe Alistair would witness a full-blown panic attack without urging D to get medical help? (Rona Skene on BBC The Archers Facebook page)
@BBCTheArchers: "You're not my dad anymore" aw Rosa that's not going to help him! #thearchers (@elaineharris on Twitter)  
It has been a long time since I cried at #thearchers but that's done it. Three cheers for Neil though. (@maidinthenorth on Twitter)
@BBCTheArchers Action packed episode tonight completely gripped by Darrell #thearchers (@AmidHorison on Twitter)
@BBCTheArchers  Please let something good happen to Darrell. Can't bear it. Nobody has any understanding. (@FrankieMcLachla on Twitter)
Before you start to get all sentimental, remember who enabled others to bet on dogs ripping each other to shreds for money. #thearchers (@gingabeans on Twitter)
How convenient for 'poor dear Rosa' to walk away and leave her Father in the arms of strangers...or should I say speed away, on the Scooter that her Father worked so hard for to buy her when he was under the constant nagging of his tedious Wife...so easily forgotten. (Wendy Stephens on BBC The Archers Facebook page)
After Darrell's suicide attempt listeners hope he'll now get the professional help he needs
Shula, don't give up on Darryl. I know it's hard but every time you hold on and stand true I cheer #thearchers (@norton_louise on Twitter)
Tortuous and painful just now, and often not really very enjoyable, but absolutely need to know 'what happens next' .... (Lorna McLaren on BBC The Archers Facebook page)
Darrell is a weak and quite pathetic man who's influenced by the last person who harangued him but he is someone who can be decent and caring when he's not being pushed around… I wonder how far any of us would have got if we'd been in his boat… I think this Darrell storyline has been done really well - can't say I've enjoyed it but I have been glued to it. (cath on The Archers blog)
Yes Darrell is difficult ( that is part of his illness ) The clutching at straws by him and Shula is all too real .... Darrell is humiliated, confused and lacks any self esteem. Which of us knows when fate may deal us such a card? (BVFL33 on The Archers blog)
Chin up Darrell, proper help on the way instead of all that useless middle class busy-bodying #thearchers (@lidlkim on Twitter)
It's turkeys at dawn at the Grundys! Most thought Will had gone too far when he told Ed that George hated him, and some say it's high time they buried the hatchet…
Wow... A low blow and one that will burrow under the skin and fester nicely ... (Emma Bryan on BBC The Archers Facebook page)
That's it. #teamEd forever. #thearchers (@40lucyjordan on Twitter)
Oh Will you are a nasty piece of work. Sorry about your dog but you had no right to say that to Ed. @BBCTheArchers (@Ayeshazgj on Twitter)
#thearchers Fabulous! Dueling shotguns in the turkey shed. *Emma will look good in black* (@johnmcinroe on Twitter)
They will always hate each other, I don't think anything Clarrie and Eddie do will help. (countryfolk on The Archers blog)
Poor Georgie - if he ends up not needing therapy it'll be a miracle #thearchers (@monx61 on Twitter)
The feud between William and Edward is getting ridiculous. William has always been depicted as a kind, thoughtful person. I cannot believe his latest statement that George hates his step father. (Graham Sandra Worden on BBC The Archers Facebook page)
How I wish this storyline would show some reconciliation, now that would take some imagination. I get the depressing feeling Will is always going to get away with his crass behaviour, unnoticed by drippy Nick et al. (Charlotte Ford on BBC The Archers Facebook page)
Over in the village hall, Lynda's panto rehearsals have seen Rob walk out (and Lynda awarded 'line of the week'!) and Tom step in – but Tom's romance with Kirsty seems to be taking centre stage
"Please Rob, let me hone your talent!" Oh Lynda… #thearchers (@lefthandof on Twitter)
#thearchers Lynda exploring Stanislavskian techniques, while also accidentally turning the panto into theatre of cruelty. (@ourladyofFlan on Twitter)
Haha love lynda! (Amy Clarke on BBC The Archers Facebook page)
I only bought my ticket to see Kirsty & Rob fight. I now want a full refund #thearchers (@jackieschneider on Twitter)
Oh no - Tom's going o propose! Kirsty - run quickly or you'll have a lifetime of sausages and ready meals! (Susan Wakefield on BBC The Archers Facebook page)
Yeah Tom, you're definitely not on the rebound. It's been weeks since you got spectacularly dumped  #thearchers (@jamspangle on Twitter)
Jess's attempts to stay in Ambridge and Rob's ensuing discomfort are delighting listeners. Next Thursday's party has everyone agog. What could possibly go wrong?
Oh, please go to the party Helen. Go, get drunk on sherry and make some revelations over the mini mince pies #TheArchers (@ginandcrumpets on Twitter)
A bit like Abigail's Party?? As long as no one dies! (Sarah Delmas on on BBC The Archers Facebook page)
Interesting that Jess and Jennifer are poised to bond - they must have a lot in common with their unfaithful men! (Dianne Barker on BBC The Archers Facebook page)
Jennifer will ensure that Jess will meet all the right people? Snobery indicators reaching dangerous levels in #thearchers (@loracenna on Twitter)
Guest list: Tracy Horrobin, Susan & Neil, Rosa, The Grundys, Fallon & Rhys, Jazzer...SCREAM...Jen wakes up. #thearchers (@olympians on Twitter)
And finally, there was a collective wince from listeners as wailing Leonie arrived at Ambridge Hall. Will James be hot on her heels?
#thearchers No matter how bad things seem Lynda, they can always get worse. #Leonie (@SteveBrooks13 on Twitter)
Gawd, poor, poor Leonie! And you think DARRELL has problems? It's nothing compared to fancy dress and running mascara. #TheArchers (@SpareMousie on Twitter)
Where Leonie is..........James is sure to follow #thearchers #nightfollowsday (@salvatorRosa on Twitter)
Tayler Cresswell is The Archers' social media host
Join the conversation
Or join the discussions on Archers fan forums: