'Adam, stick to your guns' - listener discussions to 1 Feb 2012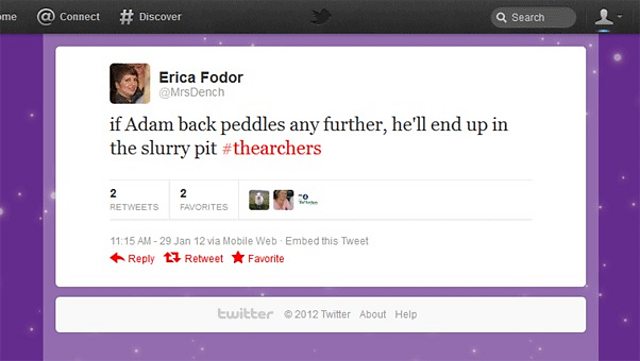 Evil Brian and back-peddling Adam have had listeners raking up old scores among the Aldridge clan. And after David's quiet chat with Oliver about the dairy herd, they're also expecting fireworks at Brookfield when Ruth finds out.
Tony's paltry Sunday lunch was the subject of much debate, as was Susan's promise of a hot chilli for Neil on Tuesday, when listeners braced themselves, expecting another shower scene...
After the opening of the green burial ground, suggestions were offered as to who would be the first in. And has Jim spoiled a fine bromance?
Here's my pick of listener discussions on The Archers message board, Twitter and Facebook between 26 January and 1 February 2012

The troubles at Home Farm have been discussed at length. Was it a bit rich of Brian to argue that he'd been "stabbed in the back"? While most feel that Adam has been badly treated over the mega dairy, perhaps he's brought it all on himself....
If Adam back peddles any further, he'll end up in the slurry pit #thearchers (@MrsDench on Twitter)
Brian Aldridge is LAST person in Ambridge to get into strop about family bloomin loyalty. I mean, does he think we've forgotten? #thearchers (@vivlives001 on Twitter)
Just remind me again.... Didn't Debbie and Brian conspire behind Adam's back over a considerable period of time, and put their plans forward to BL without even TELLING Adam, let alone asking him (because they knew he'd be against it)..... If that isn't a betrayal by your own family I don't know what is. (Neverborn)
#thearchers Adam, stick to your guns. You did want to raise the issue with the press. Go for it big time. (@NGT67 on Twitter)
As long it makes money, he'll carry on. (patchwork pattie)
I like Brian. He's a good business man and not afraid to do what he thinks is right (Paul Berine on Facebook)
Have your say on the message board threads: Isn't this a bit unfair on Adam? and Can anyone stop the evil Brine from his mission?

"Sneaky", "underhand" David should expect the worst after his clandestine chat with Oliver about getting rid of Brookfield's dairy herd...
Big Chief Dopey had better be well prepared for both barels from an incandescent Ruth (SredniVashtar07)
Dear David, Leaving you, moving in with Sam. Took the cows, and the pizza from the freezer. Left the kids, and the casserole Jill brought over. Ruth (charmingAnnielynn)
Oh David, you MUST tell Ruth. #theArchers (pollypanad on Twitter)
#BBCR4 #theArchers Ruth divorce that chauvinist coward David now. You deserve better than that murderer of badgers and men! Selling the herd (@SocialistGreen on Twitter)
He sounded decidedly shifty about the whole thing. He knows he is doing the wrong thing. The longer he leaves it the more outraged she will be. (Botticelliangel)
He is being sneaky, underhand and disloyal. WR should find herself a frying pan (it will take her a while as she rarely uses one) and beat him to death with it. (Scarlett)
Read all about it on the What will Ruth say? thread

Tony Archer's paltry Sunday lunch worried many listeners. Surely Pat could find the time to make him a hot meal? Some are still hoping he'll make a break for freedom...
The patent lack of concern or sympathy in Pat's voice that was chilling, so to speak. She who had been in the warm all morning could at least have offered to hot up that blessed tin of soup for him while he thawed out. (JustJanie - Fairweather Jogger)
Now if it had been Helen asking Pat would have dropped everything and made a lunch (ruralsnowflakebliss)
Wait a minute - 2 people have been working all morning and then one of them whines pathetically because the other one didn't make his lunch. Isn't Tony just as capable of cooking? And if not why not? (Marie)
He should evict her and try to enjoy what's left of his miserable existence. I feel he would enjoy some mad cap adventures: bonding with gorillas; being massaged on hot beaches; spending all his dismal pile of coppers in the fruit machines of Vegas; buying himself a mankini... (Arrow-shower)
Share your thoughts on the OMG - open yourself a CAN of soup .... thread on the message board

Speculation continues about Tracy - in particular Neil's inability to say no to her. Susan's tempting offer of a night in with a bowl of chilli perturbed many who wondered if they'd be subjected to another shower scene! Little did they realise...
Was a little nervous about the shower scene with Joe and Bert #thearchers (eatcakebehappy on Twitter)
Tracy is giving Mike the right runaround. Potential passion among the paint, tiles and grout? #thearchers (@SinjBent on Twitter)
Oh god... I could do without Susan getting frisky with Neil. Not at dinner time. #thearchers (@DaveSW16 on Twitter)
Oh Susan, it was going so well. But the way to a man's heart is NOT through a tatty dolls house #thearchers (@archelina on Twitter)
The Dolls House! Neil and the listeners dodge a bullet. #thearchers (@bushmanB25 on Twitter)

Kenton's comment that the Green Burial Ground "needs a body" had many offering suggestions on Twitter
... I nominate Tom Archer. #TheArchers (@armlessphelan on Twitter)
Will Tracee fall in the skip and be the 1st funeral for the new burial site? #thearchers (@quilterin24 on Twitter)
I've a horrible feeling Joe might be the first customer...#thearchers #itswhathewouldhavewanted (@TreacleToo on Twitter)

And is there a new bromance in the offing between Joe and Jim? Or has Jim blown it after telling Joe that he couldn't promote his new enterprise at the opening of the green burial ground?
It's a great leveler hearing the conversation between them. No one to impress. Just man to man. (binocular)
There's mutual respect and honesty there I feel. (Heavans to Betsy)
Poor old Joe :( #thearchers (@TimHaskettArtist on Twitter)
The Prof is being mean..... #thearchers (@potterwigwam on Twitter)
Tell us what you think on the I rather enjoy the Joe-Jim bits thread.

Tayler Cresswell is host of The Archers message board.