Elizabeth "shot down in flames" - listener discussions to 5 Sept 2012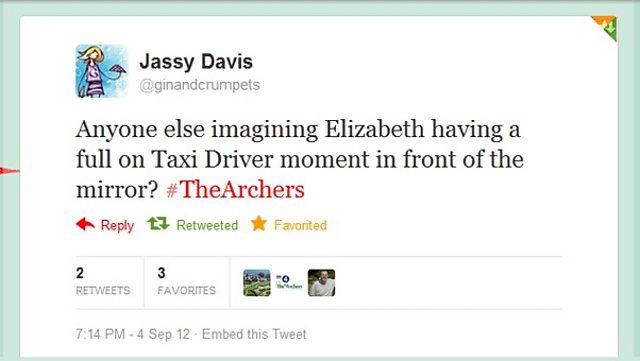 Hurray for Shula! She was applauded for telling Elizabeth some home truths on Sunday after Freddie's fall. But did Elizabeth's apology on Tuesday fall short? And is it time to make up with David?
As the Flower and Produce show approaches, listeners are looking forward to the bake-off between Jim and Oliver.
And as we reach the penultimate episode of this series of Ambridge Extra, they're wondering "who will end up in Davey Jones' Locker?"
But first to Mike and Vicky who have dominated discussions on the message board, Twitter and Facebook. It's practically impossible to sum up all the differing viewpoints posted, but there has been much praise for the way the storyline is being handled - as well as a little disquiet from a few listeners who think it's not the right subject for The Archers.
Here's my pick of listener discussions on The Archers message board, Twitter and Facebook between 30 August and 5 September 2012.

Listeners clearly didn't want to miss last Thursday's episode which saw Mike and Vicky visiting the consultant (played by Anton Lesser)
Elderly couple sat near us in restaurant this eve brought a radio & had @BBCTheArchers on in the background. #timeforlouddubsteponheadphones (@RoystonShuff on Twitter)
The really sad thing about Mike & Vicky's dilemma is that they're both right. #thearchers (@BeckyIBe on Twitter)
No 'right' decision is possible in this situation @BBCTheArchers - not even Anton Lesser's balanced reasoning can help! (@languedoclinda on Twitter)
Reaching into the radio to hug/cwtch Mike & Vicky #theArchers In tears here :-( (@pollypanad on Twitter)

Could their heartbreaking dilemma bring about the end of Mike and Vicky's relationship? Listeners are split when it comes to what kind of mum Vicky might make: "amazing or "smothering"?
I am angry with Mike... He needs to look into himself and find what it is he loves about Vicky and decide whether he wants to continue their life together including his child or leave them. The child is a reality and he either makes the best of that reality or retreat into what could be a lonely life. (Skyebird on the message board)
The baby and teenage years will take up the rest of Mike's life. Even if the child grown up to be an independent adult, this decision is basically a decision on how Mike will live from now on. Whilst it is Vickies body, and therefore, ultimately her call, the baby is theirs, and the decision needs to be theirs too. (Perkin Warbeck on the message board)
Vicky will make a great mum, and hopefully she will also do occasionally what this type of mum needs to do - when faced with intransigent or uncaring authority, she will turn into what Mrs B cheerfully calls "Special needs Mum Bitch". This is Paralympic year and a big kiss to the prod team for taking this on. (Froginaock on the message board)
Have your say on the message board

The debate continues about whether this storyline should be aired on The Archers at all.
I'd prefer not to have this sort of storyline on The Archers. It's not that I don't face up to the realities of life, it's just that I don't want to do so when I'm listening to The Archers. (Blue Horizons on the message board)
As someone who has faced this predicament, I think the Archers are tackling this storyline with tact and sensitivity. Nobody should presume they 'would' or 'would not' abort - it is a totally personal decision that can only be made by the couple going through an affected pregnancy. (Ingrid White on Facebook)
Add your thoughts to the message board

As Freddie nursed his broken collar bone, Shula was applauded for her furious outburst in her conversation with Elizabeth.
#theArchers Shula's voice was massively scary, she does angry quite well and self righteous anger even better. (@janeskinner2 on Twitter)
Gad, Shula! You are so rotten! (Heather Moulson on Facebook)
There wasn't any need to be such so denunciatory ...grief can last a lifetime and surface like a boxing glove when one least expects it. (Arrow-shower on the message board)
How lovely for the Wistful Widow to be for once so thoroughly and obviously in the wrong and have each one of her 'I was thinking of Nigel, gulp, sob' excuses so rightly shot down in flames. (JustJanie - Fairweather Jogger on the message board)
Going to be a quiet Christmas at Lower Loxley at this rate #lizzienomates #thearchers (@CEMichael on Twitter)
Have your say on the Shula who the hell do you think you are? thread on the message board.

After Elizabeth's apology on Tuesday, some thought she ought to stop playing the "poor me" card. And will this herald a rapprochement with David?
Shock news from #TheArchers ... Elizabeth Pargetter admits she's fallible. There's hope for David yet! (@x33xxx on Twitter)
Bringing them up on your own, Lizzie? What about the servants and the extended family? Some women really do it alone #selfpity #thearchers (@opheliaknee on Twitter)

In other news, there's some excitement about the coming Flower and Produce Show as Jim and Oliver look set for a bake off.
F & P almost upon us ... harvest festival (or Bunter's free supper as we call it) imminent... (aquaticDougal on the message board)
Let the DOUGHLYMPICS begin! Jim and Olly in mortal combat for that coveted Gold Cookie Award. Oooh....I can't wait. (Angela Stepney on the message board)
#thearchers So that's where Harry's breadmaker went. Hope Jazzer got a good price. (@SteveBrooks13 on Twitter)
Join the excitement on the Bread making! thread on the message board.

As Ambridge Extra draws near to its stormy conclusion, listeners debated whether Kenton would a) drown b) split with Jolene or c) save the day in the final episode. Some were confused about the details of Mel's abortion, and thought the music was distracting in places, but most said it was thrilling stuff.
Loving the boat trip. Now that really is Terror. Bit concerned about Eccles (Nelson_G on the message board)
I am now totally confused about the abortion. If it was lance's baby why did Mel tell Jolene that Kenton had forced her to have an abortion? Have I missed something? (Lyra on the message board)
Just listened to #AmbridgeExtra. Wow. Suddenly don't see Kenton as quite such a loveable fool any more @bbcradio4extra (@pboropixie on Twitter)
Whatever happens, I'm sure that the Kenton Jolene relationship is at an end. The question is, will Jolene give up the Bull or hand it over to Fallon? (Dee on the message board)
Will Lance survive? They couldn't possibly kill Kenton, could they? Not given Jolene's previous for losing spouses in New Zealand. That would be a bit harsh. (JustJanie - Fairweather Jogger on the message board)
Catch up on all the Ambridge Extra chat on the message board.

Tayler Cresswell is host of The Archers message board.