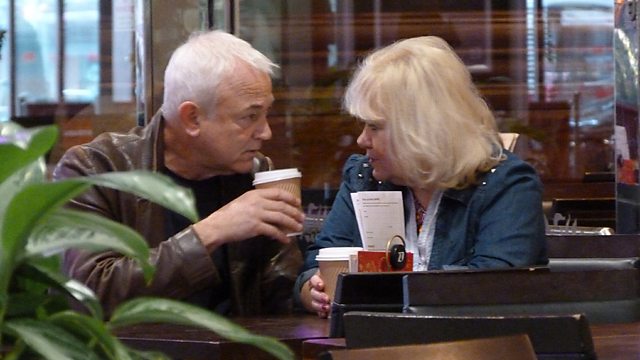 Michael Fenton Stevens (Paul Morgan) and Sunny Ormonde (Lilian Bellamy)
Lilian and Paul: the affair that wasn't – and then was
In January 2010, Lilian Bellamy was approached by a stranger looking for her partner Matt Crawford and was surprised to discover he was Matt's half-brother Paul Morgan. Divorced with adult children, Paul ran a building business. He told her that he had always wanted to meet Matt. Their mother was terminally ill and had become more open about her past.
Lilian told Paul that Matt was in prison but she would tell him about Paul's visit. She was sure it would be something positive for Matt to think about. But Matt was very suspicious about Paul's sudden appearance, believing he was after money. Lilian disagreed, insisting Paul genuinely seemed to want to get to know Matt.
Lilian gave Paul the bad news that Matt wanted nothing to do with him or his mother. Paul understood, and they regretfully said goodbye.
Closer contact
But then Paul turned up unexpectedly to let her know that his mother had died. Lilian was supportive. Louise had been a difficult woman. When he left, Paul thanked Lilian for her help.
Paul texted Lilian to say when the funeral was. After struggling with the idea, Lilian decided to attend on Matt's behalf. Paul was pleased to see her. He introduced her to his children as a family friend.
Lilian went to London to see her son James on his birthday. The next morning she met up with Paul. Together they strolled round London and talked. Neither of them had mentioned to anyone about this meeting. They agreed to meet up again.
When Paul was in the Ambridge area quoting on a renovation job, they met. Over lunch, they commiserated about the isolation of living alone.
In April, Lilian admitted to her sister Jennifer Aldridge that she had had a poor prison visit. Jennifer felt that Matt could have been a bit more thoughtful – like Paul. That same day Paul phoned, inviting Lilian to be his 'plus one' at a dinner dance at a four star hotel just outside of Windsor – separate rooms, of course. Flattered Lilian agreed
After a nervous start they enjoyed the event. Lilian got a little tipsy, so Paul took her up to her room and Lilian asked him to stay for a nightcap. When Paul asked about Matt, Lilian opened her heart. She shared her concerns about Matt's true feelings. Paul told Lilian that if he was Matt, he would be counting the days until he could come home to her. He realised he had said too much. But it was the kindest thing anyone had said to Lilian in a long while. Paul felt he should go back to his room, but Lilian wanted him to stay. Neither knew quite what to do, but by the morning it was clear they had not slept with each other.
Back in Ambridge, Lilian invited Paul to the Dower House. She explained Matt's plans for their new property business, and asked his opinion. Paul felt conflicted. He wanted the best for her, but his feelings were deepening..
A rival
Paul came to see Lilian the day before Matt was released in May 2010. He desperately told her that he loved her. Was there any chance that she loved him too?  Lilian sadly turned him down. She admitted that she had feelings for him, but her future was with Matt. Paul left, wishing her all the luck in the world.
Once out of prison Matt went to see Paul and warned him off Lilian. Paul insisted his only motive had been to let Matt know their mother had been dying. Convinced that Paul was after their money, Matt was thrown when Paul mentioned the dinner dance, but played it cool. He became threatening, but Paul fought his corner. He compared Matt to their bullying mother. Paul finally agreed to disappear – but only for Lilian's sake.
Not the end
That seemed to finish any chance of contact between Paul and Lilian. But two years later, Matt's increasingly thoughtless behaviour was making Lilian very unhappy. When Lilian discovered through Darrell Makepeace that Paul was in the area, supervising renovation work on the church at Fawcett Magna, Jennifer advised her to leave well alone.
But in October 2012, Lilian's son James had a car accident. Lilian was in turmoil, but once he'd established that the injuries weren't life-threatening, Matt wouldn't tear himself away from a business outing to come to the hospital. Desperate Lilian rang Paul, who gave her staunch support.
Afterwards, they had some secret meetings, ostensibly as friends. Lilian was captivated by caring Paul, in contrast to his thoughtless brother and on 28 November she couldn't resist him any longer. They started an affair.
Keri Davies is an Archers scriptwriter and web producer
Sunny Ormonde (Lilian) answers questions from listeners live
Kim Durham talks about playing Matt Crawford – how jealous is he really?
Michael Fenton Stevens on Paul – lover or controller?
Audio clip – Michael Fenton Stevens on instant intimacy