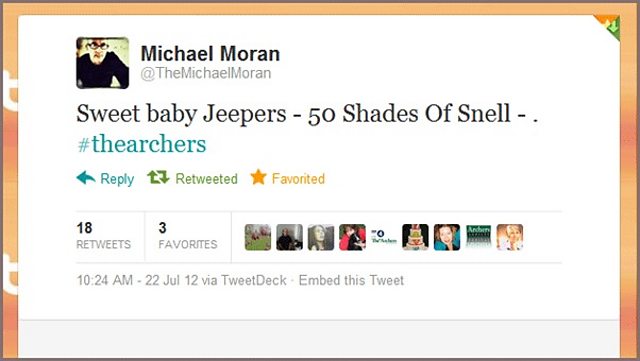 Lynda's cosy chat with Vicky about "relations" and the menopause divided listeners with some jamming their fingers in their ears and shouting "la-la-la!" Others applauded the airing of a subject that isn't often discussed in the media.
Ruairi's quest to buy one of Eddie's statues had many hoping his "millionaire parents", Brian and Jennifer, would treat him to it. If not, listeners have promised to chip in and help raise the money.
Kate's back to selfish form this week in Ambridge Extra and listeners sagely nod their heads - they saw this one coming. Poor Phoebe.
But first to Brookfield last Thursday where we awaited the outcome of the fire in the barn...
Here's my pick of listener discussions on The Archers message board, Twitter and Facebook between 11-18 July 2012.

As Thursday evening drew near, listeners reported racing home, escaping from the family or stopping work to hear what happened next at Brookfield Farm...
Can't go out tonight until I have heard #thearchers. Have been on tenderhooks all day (@shimmy41 on Twitter)
Desperate race to see if I can get the kids to bed before #thearchers. My grim determination is even frightening me... (@jaykaybee on Twitter)
Actual proper butterflies in my tum! #thearchers (@fairy_with_hair on Twitter)
If any customers order food in the next 12 mins there may be a wait. #thearchers (@cheffyalan on Twitter)

Listeners were relieved to hear that the children and Gina, the pregnant cow, were safe but some were disappointed that there were no "juicy deaths."
Thank goodness the calf was alright! (Rachel Matthews on Facebook)
Pathetically short period of worry for Josh and George there. But secretly just relieved! #thearchers (@archelina on Twitter)
Nobody dead? ...I thought the way they were ramping up the tension at least one person would end up with third degree burns? (Angela Stepney on the message board)
All started Hammer House of Horror and within minutes it was just Five Go to Arsonist's Barn (borchesterbouncer on the message board)
Gutted (Dusty Substances on the message board)
Those Victorians wouldn't have been so lily livered: Little Nell died... (Arrow-shower on the message board)
Read the reactions in the Gutted and Nobody dead threads on the message board.

Emma Grundy thinks she knows who the fire-starter was. Was her call to Crimestoppers a wise move? Most think so considering her mum went to prison for harbouring her brother Clive. But was Emma right? Did uncle Keith really torch the farm?
I think Emma is wise to remain anonymous. She owes her mother's strange family nothing - her children were at risk. I don't know how anyone could be in any doubt about her love for George after Wednesday and Thursday (StargazerwithOscar on the message board)
Oooo, is it Keith? #thearchers (@kenningtonkitty on Twitter)
Talk about give a dog a bad name! Let's all lay off Keith until some firm evidence is produced! (mike on the message board)
Oh Emma, what have you done. #FreeTheHorrobinOne #TheArchers (@Airscaper on Twitter)
Add your thoughts to the Emma, tell Susan your suspicions and the Keith Horrobin is innocent OK threads on the message board.

Elizabeth's visit to Brookfield on Tuesday surprised listeners and many suspected her motives.
Elizabeth must have stepped out of the front door this morning and tripped over her conscience. #thearchers (@TheVintageYear on Twitter)
What does SHE want? Is Brookfield still part of her inheritance? just checking what has been lost? #thearchers (@HelenHaneGrady on Twitter)
I think that was the closest to 'Sorry' we are going to get. (returnmigration on the message board)
The lovely Liz has been plotting in her lair; what she's going to do is lure David's
kids into Lower Loxley, and push them all off the roof! That'll show David. (Gerry Hatrick on the message board)
Elizabeth revisiting the scene of the crime...? They say that's how you can tell. #TheArchers (@HemmingwayDM on Twitter)
Are Elizabeth's intentions honourable? Have your say in the What is this strange being thread on the message board.

Young Ruairi's back from boarding school and wants to buy one of Eddie's statues in memory of the late Fly, the Home Farm sheepdog. With a new actor in the role, there was plenty of discussion about the fact that he's lost his Irish accent since he went away to school.
Not a vestige of an Irish accent. I wonder if the public school is beating it out of him... Siobhan must be turning in her grave (West Linda on Facebook)
I agree, buy him the dog. I had a tear in my eye when he said it looked like Fly, especially the wonky ears bit. (Eileen on the message board)
I'll put in a couple of quid. He should have the ornament and a real dog. What a father! Rory, ring Childline at once and tell them about being made to drag heavy boxes around to get a few pence from your millionaire parents... and no treats planned other than a boring old fishing trip which will have to be postponed.... (abzacois on the message board)
Join the conversation in the Chip off the old block thread on the message board.

As Vicky tries to find out what's ailing her, she confides in Lynda Snell. Their chat was seen as both "magnificent" and a bit "euwwww"
oh christ #thearchers is talking about SEX I need GIN. GIN! (@aidanskinner on Twitter)
Bucking the trend, I thought Lynda and Vicki's conversation was rather nice, it was supportive of a friend in need. (@CelloSuze on Twitter)
I don't understand the squeamishness at all. Lynda was wonderful as ever, when drawn into the role of confidante. And I hope, hope, hope that Vicky is pregnant. (old cath on the message board)
She isn't up the duff is she. Don't think I could deal with #babbyvickywiccy #thearchers (@gothiron on Twitter)
Call me prurient or even just plain nosy, but I'm delighted to hear about what goes on behind closed doors with couples in Ambridge. (Elasticwoman on the message board)
Ukk or applause? Add your thoughts to the Ukk menopause talk and Anyone interested in Vicky's... threads on the message board.

In Ambridge Extra, over in Johannesburg Kate's affair with Johan hasn't surprised anyone - this is Kate, after all...
Kate hasn't changed one bit! #selfish #AmbridgeExtra (@pollypanad on Twitter)
At last Kate has met someone as self-centred and blind to other people's feelings as she is herself! (@AnneLiddon on Twitter)
Listening to Kate rushing off and leaving Phoebe in a busy shopping centre. Gawd, they deserve each other! (ermintrude on the message board)
If Lucas finds out (how can he not?) my bet's on him giving Kate her marching orders, whereupon Pheebs AND Kate will be winging back to Ambridge a wee bit faster than Roy is expecting... and then it'll be round to Brine and Jenni's for some cheque book therapy! (BanquetBangersBaroness on the message board)
Poor Feebz on #AmbridgeExtra, finally getting to see the true cut of Kate's jib. (@LFischmann on Twitter)
Join the conversation in the Ambridge Extra topic on the message board.
Tayler Cresswell is host of The Archers message board.