Where to discuss The Archers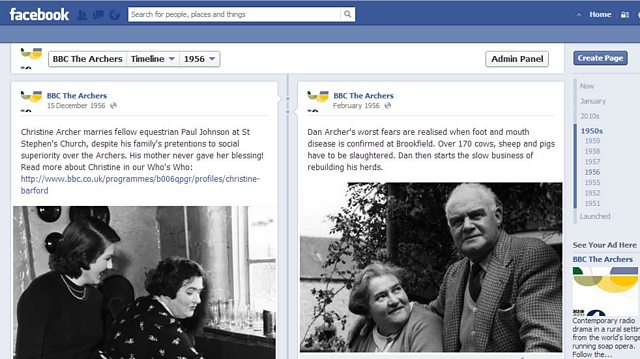 BBC The Archers Facebook timeline for 1956
With the closure of The Archers message board taking place on Monday 25th February, many listeners and message board users have been discussing where to move on to and what the different online discussion forums offer. Here's a brief round up of some of what's on offer and an important note about privacy and online safety at the end.
Message boards 
Many who post on the BBC message board have already signed up to Peet's Place or the Mustardland board set up by smeesue. These boards are moderated by their community and have many of the same topics, threads and features of the BBC message board including The Archers discussions and off topic areas. There are useful FAQ threads on both forums if you have questions about signing up, privacy or how to use the board.
Archers Addicts, the official fan club for The Archers, also has a forum for listeners.
Facebook 
If Facebook is more your thing, then you could join us on the BBC The Archers Page. I've added content to the Timeline for the 1950s (see image above) and will add more Archers history to the timeline over the next few weeks and months.
You'll also find The Archers Addicts and Archers Appreciation groups there.
If you're concerned about privacy on Facebook, there are FAQs about setting up an account as well as privacy tools and settings.  
Twitter
On Twitter, there is a lively group of listeners discussing The Archers, and if you enjoy multitasking – posting about the programme as-it-happens, then you might enjoy the tweetalong, which is particularly popular on a Sunday morning. Most follow #thearchers hashtag (simply click the previous link or type "#thearchers" into Twitter's search box and you'll see the posts and conversation about The Archers).
From 2nd July, Ambridge Extra is back, so you can also follow the #AmbridgeExtra hashtag to join the conversation 
We're on Twitter: @BBCTheArchers
Archers Addicts is, unsurprisingly, @ArchersAdddicts
And here's a list of Archers characters on Twitter (these are fan fiction accounts set up by listeners)
Twitter has plenty of advice about how to set up an account, safety and other guidelines on its website.  
Online privacy and safety
Privacy and safety is a big concern with many.  BBC Webwise offers some really useful advice and tips on staying safe online so well worth a read.
If you have any questions about any of the above, please post them in the comments and I'll do my best to answer them.
 Tayler Cresswell is host of The Archers message board, Facebook page and @BBCTheArchers on Twitter.