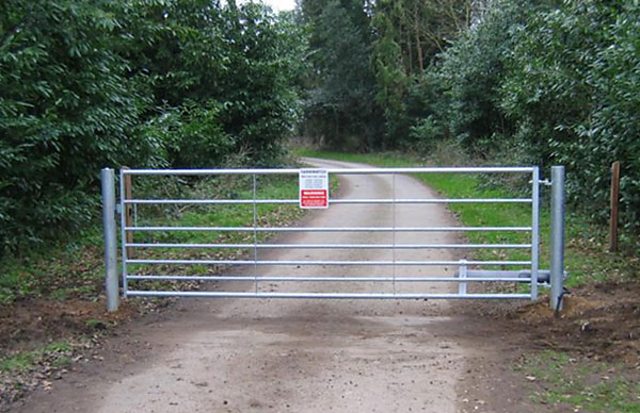 David and Ruth were shocked by the audacious theft of hay from their barn. But they are not alone, as farmers regularly find themselves a target for thieves. Danny Cracknell of Farmwatch writes:
Today many farms are an Aladdin's cave to the thief. Stock and equipment are usually spread over many acres and are portable and easy to steal. With the increase in grain and oil prices and a shortage of hay and straw there has been an upturn in the theft of hay and straw bales, feed and fuel. With the round bale it is easy for the bale to be rolled onto a trailer. With small bales they can be loaded by hand.
Tractors and plant are also targeted and regularly stolen from farm yards and open fields. Stolen items can sometimes be transported hundreds of miles after being stolen.
It is so easy, with free access to the farm, for the casual visitor to enter the farm with a cover story to see what is available for stealing. Farmwatch receives daily reports of such visits by these callers using multiple cover stories when challenged. "Have you any scrap?" "Do you have any hay for sale?" "Can I buy some red diesel?"
Because many items of plant and machinery are now fitted with tracking equipment it is worth farmers checking around the area of the theft for the stolen items. Many thieves will park the equipment up to see if it is found via the tracker. If they can trace it first the thieves will not know if you had a tracker fitted or not.
Recently two brand new tractors were left parked in a neighbour's isolated barn after they were stolen. By luck the buildings were checked by the owner on a regular basis and the tractors found.
On another occasion a trailer was stolen during the daytime. The thieves went to a neighbour of the victim and asked to leave the trailer while they visited a nearby town. When they returned to collect it, the police had been informed via Farmwatch and the trailer recovered and thieves arrested.

This is the sort of advice we give to farmers like David and Ruth:
Take a note of registration numbers of vehicles visiting the farm uninvited. Try to get a description of the occupants and any other distinguishing features to help the police identify the vehicle.
To help reduce the risk of theft, make sure all buildings are locked where possible and gates are kept closed other than when in use. If the thief cannot see it they may not take it. Tractors and plant ought to be secured inside a building when not in use. Do not make it easy for the thieves, take out the keys and where possible fit immobilisers.
Make sure all your property is identifiable; mark it with your post code, smart water or other forensic marking fluid. If your property is identifiable it is less likely to be stolen as it not easy to sell it on. A simple economic way is to mark it with a permanent marker pen with your postcode in several places.
Hay bales are worth marking by simply placing a sheet of paper with your name or postcode pushed into the bale. It may not prevent it from being stolen but will help to identify it as yours should it be traced by the police.
The main message has to be make sure your property is secure. Do not leave in the field unless absolutely necessary. Make sure all items are identifiable as it makes it less likely to be stolen.
Try to control access to your farm and property. Keep doors and gates shut.

Danny Cracknell is a former police officer (Norfolk Constabulary) and director of Farmwatch Ltd
Picture shows a farm gate appropriately secured, from Farmwatch