'Not waving but drowning' – Listener discussions to 6 November 2013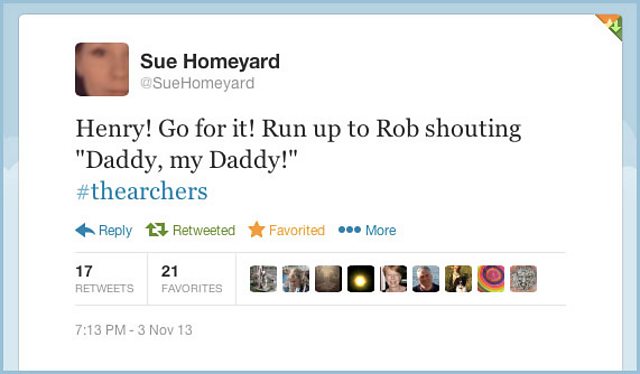 Post from @SueHomeyard on Twitter
Listeners were agog as Jess arrived in Ambridge.  And they were soon taking sides – Team Jess. Team Helen. Team Rob? 
Robert Snell had some listeners swooning when he tried to dissuade Lynda from taking the Deputy Manager job at Grey Gables. And Shula's advised to leave well alone when it comes to Darrell.
And finally, Friday's wedding brought a tear to many an eye.
Here's my pick of online discussions between 31 October and 6 November 2013
Welcome to Ambridge Jess Titchener! Oh look! Fireworks!
Jess! #thearchers What a little feminine voice she has. (@lindasgrant on Twitter)
I hope she stays around long enough for us to get to know her. As she is still grieving for her Father it is difficult to "get" her character as yet. She is obviously vulnerable now but, as a social worker, she has to be tough when it counts. Some interesting times ahead I hope. (Jean Bell on BBC The Archers Facebook page)
Helen is going to have to brazen this out or become isolated in her own village, especially as everyone is very taken with Jess. (Lorna McLaren on BBC The Archers Facebook page)
First there was bonfire night – and many felt sorry for Henry, waving to Rob only to be snubbed…
Not waving, but drowning. #Henry #thearchers (@GillAllard on Twitter)
Henry! Go for it! Run up to Rob shouting "Daddy, my Daddy!" #thearchers (@SueHomeyard on Twitter)
And on Tuesday listeners squirmed as they all ate lunch together in The Bull. They delighted in Kirsty's discomfort as she discovered Rob would be playing Robin Hood to her Maid Marian.
I just did a cheer like a football fan when their team score a goal. Brilliant! Robin & Marion #TheArchers (@cha0tic on Twitter)
How do I book tickets for this years panto? I normally avoid like the plague but this year is going to be great!  #thearchers (@jackieschneider on Twitter)
Think that scene where robin gets rescued from Nottingham castle may not now end as expected... (Annette Ellis on BBC The Archers Facebook page)
Listening to the repeat of last night's #TheArchers and wondering if I'll ever be able to "uncringe". (@SardineTin on Twitter)
This is delicious. We'll done SWs #thearchers (@Cuttsrich on Twitter)
So whose side are you on? 
She trusted the slime bag. I am with Helen on this. Give her time peeps!! (January Jones on Archers Addicts Facebook group)
What do you mean, he never promised he'd leave her. She is an adult and knew the score. No sympathy from me!! (Laura Bagnall on Archers Addicts Facebook group) 
ooooooooh sooooo was Team Jess ....But she seams so passively aggessive....whiny.....off him.....and....well its not real life so morals out of the window ....!!! let's make Rob Mr Archer and get on with it !!!! (Sally-Ann Howard on BBC The Archers Facebook page)
Love @BBCTheArchers, Love Jess! #thearchers (@Marillionmark on Twitter)
I maintain that Rob is not your typical love rat and that his feelings for Helen were genuine. If he hadn't felt let down by Jess---who did, indeed, behave as if she'd lost all interest in her marriage… the affair with Helen would never have happened. And I suspect Jess is on her 'best behaviour', before long, the mask might slip! (Sue Gedge on BBC The Archers Facebook page)
I think people are being a little unfair to Rob. I mean...doesn't Helen have some responsibility here? I'm not sure he's quite the scuzzball Kirsty is making him out to be... (Corin Warden on BBC The Archers Facebook page)
Over at Grey Gables, listeners debated who would be in the running for the Deputy Manager's job. And Robert's attempts to talk Lynda out of applying were applauded.
If Lynda doesn't get the DM job.... the sniff will take out half the village #thearchers (@salvatorRosa on Twitter)
I thought he was being a tad selfish, but not in an unpardonable way (Pam Tonothy on Archers Addicts Facebook group)
I love Robert! Not just because he's helped clear the way for Kathy, but because he wants his Lindy all to himself. (Vicky Griffiths on Archers Addicts Facebook group)
In that very moment I developed a crush on Robert, what a fabulous character. It was good to hear that in contrast to Ed and Joe's awful conversation! (Sakuntala Layla Della Jovan on BBC The Archers Facebook page)
I call him the Lynda Whisperer. (Robin Winning on BBC The Archers Facebook page)
Ahhh – everyone loves a wedding (well, not quite everyone) but there were a few tears shed. And many thought of Kathy when Jolene was looking for something borrowed…
Nothing borrowed, Jolene? You *borrowed* Sid from Cathy and now you're marrying Cathy's Ex. I THINK 'BORROWED' IS COVERED. #thearchers (@jtwentyman on Twitter)
It's all very emotional already.  I'm not going to last.  Where's the box of tissues? #thearchers (@yeevey on Twitter)
Anyone else think Kenton and Jolene make the sweetest couple in the world? After Jazza and Jim that is... @BBCTheArchers (@theresidentfox on Twitter)
Tears freely flowed whilst driving home - I want a Kenton in my life!! (Miriam Bellefontaine on Archers Addicts Facebook group)
No disaster? No fight? Call that a wedding? #thearchers (@cazmoss on Twitter)
Thank goodness that's over perhaps now we can get back to more interesting stories (Jill Nicholls on BBC The Archers Facebook page)
Love a good wedding. I walked down the aisle to the archers theme tune. True fact. #thearchers (@Belladax on Twitter)
And finally, when it comes to Darrell, some think that Shula should leave well alone 
Darrell's punishing himself. He's in a downward mental spiral and it's very difficult to get out of #thearchers (@markalannixon on Twitter)
I'd like him to turn his life round, but I am nearing breaking point with his self pity. Hope it doesn't last much longer. (Tim Porter on Archers Addicts Facebook group)
#thearchers He's beyond your ability to help Shula. He needs someone who knows what they're doing. (@SteveBrooks13 on Twitter)
Poor Darrell. I know he's not the sharpest knife in the drawer but he has had some rotten luck. Doesn't he have any family apart from Ilona and the girls? I fear it will all end very badly. (Sarah Delmas on BBC The Archers Facebook page)
Tayler Cresswell is The Archers' social media host
Join the conversation
Or join the discussions on Archers fan forums: