"That was a quick trade-in Rob" – Listener discussions to 5 March 2014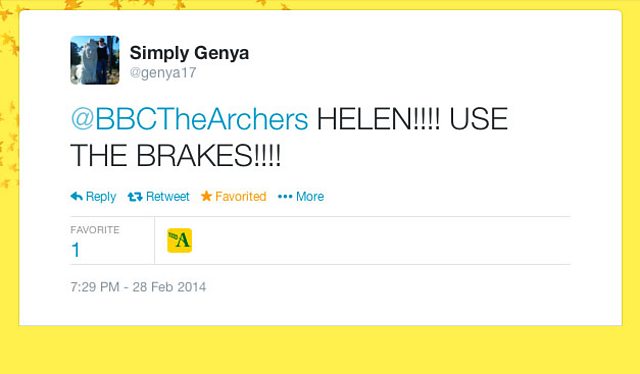 Post from @genya17 on Twitter
Yet more suspicious glances in Rob Titchener's direction as Jess agreed to a divorce and he swiftly acted to make a lifelong commitment to Helen – who came in for plenty of criticism too.
Meanwhile, the women of Ambridge entertained many listeners while providing a few yawns for others as they took centre stage at Jill's WI meeting with PC Burns.
Continuing to shine in the snobbery department, Jennifer has surprised nobody with her demands for a new kitchen. And Fallon is the subject of much speculation after her split from Rhys.
Here's my pick of the listener discussions between 27 February and 5 March 2014
Rob and Jess's decision to get divorced was greeted with suspicion by many listeners – as was Rob's extremely fast work in asking Helen to marry him.
Surely Jess isn't going to buckle that easy is she? #thearchers (@peptalkfanzine on Twitter)
OMG! Things are moving far too fast and I don't like it. I really hope I'm wrong - but I think it will end in tears for Helen. (Norma Collins on BBC The Archers Facebook page)
One minute we hear him asking for a quick divorce then HE calls HER and says there's no hurry? Very clever script writing - I keep lurching from the pro Rob camp into the not sure camp and then back again. (Lindsay Jones on Archers Addicts Facebook page)
As my sceptical husband just commented: that was a quick trade-in Rob #thearchers (@AnneLiddon on Twitter)
Helen set her cap at Rob from the outset, even saying "why are all the good ones married?" Charming. I'd say they deserve each other, except for poor Jess - first deceived then bullied. Very unrealistic she's giving in to Rob's desire for a divorce ASAP. I was hoping she'd drag it out for as long as possible. (Mieteka on The Archers' blog)
It'll never happen!! He won't tolerate Henry and or properly commit to Helen. Anyway it's at least two years away as Jess had only just agreed to a divorce. If he was genuine he'd have waited until he was free to make a commitment then and there. (Cath Anderson-Carroll on BBC The Archers Facebook page)
You've yet to win over Twitter Rob #thearchers (@shimmy41a on Twitter)
When it came to Helen herself, there were many words of warning sent her way – as well as plenty of reproaches.
@BBCTheArchers HELEN!!!! USE THE BRAKES!!!! (@genya17 on Twitter)
So happy. Helen deserves good luck. Even if she is a tad annoying. But them who isn't ... (Abi Newell on BBC The Archers Facebook page)
Please please make Rob and Helen happy - she is SO annoying but I'm starting to feel sorry for her #thearchers (@Bendyboobar on Twitter)
I must say that this has been --and continues to be--one of my favourite story lines of recent years and perhaps I'm unusual in that I want it all to turn out well, even though I've frequently had issues with Helen, I don't think she deserves yet another relationship that ends in disaster. (Nemo399 on The Archers' blog) 
Will this turn out to be a relationship/storyline so fiendishly well constructed we've all been hating Rob for no reason...??? Hmmm...Not convinced.... (Lucy Radley on BBC The Archers Facebook page)
What's not to be happy about, Helen? Someone else's marriage has ended in disaster and you're going to scoop up the leavings. #thearchers (@mkcloughie on Twitter)
Jill's home security session with PC Burns divided opinion: some saw it as vintage Archers while others found it a little bit uneventful.
omg omg we are actually being treated to a whole WI meeting in #thearchers hahahahahahahahahahahahahahahahaha #soapofthecentury (@ElizabethBangs on Twitter)
I enjoyed the evening with the ladies and their varied conversational topics! I don't suppose the WI will start pole-dancing classes but perhaps someone will suggest it to the U3A in Felpersham. A rare opportunity this evening for the different age groups in Ambridge to bond over "security"!!!! (Jean Bell on BBC The Archers Facebook page)
Loving the feminist debate on #thearchers (@DillyTante on Twitter)
I really enjoyed last nights #thearchers Jill out and about and lots of chatting. I felt like I was at the WI! Great! (@StaceyGirlx on Twitter)
Good god, Ambridge women, get a grip! #PCBurns #thearchers (@deb9may on Twitter)
I thought it was rather an awkward episode: the women in the village hall affecting to swoon over DC Burns, Jennie caricaturing herself again and the discussion about prostitution that seemed to come out of nowhere. (Michael Dewey on BBC The Archers Facebook page)
Had to be the most boring episode of recent times. Home Security! Kitchens! Pole dancing - wow! Let's get back to who's knocking off whom. Friday perhaps? (Len Ross on BBC The Archers Facebook page)
Poor Jennifer's problem kitchen drawers has kept many – though not all – entertained, and it has given her the chance to excel at what she does best: being a snob.
Love it that Jennifer has a wonky kitchen drawer and so therefore needs an entire new 30k kitchen !! (Jane Oliver on BBC The Archers Facebook page)
I think we can safely say Jennifer's problems are high class, First World problems. #thearchers @BBCTheArchers (@alondonstation on Twitter)
I am loving the kitchen story, it brings a little humour to the proceedings, which has been, sadly, lacking of late! (Carol Archer Smith on Archers Addicts Facebook group)
Brian's been fed up with her drawers for years. I don't think it's a new kitchen he yearns for. Dreary Jennifer deserves all she gets. (Margaret Mcnaughton on Archers Addicts Facebook group)
Pauvre Jennifer. Seems like she's much more upset about the drawer than she was about Siobhan, but dirty spoons are a nightmare. #TheArchers (@SaraThornton on Twitter)
Would it be easier for Jenny to get herself a different husband rather than a different kitchen #thearchers (@Labourcat on Twitter)
As Fallon announced her split from Rhys, listeners placed their bets on who her next boyfriend is likely to be.
Fallon is single! Alert the unmarried men of Ambridge! #thearchers (@beckyblackbooks on Twitter)
SOMEONE TELL JAZZER RIGHT NOW. #thearchers #teamjazzer (@Mudkipstoat23 on Twitter)
I'm off down to Ladbrokes with a fiver that says Fallon and PC Burns hooking-up by the end of May. Anyone joining me? (Ciara McGurk-Ducreux on Archers Addicts Facebook group)
Nah, she's off round the world to seek her fortune, possibly after a brief roll in the stables hay with young Dan. (Sarah Tudno-Jones on Archers Addicts Facebook group)
Maybe Harry will repent and come for her. (Bridget Deutsch on Archers Addicts Facebook group)
I was thinking the Fallon - Rhys break up has been done very sensibly and quietly without a hint of drama. Very refreshing and unlike most Ambridge love affairs. And the Law of Ambridge says all relationships should only be conducted between people we know, who live in Borsetshire so dishy PC is probably a good bet. (Jackie Reiss on Archers Addicts Facebook group)
Tayler Cresswell is The Archers' social media host
Join the conversation
Or join the discussions on Archers fan forums: