'Tom, can you see that big elbow coming?' - Listener discussions to 13 March 2013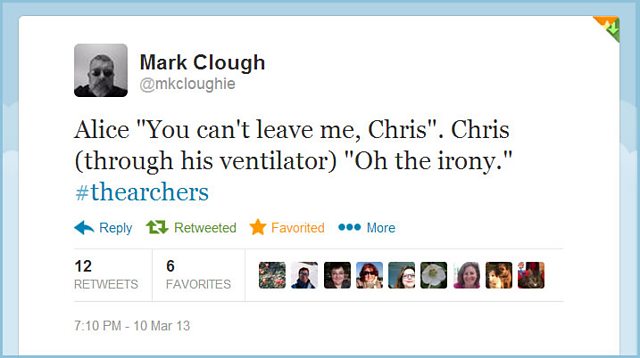 Post from @mkcloughie on Twitter
There's relief as Chris comes round but Brian discussion about "the elephant in the room" has many wondering what's next for Alice and Chris.
Brenda's "wretched ready-meals" comment had many cheering out loud, but some think Tom would be better off without this "mean spirited misery guts".
Listeners are divided over Pip – is she being "flaky"? Some think Ruth and David should stop being so unreasonable and let her get on with her life – "at least she has one".
 There were hugs for Ed as he took Mrs James some extra cash for the Fergie. But none for Darrell after his chat with dodgy Des.
And there's speculation about Anita Dobson's forthcoming appearance on The Archers. Is she about to save the badgers? Or play the ghost of Bunty Hebden?
Here's my pick of online listener discussions between 7-13 March 2013.
With Chris at death's door, Alice's dash back to Ambridge via – everywhere! – had many wondering if she'd be too late
Alice better get a wiggle on #thearchers (@shimmy41a on Twitter)  
Will Alice arrive in time? Chris doesn't sound good #thearchers (@hanikam on Twitter)    
Had to pull over to listen to The Archers this evening. It's all so dramatic. (@jackiesmith on Twitter)  
#TheArchers is just too harrowing these days. I'm sitting here in tears after tonight. Poor, poor Neil and Susan. (@SueKassab on Twitter)   
I need some oxygen myself after that! (@modicana on Twitter)   
When I came out of HQ office there was a car parked with a woman in it, clearly transfixed by #TheArchers. That @bbcradio4 car glue. (@Brays_Cottage on Twitter)   
Is Brian thinking that Alice would be better off without Chris? Surely not
Brian Aldridge, model of sensitivity since 1974 #TheArchers (@alexmarchbank on Twitter)   
Is it just me, or does Brian seem quite pleased by Chris's near demise? (Fiona McWilliam on BBC The Archers Facebook page) 
And on Wednesday, there was relief as Chris came round
#TheArchers I cried with Emma when Chris started to emerge from his coma... How bout you? (@buzhana on Twitter)   
A new pope and Chris opens his eyes. A miracle. #TheArchers (@HelenJaneGrady on Twitter)   
As Brenda lambasts Tom and his ready meals, listeners cheer her on – though some are starting to feel sorry for Tom. Is their relationship all over bar the shouting?
"Your WRETCHED ready meals". Woo-hoo Brenda, well said! #thearchers  (@archerslistener on Twitter)   
Bren was brilliant there....perked me up a treat after worrying myself sick about Chris. (@bridgetrl on Twitter)  
Tom,can you see that big elbow coming? #thearchers (@salvatorRosa on Twitter)   
Tom sounded genuinely remorseful this evening - the lights have gone on (Eileen Beesley on The Archers Facebook page) 
Tom has got to man up and stop putting up with the way his family is talking to him at the moment. Pat seems to have forgotten how he supported them when her business was busy poisoning everyone left, right and centre. Brenda wouldn't know drive and ambition if it hit her in the face. (BridgeFarmCow on Archers Addicts Forum) 
Flipping heck. Tom give Brenda the heave ho. She is turning into Pat II. What a mean spirited misery guts. Tom sounded gutted and genuinely hurt! Where on earth did all that venom come from? (January Jones on Archers Addicts Facebook group) 
I think Tom and Brenda have reached impasse, no plans to marry and not happy with the current lifestyle. What will happen to this twosome? (Meg Molyneux on Archers Addicts Facebook group) 
Is Tom really unaware of the way he makes people feel? Even his own parents have an Anti-Tom Shield #TheArchers (@lomelindi12 on Twitter)  
Many admitted shouting at their radios as "flaky" Pip finally made an appearance at Brookfield on Sunday, but not everyone sided with David and Ruth
Time for David and Ruth to suggest Evil Pip moves into her own place and enjoys the thrill of being grown up and gas bills? #TheArchers (@ginaandcrumpets on Twitter)  
Leave Pip alone David. Unlike you she has got a life! #thearchers (@HiggsBoz0 on Twitter)   
I really don't know what everyone's problem with Pip is, I'd be exactly the same and 100% less reasonable. #thearchers (@makadajohnson on Twitter)  
All following Pips life must remember farming is not just a job but a way of life and finding the balance between social and farm work is not easy----however plenty of 20 year olds are running farm operations so she should start carrying more weight and helping run the business. (CULTURE on The Archers blog) 
Ed's impressed most after persuading Mike to raise the milk price and giving back some money to Mrs James for the Fergie. And a few jaws dropped when Jazzer bought a round!
I completely forgot to be over the moon about Ed getting his milk price increase. Well done Ed #thearchers (@TotalSJ on Twitter)   
Yessssssssssssssssssssssssss. Ed you're a good man. *hugs* #TheArchers (@FreekHedd on Twitter)    
Never mind the comets and meteors etc, there's a blue moon over Ambridge as Jazzer's buying a round #thearchers (@Labourcat on Twitter) 
Mine's a pint of shires Jazzer! #thearchers (@DavidWhe on Twitter) 
Oh Daryl. Listeners are telling you in no uncertain terms to steer clear of Des!
If Darryl in #thearchers can't see the DANGER sign on his prison mate's forehead, how does he manage to do his work with such poor eyesight?  (@Twill39 on Twitter)   
Another depressing storyline to come? Darrell wasn't happy to see his old 'mate' again but isn't strong enough to tell him to get lost! (Val Johnson on on Archers Addicts Facebook group)
Daryl is so wet I could punch him. Why does he never tell his wife the full story? #TheArchers (@JackBarrowUK on Twitter)   
So what's this sporting thing? It better not be dog fighting. Farriers at deaths door I can cope with but not animal cruelty #TheArchers (@TolliganMarms on Twitter)   
Does Des do badger baiting? David might be a better proposition with his new barn #thearchers (@Dark_Blue_Box on Twitter)  
#TheArchers Darrel, whatever it is. Don't. Just DON'T (@Lyndaaa on Twitter)   
And there's been some reaction to news of Anita Dobson's forthcoming arrival in The Archers as well as a few guesses as to what she'll be doing there…
I was never an Eastenders fan but Anita Dobson is a fine actor and should be a great addition to the show. I'm guessing Pauls wifie as well (Andy Hollingdale on BBC The Archers Facebook page) 
Hoping Anita Dobson will be playing a mad drunk come back to an ex-husband (maybe Brian before he met Jennifer) (@louisebolotin on Twitter)  
Jazzer's new bird! Hurrah! #thearchers (@headlunging on Twitter)  
I expect she is trying to save badgers on behalf of her partner Brian May (@rji27 on Twitter)   
It's got to do with Paul surely. Or maybe Matt's been having an affair this whole time too and she's his other woman... (@lshiels18 on Twitter)  
Anita Dobson - the ghost of Bunty Hebden obs (@JackieHuke on Twitter) https://twitter.com/JackieHuke/status/309650092309229568 
Blimey - Shula's sis in law?  (@NicMaxfield on Twitter)  
Tayler Cresswell is host of The Archers Facebook page and @BBCTheArchers on Twitter.
Or join the discussions on Archers fan forums: