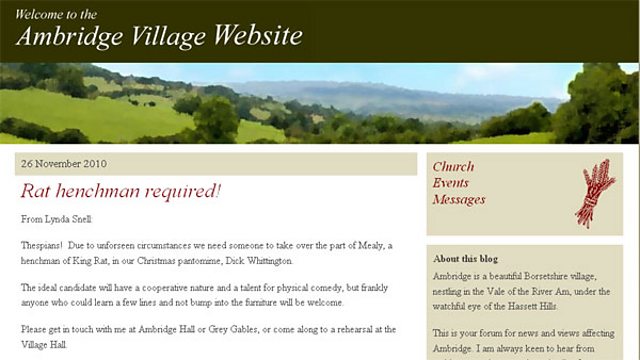 One of the things we launched along with this new Archers website is the Ambridge Village website. This purports to be the "real" village site that Jennifer runs, and is a way of extending the broadcast fiction into the online space. Or to have a bit of fun, as I prefer to think of it.
Because we wanted the site to be as authentic as possible in its look and content, we took advice from the "talk about local" project, which helps communities use online tools to develop their own voice - classically by setting up "hyperlocal" blogs and websites.
The director of talk about local, Will Perrin, writes about the new Ambridge village site here.
He draws comparisons with various real village websites, and has a number of interesting suggestions for how our site might develop, from discussions about sewerage to online punchups (all drawn from real life).
Own domain
One of his suggestions is already in our to-do list. At the moment the URL (web address) makes it clear that the Ambridge site is actually a BBC blog. We plan to float the site off onto its own domain, unconnected to the BBC. After all, the citizens of Ambridge (who I've always thought should be referred to as Amburgers...) don't know they're on the radio, do they?
So to someone coming across it randomly it should look like a real village site. It will still be linked from The Archers website, of course, and there is a discreet explanation of what the site is really, if people click on "More information".
What would you like to see on the Ambridge village website?
Keri Davies is an Archers scriptwriter and web producer.
The picture shows the Ambridge Village website
talk about local helps communities find their own voice online
You might like to visit these real village sites: