'Time to bail, Carl! - listener discussions to 9 May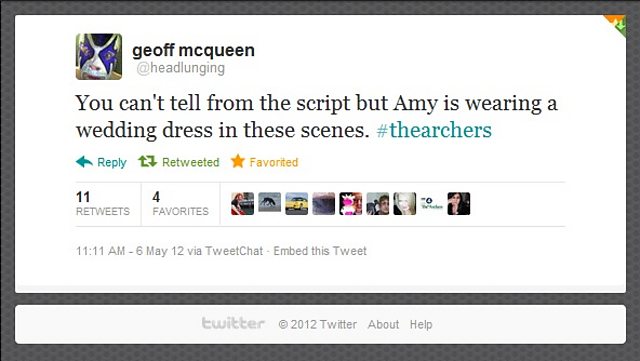 There's been a huge debate about Amy, the intensity of her conversation with Carl about moving in together, and Usha's revelation that Carl was married. Is Amy acting like a teenager? Was Usha at fault for not speaking up sooner? And is Alan taking an unchristian attitude to it all?
There's been some surreal conversation about the "Beast of Ambridge" and concern at Pip joining the Tom Archer empire.
Plus "My Big Fat Horrobin wedding"...
Here's my pick of listener discussions on The Archers message board, Twitter and Facebook between 3-9 May 2012.

Poor jilted Amy? Has she brought this all on herself? Her insistence that she and Carl move in together had listeners cringing - even if he wasn't a married man, surely she was taking things too far too fast.
Listen to the panic in Carl's voice! #thearchers @BBCTheArchers (@Tootinginnit on Twitter)
*MOVING IN TOGETHER KLAXXON* Time to bail, Carl! #thearchers (@archelina on Twitter)
Poor Amy, my heart was actually pounding #TheArchers (@DaleVee on Twitter)
If I was Karl I'd run a mile from Amy, whether I was married or not, intense or what!? #thearchers (@gilldinadoll on Twitter)
You can't tell from the script but Amy is wearing a wedding dress in these scenes. #thearchers (@headlunging on Twitter)
Is Amy treating Usha as a "handy scapegoat"? Whilst most think that Usha didn't deal with the situation particularly well (having refused to pay attention to countless listeners shouting "TELL HER!") she's getting quite a bit of sympathy. Will she be the next one to beat a hasty retreat from the vicarage? Perhaps it's time Mabel came back to bang a few heads together.
Unbelievable developments! The whole world riveted. No I don't mean France, I mean Amy finding out Karl is married on #thearchers. (@yokelbear on Twitter)
Amy - don't let this wreck your family. They are all you've got #thearchers (@quilterin24 on Twitter)
Rev Alan Franks - Lifting piousness to a whole new level #poorUsha #thearchers (@VivianOldaker on Twitter)
Alan should be helping, not making things worse by skulking in his study being distraught. Of the three of them I find his conduct the most counter-productive. (JustJanie - Fairweather Jogger)
Oh dear I bet the poor parishioners in Darrington got fire and brimstone in the sermon #thearchers (@CEMichael on Twitter)
Usha should have told Alan and Amy, but she barely had the chance...her situation was awkward, to say the least. Amy is behaving typically, everyone blames everyone except the man who caused the heartbreak. Such a pity...he deserves the whipping, not Usha! (Fiona Siobhan Powell on Facebook)
I think it was quite wrong for her to tell Ruth before she told Alan &/or Amy. (Dragonfly)
If I hear any other TA 'parent' utter "It's not your fault" when it clearly IS the offspring's fault, I will hurl the radio into the garden. (returnmigration)
Amy was conned. Lots of people are conned in this world, lots of them are a good deal older than 23. It's easy to assume that people who are conned are stupid but it ain't necessarily so. (old cath)
Join the debate in the It's not your fault or I'm supporting Usha threads.

Lynda's sighting of an animal that she said was "bigger than a squirrel" has fuelled much speculation about the "Beast of Ambridge". Jim suggested it was a "giant hedgehog" but others think it could be a muntjac deer, a wild boar, a werewolf or even "Lilian in a fur coat". This has spawned some surreal conversation...
'bigger than a squirrel' - my new favourite measurement of scale. #thearchers (@knittingpenguin on Twitter)
OK I am so stopping trying to attract hedgehogs into my garden if they come in #BBC #BorsetshireBigCat sizes #TheArchers (@MUSEmunkey on Twitter)
Is it Tony the Dinosaur? #thearchers (@Noelgoodboo on Twitter)
The Hob-hound of Edgeley, it portends great disaster. (Midas)
Such a shame James and Leonie's book is toast,the morbidly obese unidentified animal would have made a great cover photograph. (mademoiselledecompost)
I don't know how significant this is, but I understand Joe was seen heading in the general direction of where the beast was seen, clutching his trusty Ferret-Hammer. (The Leech Pedlar)
Read the surreal conversation on the bigger than a squirrel thread.

Pip's been appointed chief burger-flipper for Tom, but surely Pip and Tom talking business will make for uncomfortable listening. And has Brenda had enough? Is this the beginning of the end of their relationship?
Shove his face onto the hotplate, Brenda. #thearchers (@Mudkipstoat23 on Twitter)
Mr Self-Important Tarm is back - moaning so much even Brenda's fed up with him. I wish someone would whack him over the head with that blasted computer! (toffee)
I have been making rude hand gestures at the radio. (Auntie Molly)
Poor Brenda. It is a hard life coming second to the sausage empire. #thearchers (@katierosemary on Twitter)
Don't think tom's head will fit in the burger van much longer #thearchers (@monx61 on Twitter)
I think it would do Tom's ego a world of good if he was stranded somewhere for a couple of days, no cell phone, and the farm managed beautifully withouth him, and everyone smilingly told him so when he returned. (charmingAnnielynn)
Have your say on The peace is shattered thread.

With the arrival of Keith Horrobin, listeners have asked how many more Horrobins will come out of the woodwork for his daughter's wedding? Listeners think little Chelsea Horrobin should raise her sights if her "number one ambition" is to be a bridesmaid.
Gawd, how depressing, the poor little moppet. Whither feminism, eh? (Freda Fry)
Why are you surprised given the family which spawned the child? (ANDROMEDAKRAKEN)
Let's hope Keira will buck the trend when she older - she is apparently strong-minded after all. (anna kist)
Far too many Horobins in one episode....it will all end in tears...#thearchers (@martin_hilton on Twitter)
Samantha? Ash? Blimey. Whole new world. Is this My Big Fat Horrobin Wedding? #thearchers (@TonysConsultant on Twitter)
Join the conversation about Chelsea Horrobin in the Her number one ambition thread.

Tayler Cresswell is host of The Archers message board.