'Farmageddon' - listeners react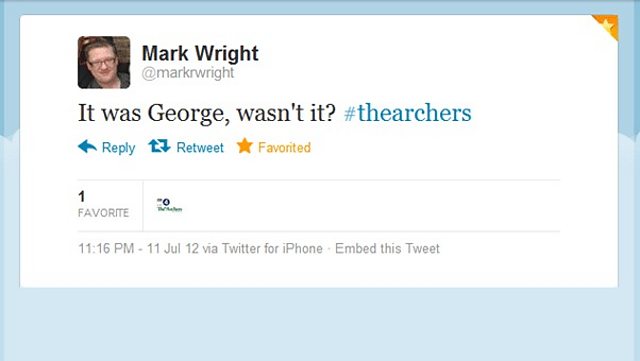 If you're saving yourself for the omnibus, look away now...
Last night's episode of The Archers elicited more than the usual number of tweets and posts from listeners who recounted their reactions as the episode unfolded.
Many were shocked, anxious, thrilled... plenty said they needed a stiff drink afterwards. For quite a few it brought back memories of Grace Archer's death in a stable fire back in 1955, and there were references to the first ITV broadcast on the same night (Grace's death was thought to be a BBC plot to scupper ITV's launch).
Some said that they didn't like the anguish and felt that the storyline had gone too far in putting children and animals in danger. They felt that Josh and George wouldn't have been allowed out at night. A handful said it was too sensational and they were switching off.
So who did it? Listeners suspect Clive, Keith, young George, the badgers and Elizabeth...
Here's my pick of listener discussions on The Archers message board, Twitter and Facebook on the night of 11 June 2012.

As 7.02pm drew closer...
Radio up, cats out, family warned.... (Di Sprake on Facebook)
Really looking forward to #farmageddon tonight. #TheArchers (@tess_hs on Twitter)
Can't wait for #thearchers tonite. Funny, railed against it going darker, yet sucked in by this storyline. We all needed a break from Amy. (@ukdannim on Twitter)
My heart's in my mouth. Can't speak #thearchers #brookfieldsiege (@quilterin24 on Twitter)
Actually rushed home for #thearchers must know what happens! (@Sian_Mererid on Twitter)
@ThatJoelfella will you hold my hand? #terroratbrookfield #thearchers (@ruggerlad on Twitter)
And after 7.15pm...
Blimey! #thearchers is pretty exciting tonight! (@marzillik on Twitter)
I feel sick. I'm in tears. #theArchers #archergeddon #farmgate #SATTC (@pollypanad on Twitter)
#TheArchers Oh my...... That's pretty traumatic........ Exhausted..... (@marthassister2 on Twitter)
#thearchers WHOA... just... WHOA... am actually trembling. (@gothicangel85 on Twitter)
We're standing in the kitchen round the radio like it's 1956 (@ALPietroni on Twitter)
Well that was pretty blooming excellent! Well done ALL involved! #TheArchers #EvenTheCowSoundEffect (@Wimblebear on Twitter)
Dear gods... I'm sat here in tears... damn your 12 minute instalments #TheArchers #farmageddon #SATTC (@allthisandless on Twitter)
So traumatised by tonight's episode that I now have hiccups #thearchers (@stray_hamster on Twitter)
Has ITV started a new channel tonight? #thearchers (@skywoman on Twitter)
Elizabeth's going to have a field day blaming David after tonight #thearchers (@chriscb on Twitter)
I think Emmer holds the key to this - who did she see? I wonder if it was a relation? #thearchers (@gingabeans on Twitter)
Just googling to confirm that badgers do have opposable thumbs and can light a match #thearchers (@helencyb on Twitter)
This is not what I want from the Archers. Anything regarding kids and animals getting hurt should be off limits. There are loads of dramas that provide all that sort of stuff and I don't watch or listen to them. (teddyandgypsy on the message board)
I've got to say I was really moved by the ending of this episode - both mum's screaming for their children... I can't believe they would kill either of them though.  At least I hope not. Okay, I've not been too enamoured by the rest of the storyline, but there was a really good build-up in tonight's episode, with loads of nice little ordinary details, and then the huge conflagration at the end. (Mieteka on the message board)
I actually think that was more dramatic and emotional than the 60th anniversary episode! I am SHOCKED. And a bit upset by now. But it was AMAZING though wasn't it?! (Alex Holden on Facebook)Â 
Brilliant acting, completely suspended disbelief. The Archers is great at the big story lines. (Rosemary Forrest on Facebook)
Most stressful episode of #thearchers ever? All this 'jeopardy' makes me yearn for a story-line about a spoiled batch of jam... (@Luke_Bowyer on Twitter)
Ok...It was well done, but personally I've loved The Archers for so long because it delivers a slice of REAL life. This isn't the 'real life' I want to hear about when I'm in unwinding mode. Sorry, I know things need to keep evolving but some things are a sacred institution. Keep The Archers cosy and safe! :-) (Lucie Fowler on Facebook)
I truly hate what the BBC has done with the sensational 'modernization' and ruination of the Archers regarding the awful OTT plotline terrorizing of Ruth and David, their children and others. Tonight's episode was truly bizarre and hateful and is just NOT the Archers, the BBC should take into account that many regular listeners might be elderly or living alone and will find it very upsetting. Â (Julia Blaxill on Facebook)
If anything happens to Gina the cow in that barn then I am an ex listener. (Christine Wilson on Facebook)
I feel disappointed reading posts about ppl saying they won't listen anymore & seeming to want to control the storylines. I enjoy exploring how a situation like that could be handled while I know it's fiction & also when things like Nigel's and Phil's deaths happened I identified with the characters' grief reactions having gone through bereavement myself, as we all must at some time. I'd think less of The Archers if it was all soft and cosy and nothing bad ever happened, but I would also think less of it if bad stuff constantly happened with characters always screaming & shouting like in TV soaps, which I actually find distressing. (Lexi Hibberd on Facebook)
@ruggerlad You can let go of my hand now. #thearchers (@ThatJoelfella on Twitter)

Tayler Cresswell is host of The Archers message board.