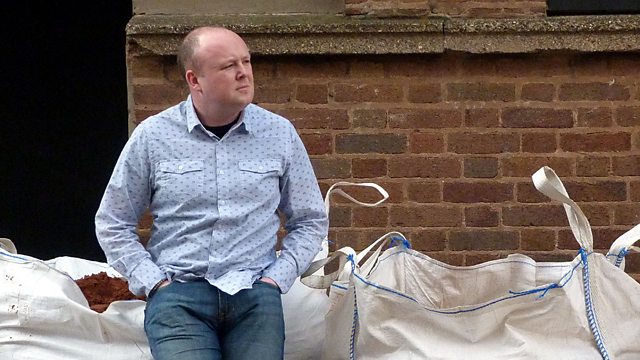 Dan Hagley (Darrell Makepeace)
 If you've been affected by Darrell's storyline, here are sources of advice and support.
Samaritans
is available for anyone struggling to cope round the clock, every single day of the year. They provide a safe place to talk where calls are completely confidential. Get in touch by phone or email or find the details for the local branch online.
Phone: 08457 90 90 90
Email: jo@samaritans.org
PAPYRUS and HOPELineUK
: If you're a young person and you're considering suicide, or you feel depressed or like you're not coping with life, HOPELineUK, provided by the organisation PAPYRUS, is a confidential helpline service staffed by trained professionals who can give support, practical advice and information. PAPYRUS can also offer help and advice if you're concerned about someone you know.
Helpline: 0800 068 41 41
Email pat@papyrus-uk.org
Text 07786 209 697
CALM
, the campaign against living miserably is a charity aimed at preventing male suicide in the UK. Calls to their helpline are anonymous, confidential, free from a landline and will not appear on itemised bills.
Helpline: 0800 58 58 58 (daily 5pm-midnight)
Lifeline
is the crisis response counselling helpline for people suffering distress or despair in Northern Ireland. Whatever your age or circumstances if you or someone you know are suffering, Lifeline is there to help. 
For immediate support, call freephone 0808 808 8000 in confidence, 24 hours a day. 
ZEST
is an organisation dealing with problems which lead to suicidal behaviour and self-harm. 
Phone: 028 71 266 999
Breathing Space
is a free, confidential phone and web based service for people in Scotland experiencing low mood, depression or anxiety. They are there in times of difficulty to provide a safe and supportive space by listening, offering advice and information.
If you think you need Breathing Space call 0800 83 85 87 (6pm til 2am Monday to Thursday and 24 hours at the weekend).  
A BSL service is also available via the website.
Community Advice & Listening Line
offers emotional support and information/literature on mental health and related matters to the people of Wales. Anyone concerned about their own mental health or that of a relative or friend can access the service. The C.A.L.L. Helpline offers a confidential listening and support service. 
Freephone: 0800 132 737, or text "help" to 81066.
Survivors of Bereavement by Suicide
exists to meet the needs and break the isolation of those bereaved by the suicide of a close relative or friend.
Phone: 0844 561 6855 (daily 9am - 9pm)
Shelter
helps three million people a year struggling with bad housing or homelessness, via their website, helpline and face to face services and campaigns to prevent it in the first place.They exist so that no-one has to fight bad housing or homelessness on their own.
Free Housing advice helpline: 0808 800 4444
Crisis
is a national charity for single homeless people. They are dedicated to ending homelessness by delivering life-changing services and campaigning for change. Their innovative education, employment, housing and well-being services address individual needs and help people to transform their lives
Phone: 0300 636 1967 
The Citizens Advice Service
helps people resolve their legal, money and other problems by providing free, independent and confidential advice.
To find details of your local bureau visit the website or text CAB and your post code to 64446.Their self-help website has practical, reliable information to help you solve your problems.
Tailored advice for under 25s
Mind
is a leading mental health charity in England and Wales. It provides advice and support to empower anyone experiencing a mental health problem. The charity campaigns to improve services, raise awareness and promote understanding. The Mind infoline provides information on a range of topics including types of mental health problem, where to get help, medication and alternative treatments and advocacy. They are also able to provide details of local help and support.
Contact them by phone on 0300 123 3393 between 9am and 6pm, Monday to Friday
or by email at info@mind.org.uk 
Rethink Mental Illness
is a charity that believes a better life is possible for millions of people affected by mental illness. They can provide practical advice and information about issues such as therapy and medication, benefits, debt, criminal justice and your rights under the Mental Health Act, as well as operating support groups across England. 
Rethink Information and Advice Line: 0300 5000 927 (Monday-Friday 10am-1pm) 
Email: advice@rethink.org 
SANE
provides emotional support and information to anyone affected by mental illness. Their services are completely confidential and whatever your problems or concerns, you will receive non-judgemental emotional support. There are 3 main ways to reach them:
Helpline: 0845 767 8000  (available 6pm – 11pm every day)
Email
Penumbra
is a Scottish mental health charity, working to improve mental wellbeing across Scotland. They work to promote mental health and wellbeing for all, prevent mental ill health for people who are 'at risk' and to support people with mental health problems. They provide a wide range of services for adults and young people which offer hope and practical steps towards recovery. 
Phone: 0131 475 2380 (9am-5pm Monday – Thursday; 9am-4pm Fridays)
Email: enquiries@penumbra.org.uk
Niamh Mental Wellbeing
(Northern Ireland Association for Mental Health) provides local services to support the mental health and wellbeing of people across Northern Ireland. Through Beacon, they provide day, housing and advocacy support for anyone with experience of mental illness as well as support groups and learning programmes. Through Carecall they provide access to counselling and psychological therapies as well as mental health and wellbeing programmes, mainly in the workplace, colleges and higher education.  
Phone: 028 9032 8474
Email: info@niamhwellbeing.org 
Keri Davies is an Archers scriptwriter and web producer.