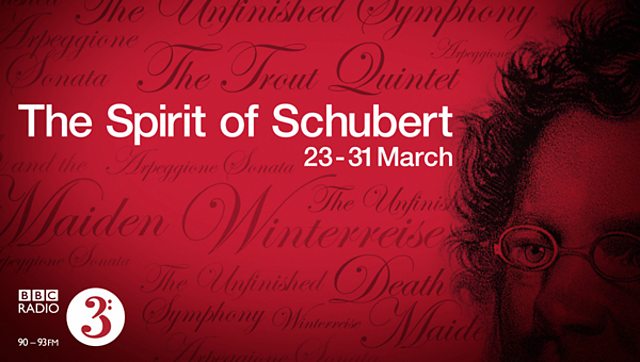 You might be aware that our colleagues in BBC Radio 3 are in the middle of a Schubert marathon at the moment. We thought it would be fun to get involved, so in this evening's episode (Thursday 29 March, and the repeat the following day) you'll hear Robert Snell listening to some Schubert.
But not just any Schubert. Every Archers episode is set on a specific date - almost always the day of the evening transmission. But each scene is also set at a specific time in that day.
So our scene has Robert in the study at Ambridge Hall at 3.15 in the afternoon. He's listening to the fourth movement of the 'Trout' quintet, which is what Radio 3 will be broadcasting at that time.
And of course, because we know Archers listeners care about such things, it is actually the same recording, which we've obtained from Radio 3.

Jeremy Evans from Radio 3 writes about the Spirit of Schubert season, which runs until 31 March:
We're playing every completed work he wrote, together with as many fragments of pieces he didn't complete as possible. There are some firsts, including a completion of some fragments of one of his symphonies he never finished.
There are also going to be performances of bits of Schubert people will never have heard before, simply because recordings don't exist of them. He wrote over a thousand works so it's going to be non-stop Schubert 24 hours a day.

He wrote a vast amount of music in his short life - The Trout was written when he was 22 and he died when he was 31, in Vienna.

Keri Davies is an Archers (and Ambridge Extra) scriptwriter and web producer.