'Joshy I'm proud of you' – listener discussions to 8 May 2013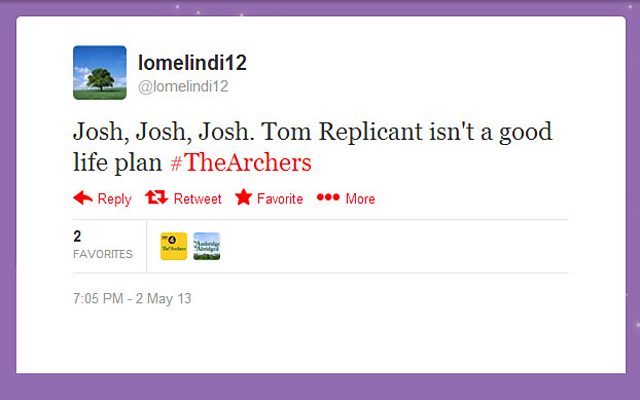 Post from @lomelindi on Twitter
Budding entrepreneur Josh Archer has impressed some listeners, but others report a growing sense of unease about his future. When it comes to his sister, they hope she'll soon be found out after starting the rumours about Bridge farm.
Listeners are relieved that Matt Crawford is back on form.  They're waiting for a "showdown" with Paul and Lilian which, they say, can't come too soon.
Almost everyone thinks that Helen won't be hearing from Jonathan again after she revealed too much on their date.
There's much relief as Lynda's llama drama comes to an end. And as Elona decides to end her marriage, listeners think she's made the right decision.
Here's my pick of online listener discussions between 2 and 8 May 2013
As young Josh puts in his bid for the hen business, some think he's making a big mistake...
Someone please put Josh in quarantine, far, far away from Pip and Tom. It's his only hope #TheArchers (@lapsangsusie on Twitter)  
Josh, Josh, Josh. Tom Replicant isn't a good life plan #TheArchers (@lomelindi12 on Twitter)  
Yes! He is enthusiastic and has some great ideas. Good for him. Quite a contrast to his dreadful sister! If I were Ruth and David I'd take advantage of this early promise before he turns into an older teenager who wants to sleep.... A lot... ! (Louise Garner on BBC The Archers Facebook page)
You're my new favourite, chip off the old block Joshy I'm proud of you #thearchers (@Canojar on Twitter)  
Bless his little socks! Pip needs to take a leaf or two out of his book! (Alex Holden on BBC The Archers Facebook page)
#thearchers Looks like Josh will be taking money out of what Pip thinks of as her car fund. (@SteveBrooks13 on Twitter)  
Josh reminds me of John & Tom starting their pig business's very young. It never brought either of them happiness! (Sue Mears on BBC The Archers Facebook page) 
Listeners joined in with all the gossip about Bridge Farm – many were shouting at the radio in the hope that Pip would be found out
Pat and Tony seem to forget they live in Ambridge. Where everyone gossips. All the time. ALL THE TIME #thearchers (Radio Times' @TVAlisonGraham on Twitter)  
Oh, please let them find out it was Pip who blabbed! #thearchers (@SpareMousie on Twitter)  
#thearchers Aha. Hope they trace the rumour back to Pip very quickly. She'll never milk again. (@louaylward on Twitter)  
It seems listeners are pleased to see Matt Crawford back on form but there's some debate about Paul.  Has he changed into a "completely different person"?
Matt's a wily old fox--bet he is well on the trail and planning the showdown! (Chris Walmsley on BBC The Archers Facebook page)
Paul doesn't even begin to know the meaning of hell - but he soon will. #thearchers  (@EllaJP on Twitter)  
I'm rather worried that Matt "looking after" Lillian will involve a new patio #thearchers (@yokelbear on Twitter)  
Roll on the big showdown between Mat and Paul at the secret love nest! (Julian Hammond on Archers Addicts Facebook group)
He's waiting to pick his moment. (Lowri Williams on BBC The Archers Facebook page) 
The current Paul doesn't bear any resemblance to the Paul we first knew…  Originally he was a sympathetic person, who understood that Lilian was with Matt and backed off. He wouldn't in anyway put Lillian into a difficult situation, he was a good boss, and clearly a reputable one. We now have a completely different person, nasty, manipulative, bad-tempered, disliked by his children.  (Lizzie Hayes on Archers Addicts Facebook group)
Paul was nice-till he got what he wanted. I've seen the type before. In his case, unhinged might be his alter-ego. (Laura Thornton on Archers Addicts Facebook group) 
Sympathetic listeners have pronounced Helen well and truly "dumped" after she shared too much information with Jonathan on their evening out – most think she's better out of it if that's his attitude.
Efficient Helen whips out list entitled "dinner conversation subjects" and crosses out "donor insemination" #thearchers (@janetfauret on Twitter)  
So she's dumped? How is what she did worse than picking up some random man?! (Christine Wilson on BBC The Archers Facebook page) 
If he's repulsed by reality then he ain't worth it!! ! (Ivan Thomas on BBC The Archers Facebook page)
She just seemed callous. It sounded that is all she wanted and appeared a little cold. Lucky escape for Jonathan, her conceit is always evident! (Lynda Everington on BBC The Archers Facebook page) http://www.facebook.com/BBCTheArchers
I agree that the knee jerk reaction of your average, insecure male might be "oh dear, she's made a conscious decision to have a baby without a father, therefore I'm redundant", but someone special might not think that way…  Helen is going to have to aim for a man with a high sense of self worth and who is not shallow. Good hunting, Helen! (Pam Tonothy on Archers Addicts Facebook group)     
Clutching my bundle of donor sperm baby in solidarity with Helen. Wasn't aware it was something to be embarrassed or ashamed of #thearchers (@inkognitoh on Twitter)  
News that Lynda's llama drama was over was a relief to many listeners
The llamas are saved! *throws hat into the air* #llamadrama #TheArchers (@ginandcrumpets on Twitter)   
And that sound was an entire world of listeners going "OH THANK GOD" in glorious unison #thearchers #RIPWolfgang (@katbrown82 on Twitter)   
Lynda's had a lucky escape from being drummed out of Ambridge #thearchers (@redbookish on Twitter)    
Lynda is one of the best characters in the Archers - and is superbly portrayed as well. It's always a treat when she is on, and the scenes with Robert are especially wonderful. Lynda might be a little overbearing - but she's enthusiastic about village life and has a very kind heart! (Claire Kulagowski on BBC The Archers Facebook page) 
And the Aldridges' kitchen supper didn't go well for poor Darrell, though most listeners seemed to support Elona's decision to leave her husband. Some are beginning to wonder if there's some kind of relationship break-up epidemic in Ambridge…
At long last, Elona! Please don't change your mind in the morning. Even if the girls need a guitar or rollerblades. #DitchDaryl #thearchers (@Nad_J_H on Twitter)   
Poor Elona. All she wants is what she can't have with 'Derrol'. So she is getting shut of a useless, ineffectual criminal? Good for her! She seems lovely, if a bit naive! (Jaki Flowers on BBC The Archers Facebook page) 
Well it's divorce for them then! Thank heavens they are both people you wouldn't want living next door! (Susan Ralph on BBC The Archers Facebook page)
Oh no not another one! I can't keep up with all these relationship problems. #TheArchers (@FreekHedd on Twitter)  
It'll only be a matter of time before Relate set up a new office in Ambridge. #thearchers (@feistyoatcake on Twitter) 
Tayler Cresswell is The Archers' social media host.
Or join the discussions on Archers fan forums: