'We are flying on Brenda-power!' - Listener discussions to 10 July 2013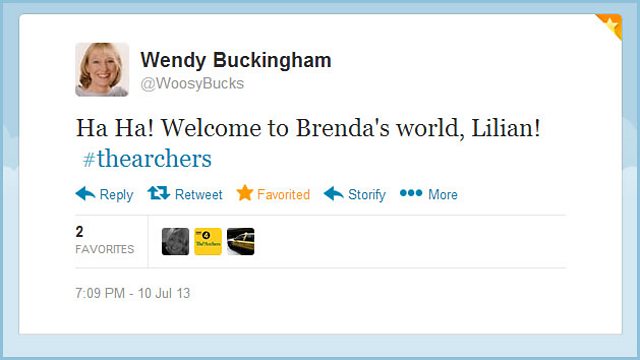 Post from @WoosyBucks on Twitter
Listeners take sides this week as Brenda tells "Venomous Lilian" to stuff her job, and "sour face" Emma squares up to "Saint Nic".
We've had a "smooching warning" about Jolene and Kenton and Lonely Cow is offered a good home.
Over in Ambridge Extra, listeners think Matt's being lined up for a fall. And there's reaction to this week's Feedback on whether the Matt and Lilian storyline should be playing out on Ambridge Extra.
Here's my pick of online discussions between 4-10 July 2013
At last! Wednesday's almighty row between Brenda and Lilian had everyone talking. Most are Team Brenda, but Lilian has her fans too…
I'm on the bus listening to yesterday's episode of #thearchers - trying not to cheer out loud after the mouthful Brenda just delivered- fab! (@mswalsh on Twitter)
Oh, thank the lord for that – that was like finally having a boil lanced 6 months too late... #lillian #brenda #thearchers (@pennychoocards on Twitter)
We are flying on Brenda-power! Stick it to her, baby! #TheArchers @BBCTheArchers (@alondonstation on Twitter)
Well done Brenda .I've been saying to myself for ages that she is too good for m&l .At long last she has told Lillian to stuff it. (jaywex on The Archers blog)
Lilian hissing like a snake... #TheArchers (@AndromP on Twitter)
@BBCTheArchers hya Bren this is world outside Ambridge - come and join us! (@gilly38 on Twitter)
@BBCTheArchers will always love Lil #TeamLillian (@ljl144 on Twitter)
@BBCTheArchers oh #TeamLillian of course, there's gin... #thearchers (@MUSEmunkey on Twitter)
Oh, at last. Let's see how "prima donna" Lillian copes now (Urszula Gacek on BBC The Archers Facebook page)
There's a small cheer for "Holy George" – is he being lined up for big things in the church?
The Battle for George's Soul continues #thearchers (@fondantfrancy on Twitter)
I think #holygeorge might be my favourite @BBCTheArchers storyline in ages. is there a better comeuppance for sour face Emma?! (@cjspeechless on Twitter)
George senses Emmur has a lot to confess if she ever sets foot inside a church #theArchers (@RadioAmbridge on Twitter)
It's about time that Ambridge produced a priest or vicar. Even a nun, Pip could have another mood swing, when based in Yorkshire, and join the nuns in the modern Ecco friendly nunnery. (George Taylor on Archers Addicts Facebook group)
Pope George of Ambridge? Emma would still find something to moan about. (Sue Prosser on Archers Addicts Facebook group)
And as "sour face" Emma squares up to "Saint Nic", listeners take sides
I think Nic takes her bitchyness very well, but I don't think she's saving up for revenge, I think she's just going to let it go under the bridge for George's sake... and good for her - no need to sink to Emma's level! (Roe Z Sandy on Archers Addicts Facebook group)
It probably reflects very badly on me that I increasingly share Emma's frustration with Saint Nic #TheArchers (@Ethixbird on Twitter)
Nic really is very smug. I can't help rooting for Emma a bit. #TheArchers (@kitty_gamble on Twitter)
Isn't it nice to have Old Emmer back? #thearchers (@gingabeans on Twitter)
Loved up Kenton and Jolene had some listeners squirming. But is this the precursor to wedding bells or a break up?
WARNING. SMOOCHING ON THE ARCHERS. ABORT. ABORT. (@EllieCumbo on Twitter)
Awwww, Kenton and Jolene. Hard to believe he was ever with dour, humourless Kathy. #TheArchers (@mummylimited on Twitter)
That's a sure bet they'll be breaking up soon #thearchers (@HiggsBoz0 on Twitter)
Kenton's going to propose, isn't he? #thearchers (@fairy_with_hair on Twitter)
No! Don't go! As Lonely Cow is sent to market, one generous listener offers her a good home…
@BBCTheArchers #thearchers they could have kept #lonelycow. That family are heartless!! (@potterwigham on Twitter)
I've got a big garden. #Lonelycow could come and live with me. She could give me milk, I'll give her grass n stuff. Happy. #TheArchers (@FreekHedd on Twitter)
Over in Ambridge Extra, Matt's antics have had everyone agog. Is he being lined up for a fall? Will Brenda make it back to Ambridge? And is romance is on the cards?
@BBCTheArchers #Ambridgeextra the more I hear the more I feel Matt is gonna come a cropper, mixing with the Russian Mafia! (@kidmorris on Twitter)
@BBCTheArchers @BBCRadio4Extra Well. You know how it is. Brenda's single. Matt's single. Brushing past each other in the office. #feelillnow (@fragpasty on Twitter)
Brenda has more sense than to sleep with Mat - PLEASE don't let that happen!!! (Anne Thompson on BBC The Archers Facebook page)
Matt can't possibly get conned by the Russian can he? I'd like Brenda to be swept off her feet by the Russian when she goes out as Matts PA. Matt to make mega bucks on the deal and stick 2 fingers up to Lilian. (Jane Wilkie on BBC The Archers Facebook page)
I assume Matt's going to end up penniless with his throat slit in a St. Petrsburg sewer. #ambridgeextra (@molesworth_1 on Twitter)
Is Matt being kidnapped? It's all going to go south? Loving this story line (Barbara Bates on BBC The Archers Facebook page)
It will end in tears, not sure whose yet though. (Helen Kennedy on BBC The Archers Facebook page)
There was me thinking Matt was worldly wise! Can't he see him walking straight into a trap? They've got his passport and his card details and pin number! Maybe it will be Brenda to the rescue or is this what will bring him and Lillian back together? (Debz54 on The Archers blog)
And finally, reaction to this week's Radio 4 Feedback piece about the Matt/Lilian storyline playing out on Ambridge Extra
I agree with the listeners on @BBCRadio4 Feedback. Putting the climax to Matt & Lillian story in #thearchers on Ambridge Exta was idiotic (@LukeVernon on Twitter)
It was the absolute insistence that it was standalone that irks. #thearchers #feedback (@jamspangle on Twitter)
@BBCR4Feedback Unless you've no TV & no internet you've no excuse for missing reveal on AmEx! Trailers galore #TheArchers (@athena_42 on Twitter)
Archers is a special treat, but I work hard and no way can I spend extra hours glued to my radio following yet another programme, and resent that the producers think they can force me. Of course I want to know the outcome, I've been following the story avidly, it is absolutely unfair to start a story on one station and finish it on another. We were told when all these additional stations started up that it would be a matter of choice, and that Ambridge Extra would carry an entirely separate storyline. That is how it should stay. (felineazure on The Archers blog)
Tayler Cresswell is The Archers' social media host
Join the conversation
Or join the discussions on Archers fan forums: