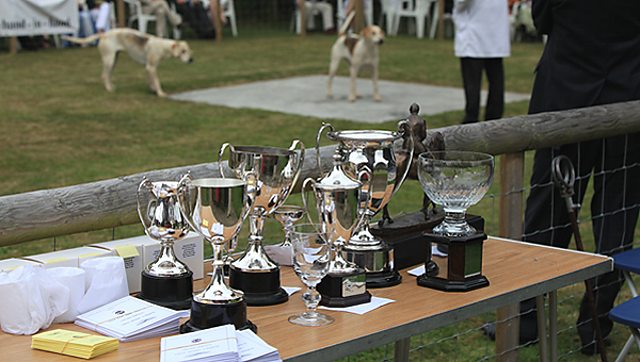 Oliver Sterling is busying himself with arrangements for the Hunt's puppy show in four weeks' time. Our hunting adviser Julian Womersley writes about this highlight of the hunting calendar.
Foxhound puppies stay with their mothers until they are weaned. Shortly thereafter, generally at about eight weeks of age, the puppies are sent out to "walk" at the private homes of "puppy walkers". The reason for this is simply that there are not enough hours in the day for the Hunt staff to lavish sufficient individual care and attention on the rapidly growing foxhound puppies.
Moreover, going to walk provides the puppies with an unrivalled opportunity to explore the world, discover right from wrong and, if nothing else, be taught their names!
It is not unknown for disappearances of ladies underwear from washing lines to coincide with puppies being out at walk. What is thought to be a crime wave perpetrated by a rural pervert is often really attributable to the unsupervised frolics of young Langton and Lakeland at walk at Dairy Farm Cottage.
The ideal walk is a often with a family on a farm, or in a house surrounded by farmland. It is important that they have space and freedom - to explore, discover chickens, sheep and other animals, cars and children. It is generally best if the puppy walker is not too fastidious about their garden...

So finding suitable puppy walkers, in sufficient numbers, is no easy task for a Master.
The young hounds will be returned to kennels the following winter or spring, as part of the "young entry". It is then that the huntsman will take over their formal education as part of the pack. It is the young entry that are shown at Puppy Show in the early summer.
This a formal event for the Hunt Masters to thank the puppy walkers. It is an honour to be invited and everyone makes an effort to dress for the occasion.
The two judges are usually a Master noted for their appreciation of hound breeding from another Hunt and a huntsman from a neighbouring pack.

Amongst other things, the judges will be looking for:




A "stern" [the tail of a hound] that is not curly


A well-muscled back each side of the spine and over the loins


A sloping shoulder with a good length of neck


An "intelligent" head, not to narrow and not too wide.


A deep chest for heart and lung room


Feet that do not turn in, with springy pads and even toenails


Whilst the show ring is generally a small grass enclosure, in the centre will be a paved area on which hounds stand, to show off their conformation. The spectators sit around the outside, trying to look knowledgeable - and some actually are!

The whole of the kennels are "en fête" and shown off to their best advantage, with much scrubbing, polishing, painting, mowing and tending of hanging baskets during the days beforehand.
The classes are:
Dog Hounds
The Bitches
Overall Champion
Couples (ie two hounds)

Couples are shown by their walkers in the ring, on "couples", ie a double collar and leash. A lady showing two couples and trying to hold onto her hat on a breezy day will have her work cut out!
The winners of each class will each receive a trophy - a silver cup, a glass rose bowl etc. Each puppy walker will also receive a token - traditionally a silver spoon.
Other prizes and trophies may be awarded to, for example, the best new entry dog hound and bitch from the new entry of the previous season, the best working hound from that season, the most helpful (human) youngster and adult, and so on.
After the judging and speeches, everyone decamps to a very spruce marquee for a sumptuous tea.
Keri Davies is an Archers (and Ambridge Extra) scriptwriter and web producer.
Picture shows puppy show judging in progress, with the trophies, lists of hounds and show programme in the foreground. Picture courtesy of J Williams.