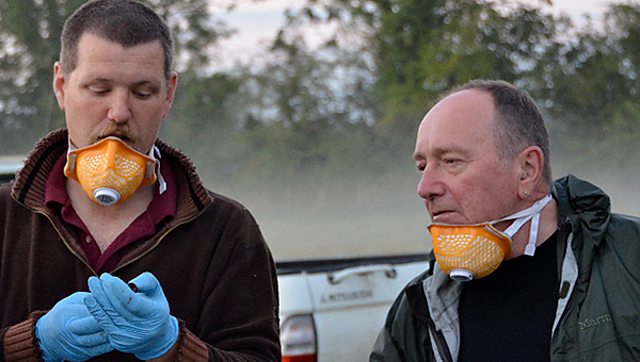 Ed Grundy is learning how to vaccinate badgers against TB. Steve Peacock explains why.
As early shifts go, this wasn't bad. Four o'clock on an August morning saw me driving from Birmingham to a village in the Cotswolds, to join a group from Gloucestershire Wildlife Trust as they set out to inspect badgers in the cage-traps they'd set the night before.
Why would an organisation which uses the badger as its emblem be catching the animals in traps?
This is all to do with bovine tuberculosis - an infectious disease which was once well-controlled in Britain but is now rife in cattle on the western side of England and in Wales. It causes a great deal of inconvenience and misery to farmers and has cost taxpayers £500 million in the past ten years. 25,000 cattle were slaughtered in 2010 as part of the Government's disease control strategy.
Ambridge has not been spared. The disease has affected three farms there - Brookfield, Grange and Willow Farm.

Badgers to blame?
Badgers (and other mammals) can also be infected by the bacterium M. Bovis, which causes the disease, and infection spreads easily once it gets into a herd. Most of the efforts to control the disease are focussed on cattle and biosecurity on farms. But, because it can also be passed from badgers to cattle and vice versa, farmers have long campaigned for badgers to be culled as well.
In England, Defra has approved pilot badger culls in Gloucestershire and Somerset. This decision is currently subject to a legal challenge but the Government hopes to go ahead in the Autumn.

Shoot or jab?
In Wales, a decision to cull was reversed earlier this year. Badgers will now be vaccinated against the disease instead. Farming unions were - and are - furious. They say that while there may be a place for vaccination, it is no substitute for culling badgers in areas where the disease is rife in both cattle and the wildlife.
But the decision by a group of farmers in Ambridge to invest in a badger vaccination programme should not be viewed in that context. Even if the pilot culls in England are successful and rolled out to other areas, Ambridge would not be included because it is not in a bovine TB "hotspot", despite past outbreaks there.
So their vaccination programme is not an alternative to culling. It is the only option that could be directed at badgers.
Defra has been experimenting with vaccination for a number of years. But outside official circles it was Gloucestershire Wildlife Trust who were ahead of the game, and they have published a detailed report on their experiences. Which is why I went to the Cotswolds to see how it was done.

Clippers at dawn
The vaccinators are all trained by FERA - a Defra agency (this is the course that, in The Archers, Ed is attending). They set the cage traps in the evening and bait them with peanuts. At dawn they'll visit all the traps and inject the badgers with the same BCG vaccine as is used on humans.
They'll mark them by shaving a patch with electric clippers and spraying a dye. This is so if they catch the same animal twice they'll know not to give it another dose. Then they set the badger free and it scuttles off at speed to its sett. By law, because badgers are nocturnal, it must all be done before 8 am.
This must be repeated every year for five years. The chances of success are debatable but for farmers outside cull areas it's got to be worth a punt.
Steve Peacock is The Archers agricultural adviser
Picture shows Steve Peacock (right) on dawn patrol and is used with permission of Gloucestershire Wildlife Trust
Information on bTB from Gloucestershire Wildlife Trust