Ruairi's revenge? Listener discussions to 12 Dec 2010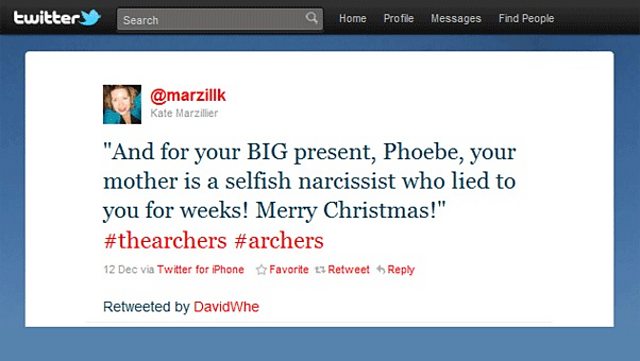 After the outburst over Pip Archer's detective work ("is there no end to her talents?"), Kate Madikane's early Christmas do for daughter Phoebe soon dominated discussions. Many drew a sad parallel - "two Mummys, two Christmas's and a laptop. Ruairi has no Mummys, a crappy DVD and Mousie. 'Snot fair." said _ShropshireLad_....
Here is the latest on The Archers according to the folks on our message board and Twitter.

Over at Brookfield, "CSI Agri-Detective" Pip Archer (or "Piplock Holmes"!) was labelled "insufferably smug" after her hay detection. David Archer was seen as daft for not informing the police and Ruth as plain rude to Ed Grundy when he kindly dropped off the offending bag of "swag".
For once I actually fully supported Pip in expecting her idiot father to go to the Police... I can well believe that they might not get a conviction, but it would certainly put the wind well up the dealer.... David will be lucky if a bunch of heavies don't come over and fire up the barn. (Ruralrambler)
Ha! Victory over husband who dared question value of stealing hay in #thearchers. Guardian article confirms it's on increase. #smugwife (@sing_noodle)
Read the "How rude!" thread on the message board

Phoebe's early Christmas at Home Farm and mountain of presents had most throwing up their hands in horror! Perhaps "narcissistic" Kate won't be coming back from her trip home to South Africa? Is her marriage in trouble?
"And for your BIG present, Phoebe, your mother is a selfish narcissist who lied to you for weeks! Merry Christmas!" (@marzillk)
I did love Hayley's quiet "She'll read it with Sipho -- if she's not too busy". Summed Kate up, that. (Chris-mas Kettle of Ghoti)
Poor Phoebe. Not much fun for her to see Kate as she really is. It may take a few more disillusionments for the penny to really drop. (JustJanie fairweather jogger)
Read the "She needs a bit of space" thread

There was a lot of sympathy for "Poor Ruairi - what a brutal way to treat a little boy" in a thread of well over 200 posts. Will he one day get his own back?
In 20 years time, when Ruairi is running Home Farm, the whole of Ambridge as well as parts of Hungary, I hope he wreaks a terrible and bloody revenge on Kate. (Liquoricey)
Poor little Ruairi - d'you think they'd let me have him? My kids are proving a bit slow in the grandchild department... (StargazerwithOscar)
Add your sympathy for Ruairi here

Is there trouble in store at Bridge Farm once Vicky starts at the dairy? Is she after Veal & Ham pie revenge? Or is Pat doing the "eminently sensible thing" in employing Vicky, who'll be a perfectly capable addition to the team?
I think it possible that the life of Riley is palling for Vicky. She almost said that if Susan can master yoghurt, she can probably do it better. It will also give her some dairy insight which she can use to irritate Ed. (Botticelliangel)
Read the thread "Those the Gods wish to destroy"

Some are waiting for Fallon and Harry to get on with it! Should Fallon make the first move? What's he waiting for?
Fallon is one of the reasons I keep listening to TA night after night. She is warm, funny, and quite honestly drop dead gorgeous... For goodness sakes, if I were to stumble across her by chance in the street, I'd go down on one knee and propose marriage on the spot (I'm sure my OH would understand). (Colonel Danby)

Who is your favourite character?
I love Nigel and Lizzy because they are the first characters I remember from when I started listening.... I like Nigel's happy eccentricity and Lizzy gentle guidance. Perhaps I've just grown up with them, but I like their voices and of course Lizzy is lovely. For me TA wouldn't be the same without them. (Nelson_G)
It must be wonderful to have Jill on hand, with all the delicious foods she conjures up. I'd love to try venison casserole, honey from her hives, home-made Christmas pudding, cakes, marmalades, jams and soups I hear about on a regular basis. Yummm. Amazing woman. (LilianFred)
Add your favourite on the message board here or on the My Archers page.

Tayler Cresswell is the host of The Archers message board.