'Beneath the froth Vicky's as hard as nails' – listener discussions to 9 January 2013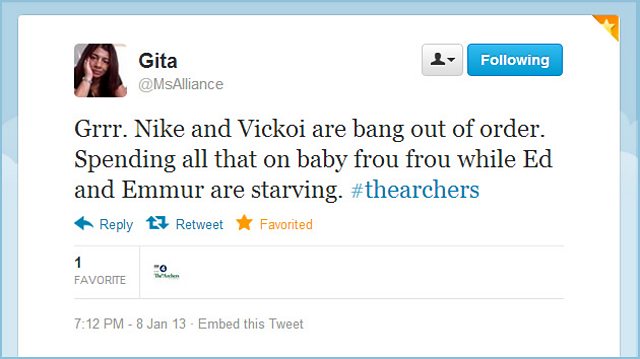 Post from @MsAlliance on Twitter
Just as some listeners were admitting they were coming round to Vicky's softer side, out came her claws – "Vile Vicky" is back!
Lilian's back from Whitby and the plea for her to put her phone on silent is reaching a crescendo. As is the call for her to make her mind up and choose between Paul or Matt.
There's a cautious welcome for Rob Tichener, Brian's new dairy herd manager. Listeners suspect he may have a hidden past – and where's Mrs Tichener?
Ambridge Extra is providing listeners with some laughs. But is Mr Pullen taking them all for a ride?
Here's my pick of listener discussions on The Archers message board, Twitter and Facebook between 3-9 January 2013.
Vicky's comments about Ed on Wednesday – revealing to Neil and Susan that Ed had asked Mike for more money for the milk – drew almost universal condemnation from listeners. Neil and Susan didn't fare much better – why weren't they sticking up for Ed? He is family after all.
Vicky was really awful about it. Ed went about asking in such a nice way as well. Mike should be ashamed of himself. (Tori Matthews on The Archers Facebook page)
What a vile woman she is, beneath the froth she's hard as nails. (Purple_Hay on the message board)
At least she's honest.. what you see is what you get... unfortunately for Mike..!! (Christine Martin on Archers Addicts Facebook group)
Never in a million years did I think I'd take Vicky's side on anything but she is 100% right. Mike runs a business not a charity #thearchers (@HiggsBoz0 on Twitter)
Ed isn't getting by though Mike. That's the point. Find a new customer Ed! #thearchers (@ruththevet on Twitter) 
It's taken me over a year to have a kind thought for Vicky. Last night undid any progress. Her labour will be a step too far #thearchers (@TheGrumpyBitch on Twitter)
Why was Neil on Mike's side? Surely he could understand Ed's position and that of his daughter? I don't get it. (teddyandgypsy on the message board)
And Susan didn't say a single word in defense of Ed and Emma when Vicky was being so snotty, either. It's nice that Neil and Susan have taken in the kids and grandkids in their hour of need, but I guess their loyalty doesn't run so deep as to actually say good things about them, too (charmingAnnielynn on the message board)
I think Neil and Susan know Vicky well enough to realise they were sensibly avoiding an unseemly row by buttoning their lips. I would like to have heard what Susan said to Neil about Vicky after they'd gone, though. (Phyllis Doris on the message board)
Join the discussion on the Why was Neil on Mike's side? thread on the message board.
Lilian is back from Whitby and listeners say they've had enough of her bleeping phone! Some think Peggy suspects, others believe that Matt knows.
@BBCTheArchers When is someone going to find out about Lillian and Paul? The suspense is killing me!  (@ali4horses on Twitter)
Am I the only one who is heartily sick of the endless text messages received by Fagash when someone else is in her room and her endless clairvoyant claims the "it's nothing important" or "it's only James"? (stokecitydave on the message board)
NOT ANOTHER LILIAN AND PAUL SIGH-A-THON #blergh #thearchers (@BogNeSpava on Twitter) 
Pretty sure Peggy suspects already. She's no fool #thearchers (@archelina on Twitter)  
I'm just dying for Matt to pinch Lil's phone and have a right good look through everything on it. Go on Matt...........you know we all want you to! (BanquetBangersBaroness on the message board)
Add your thoughts to the Lilian's text messages thread on the message board.
Hello Rob Tichener! There's a new face in Ambridge, and listeners suspect he has a dark past. And when it comes to his future, perhaps Jennifer should treat herself to a younger man…
Ooh. A new character in #thearchers I wonder whose Christmas present he is? There'll be trouble ahead for someone.. (@poppy1667 on Twitter) 
…  I rather liked his Gilbert/Sullivan/Primal Scream/ sinister vibe #TheArchers (@lomelindi12 on Twitter)  
He's a long-lost Pargetter or Archer love child come to claim his inheritance.. (march51 on the message board)
Any character with a Canadian connection in the Archers tends to end badly. They either come to a sticky end or they're a bad lot. There's Lilian's first husband, Joe's friend Mildred and Debbie's ex (Simon something?) So it doesn't bode well for Rob. (JustJanie – Fairweather Plodder on the message board)
@BBCTheArchers A man who talks about ghosts must harbour ghosts of his own. It's so Ibsen. Rob, we're all watching - and waiting. (@jco0872 on Twitter)
I'm suspicious about the actual existence of his wife. #thearchers (@redbookish on Twitter)  
Rob and Debbie? Rob and.... Adam? Rob and.....who, who? #thearchers (@SueHomeyard on Twitter)
It's going to be Rob and Jenny, isn't it. Then jenny and Lillian will both be having secret liaisons so they will be able to say they are with each other all the time as a cover for their unexplained absences. What a pip!!! (Charlotte Evans on The Archers Facebook page) 
What's Rob's secret then? Add your suspicions to the message board thread.
Over in Ambridge Extra, many are enjoying the story of Mr Pullen's cryptic poem
In the old days we used to get the 3 old codgers in the pub regularly (usually Dan, Walter and Tom) and I used to enjoy those episodes. I don't think we have heard anything like this since the episode with Phil, Bert and Joe reminiscing, so well done SWs for bringing back a much loved theme! (mike on the message board)
Intrigued by Bob Pullen's puzzle - my favourite #AmbridgeExtra storyline so far I think @BBCTheArchers (@SueCasanove on Twitter) 
I really hope Mr Pullen is playing a massive prank from beyond the grave. #AmbridgeExtra #thearchers (@beckyblackbooks on Twitter) 
I must admit I hated the first episode of this storyline, but the three actors together started to tickle my funny bone the other night and I laughed several times.  (Froginasock on the message board)
I am so enjoying the storyline with these gentlemen. I listen in the car and find myself laughing right out loud. They are the BEST! (Michele Berry on The Archers Facebook page) 
Join the Ambridge Extra conversation on the message board. 
Tayler Cresswell is host of The Archers message board.
·         Join the conversation on the message board
·         Or chat about #thearchers and #AmbridgeExtra on Twitter  or Facebook