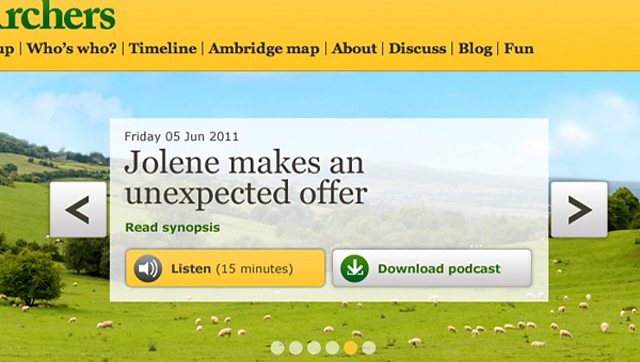 You will soon be seeing some enhancements to this website.
The Archers site was relaunched in its current format in December 2010. Since then we've been working with the digital agency Airlock (who produced this version of the site) and our colleagues in the BBC's Future Media division to make some more improvements.
As well as lots of small bug fixes and bits of minor housekeeping, the most noticeable differences will include the following:
Homepage: Rather than the current way of displaying the week's episodes, with a selection of tabs along the top, we'll be introducing a carousel (like the one that Desert Island Discs uses). This form of presentation is now the BBC standard way of offering this sort of material.
On the message board: We display a selected quote here, and it will now be easier to get to the quoted post on the message board, or the thread that the post is from.
Who's Who page: It will be easier to get to the Timeline from here.
Timeline: There are several improvements to how you move around the Timeline. We've also corrected the bug where, if a date of birth for a character isn't known, it defaulted to 1 January 1971.
There will also be a new 'accessible' version of the Timeline, which will be offered automatically to users who don't have Flash on their computer. This should be particularly useful to visually impaired people who are using a screen reader.
Storyline pages: We'll be able to illustrate these with one or more audio clips, presented in a carousel so you can easily see and select the one you want to hear. We'll also be able to include video if we have any relevant moving pictures.
Discuss page: We've improved the way we display selected 'tweets' from Twitter. URLs (web page addresses) and hashtags (like #TheArchers) will be links, so you'll be able to click on them to see the quoted page, or more posts with the same hashtag. We'll be displaying the author's Twitter profile picture as well.
Characters and locations in the current episode: Currently this features on the homepage and the Who's Who page, but we won't be offering this facility any more. This is the only aspect that can't actually be called an improvement, but producing these turned out to be quite labour-intensive work for what we perceived to be only a modest benefit to users.
It will still be very easy to find characters, actors and locations by using the search boxes on the Who's Who page and Ambridge Map page.
Mobile site: We hope to have fixed the bug in which some browsers returned the mobile version of the site, instead of the desktop version.
Now these publicly visible improvements are done, we'll be turning our attention to the back end, improving the ease with which we can update and maintain the site. Once that's delivered, I've got a few content improvements I'd like to make (for example in the family tree area).
I hope you approve of these changes. When they go live, do let us know what you think.