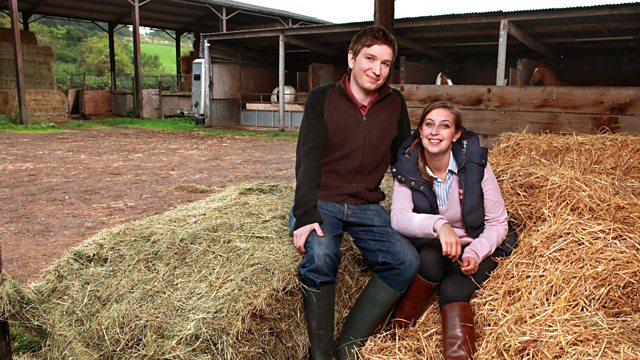 Will Sanderson-Thwaite and Hollie Chapman (Chris and Alice Carter)
As things hit crisis point for Chris and Alice, we thought you might like a brief history of their relationship - with audio clips.
Even though they grew up in the same small village, Alice Aldridge and Christopher Carter had very little to do with each other until one night in the summer of 2008 when they met by chance in a club. As the evening progressed, Alice became drunker and their flirting grew stronger. At the end of the night, Alice lunged and kissed Chris. He didn't resist but, being a gentleman, he didn't pursue the pass either.
14 Aug 2008: The first inklings that Alice and Chris like each other
A few weeks later they went to the Bestival music festival on the Isle of Wight – with different groups of friends. Alice once more found herself in trouble when her tent and everything in it was stolen. Chris came to her rescue. He gave Alice his tent and his sleeping bag and settled down for a night under the stars. But it was cold and Alice was worried by the idea of Chris in a chair outside. She invited him in.
5 Sep 2008: Chris comes to Alice's rescue when her tent is stolen
Long-distance relationship
They returned from Bestival as an item. Jennifer wasn't pleased at her daughter dallying with a pigman's son but reassured herself that it would not survive Alice's imminent departure to Southampton University. But she was wrong. The couple worked hard to maintain the long-distance relationship –  despite occasional temptations and Jennifer's hamfisted attempts to pair Alice off with uber-posh Sebastian 'Basti' Streatfield.
In December, Alice pooh-pooed Chris's worries that he was too lowly for her. She loved him – and he returned the sentiment.
18 Dec 2008: Chris worries that Alice could do better.
Chris's origins may be humble, but his job as a farrier brought him into close contact with the upper echelons of Borsetshire society. At a Boxing Day party, Brian was nonplussed to find Chris on first name terms with Lord Elbury.
Chris made regular trips to Southampton and they spent most of Alice's vacations together. Finding a place to be private was a challenge until 2010, when Alice boldly decided that one of the Home Farm holiday cottages – which Brian had gifted to her some years before – would make an ideal love nest.
Married in Vegas
In the summer, the couple took a wonderful trip to the US, announcing on their return that they had been married in Las Vegas (on 28 July 2010). While Chris's mother Susan was ecstatic at being linked to the well-heeled Aldridges, it's fair to say that the feeling wasn't mutual.
The two mothers locked horns as they planned a lavish wedding party, but on 20 August a grand marquee played host to one of Ambridge's most eclectic gatherings, from the upper-crust Streatfields to the white-trash Horrobins (Susan's family).
20 Aug 2010: Neil wasn't scheduled to make a speech, but after the champagne took hold...
With Chris ensconced in The Nest (no really, that's actually its name), Alice split her time between university and home and the couple couldn't be happier. . 
Trouble in Paradise
But the marriage ran into serious trouble the following year (in events mainly told in Ambridge Extra). Alice foolishly agreed to lie to the police on behalf of her close friend and housemate Chaz (another posh boy) in connection with an assault outside a club. This was the first inkling of Chaz's hidden life.
At this time Chris was keen to take up the opportunity raised by his boss Ronnie's early retirement. Not realising that Chaz was falling for her, Alice brokered a loan from him – at very favourable rates – that enabled Chris to buy Ronnie's business.
It eventually transpired that most of Chaz's loans were to much more vulnerable people, and at eye-watering rates of interest. As his business went sour and the police pursued him, Chaz declared his love for Alice and desperately arranged for them to run away together. For a while it looked to Chris as if Alice had been concealing a relationship with Chaz. He took a lot of persuading not to end things between them.
30 Jun 2011: Alice risks all to prove who she really loves
Alice starts work
In July 2011, Alice returned to Ambridge with a 2:1 in Aeronautical Engineering. She went on to an MSc at Felpersham University, and worked hard to re-establish Chris's trust.
Chris was working hard too, having to replace Chaz's favourable loan with one at full commercial rates. But he loved his business and felt very settled in his home village with the woman he loved.
After her MSc, Alice's job prospects should have been limitless. But she was restricted to a reasonable commuting distance from Ambridge, so in November 2012  she started work with a small aircraft equipment supplier near Ramsbury.
Itchy feet
But it wasn't long before she was regretting the limitations of her new role. In February 2013, she had an interview with a company in Vancouver, Canada. The effects were to be shattering. 
And Chris is not impressed
Decision time
After a nasty accident with a horse, Chris re-evaluated his life and marriage. He struggled to weigh up his desire to stay in Ambridge with his desire to support Alice. In the end love won through and Chris decided he would move to Canada with Alice. However, in April 2013, Alice made her decision.
Alice decides not to go to Canada (Apr 2013)
Keri Davies is an Archers scriptwriter and web producer.