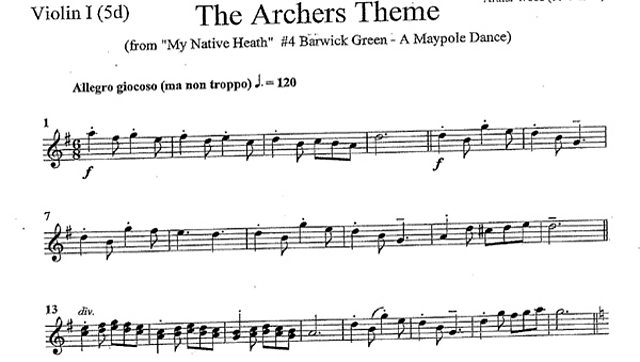 Amateur musicians have been invited to take part in an online performance of The Archers theme tune, Barwick Green.
As part of BBC Radio 3's Light Fantastic festival, players can record their own part - from violins to percussion - and send them in. Contributed parts will be assembled into a complete performance of the work.
Radio 3 has prepared a special web page containing full instructions, the sheet music to download, and videos of the BBC Concert Orchestra performing the work - together with a conductor-only video to keep the individual players at home in time.
Light Fantastic is a 'festival of summer fun' celebrating the lighter side of orchestral music, including concerts, broadcasts and sing-a-long events.
Barwick Green is a 'maypole dance' from the suite My Native Heath by the Yorkshire composer Arthur Wood. When the founder of The Archers Godfrey Baseley selected the tune, he played it numerous times over a weekend and decided that it would bear repeated listening - hardly expecting it to be repeated over 60 years!
Keri Davies is an Archers (and Archers Extra) scriptwriter and web producer.