'I wanna go to Cheltenham!' - listener discussions to 19 December 2012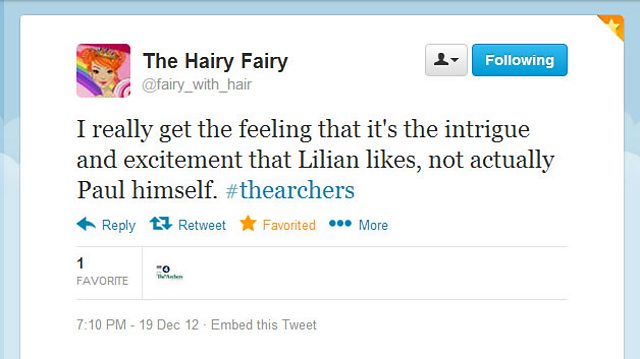 I really get the feeling it's the intrigue and excitement that Lilian likes..
Lilian's trip to Cheltenham and her meeting with Paul was hotly anticipated – but will Matt find out about their affair in time for a Christmas showdown?
Will Grundy's rant about his brother Ed had most agreeing that Will was "insufferable" and they praised Eddie for telling his son some home truths.
Over in Ambridge Extra, the Horrobins are driving some listeners "completely nuts" whereas others are cheering them on.
And as Friday's theme tune was played out live by the BBC Philharmonic Orchestra as part of The Listening Project, listeners give their opinion on this break with tradition.
Here's my pick of listener discussions on The Archers message board, Twitter and Facebook between 13-19 December 2012
Lilian's trip to Cheltenham to see Paul caused some excitement. Would Matt find out? Would Mike and Vicky spot them canoodling in a coffee shop?
Lillian/Paul and Vicky/Mike heading to Cheltenham separately on the same day? What could go wrong? #thearchers (@Neiley on Twitter)                                                                   
I wanna go to Cheltenham! Shall I book a charabanc?#TheArchers (@lomelindi12 on Twitter)
But why is she bothering? They aren't married and have no children so what's the problem. She clearly doesn't fancy Matt anymore so why not move on? (little-dorrit on the message board)
I really get the feeling that it's the intrigue and excitement that Lilian likes, not actually Paul himself. #thearchers (@fairy_with_hair on Twitter) 
Matt and Paul are complete opposites. One loving and caring, the other really couldn't care less. Will do anything to further his ambitions. By fair means or foul. I know which one I'd rather be with…. Lil is a sex kitten. Make no mistake. It gives every other middle aged woman hope! (dualstargazing on the message board)
I'm guessing that the game will be up over the festive period so we can look forward to a good shouting match. (fireupmefergie on the message board)
Read all the gossip on the My my. Fagash thought quick on her feet thread on the message board.  
Will's conversation with his dad about Ed riled many but some think he deserves our sympathy. Many think it's time Clarrie banged their heads together, so to speak
God Willyum is completely INSUFFERABLE. Well said Eddie!!!#thearchers (@NixMelody on Twitter) 
 Go Eddie, Go Eddie, Go Eddie! (Perkin Redbreast on the message board)
Well done Eddie. That was long-overdue. Will deserved every word of that telling off. Let's hope the scales fall from his eyes after hearing the unvarnished truth. This has been a long time coming. The icing on the cake would be for him to go and whinge to Nic, who then tells him a few more home truths, before kicking him out! (Mieteka on the message board)
Thank goodness someone is finally telling him what a heel he is! (Miranda Fagandini on Facebook)
I hope he gets his comeuppance ! Horrid character ! He seems to forget he was no angel either !!! (Gillian North on Facebook)
And Clarrie might have something to say about it! Keep on whingeing Will, I've missed her. (careen on the message board)
If only Clarrie weren't off regenerating, she'd sort Wiwyerm. #TheArchers (@Wimblebear on Twitter)
 Will is one of my favourite characters. Thank goodness that George has one decent parent because Emma is a total waste of space. (Christine Jones on Facebook)
It's high time Will's crowing over Ed came back to bite him - hard! 2013 should surely be the year when Will get's a long overdue lesson in humility..... (BanquerBangersBaroness on the message board)
Well he doesn't wish his brother to succeed in life. After what went down............... why should he? I am baffled why Will having a rant in the company of his dad is beyond the pale. He hasn't actually done anything to harm Ed for a long time now.....  (ruralsnowflakebliss on the message board)
Why doesn't Eddie take Ed aside and tell him a few home truths, why must it always be Will that has to give in, kow tow, move on, while Ed remains goading and ungracious. (MrsMiggins on the message board) 
Add your thoughts to the message board threads: Will Will get his comeuppance? and Well said Eddie!  
Over in Ambridge Extra there are grumblings about the horrible Horrobins, but some think they're a breath of fresh air
#AmbridgeExtra proper messing with my sympathies today, snotty teacher persecuting Tracy, Clive beating up the loan-shark... (@Dukeleto77 on Twitter)
 EWWWWWW horrible Horrobins. #ambridgeextra (@TheodoreArt on Twitter)  
I preferred the series 1 & 2 system of interweaving 2 or 3 storylines at the same time… I don't mind Tracey, she's actually making me slightly sympathetic to her, and Clive is a good bad man again, but Donna is driving me completely nuts and Keith and Bert are no better. I really really would rather not know what they are doing. (ermintrude on the message board)
The characters are all unsympathetic, and the storylines are all grim and depressing. There is nothing to balance it all. (Lakey_Hill on the message board)
I find the Horrobins quite engaging. I would much rather listen to them than the smuggies (mostly Archers). (mike on the message board)
I think they are far more nuanced characters than we often get. There is good in all of them, however rough round the edges they are. Above all, there is humour. I had braced myself not to enjoy this series - the Horrobins wouldn't have been my choice of material - but almost despite myself I find myself cheering them on in their battles against the world. (Pat_Clifton on the message board) 
Join the conversation about Ambridge Extra on the message board.
And finally, the BBC Philharmonic Orchestra's rendition of The Archers' theme last Friday for The Listening Project surprised many
Goodness that was a shock! #thearchers (@toady on Twitter)  
#thearchers theme played by an orchestra, just surprising and lovely! (@perealphonse on Twitter)
 Can we have this one from now on? I Loved it! (toffee on the message board) 
#thearchers think we should have live orchestra every Friday (@iluvthearchers on Twitter)  
Merry Christmas!
Tayler Cresswell is host of The Archers message board.