'That went swimmingly' - Listener discussions to 26 June 2013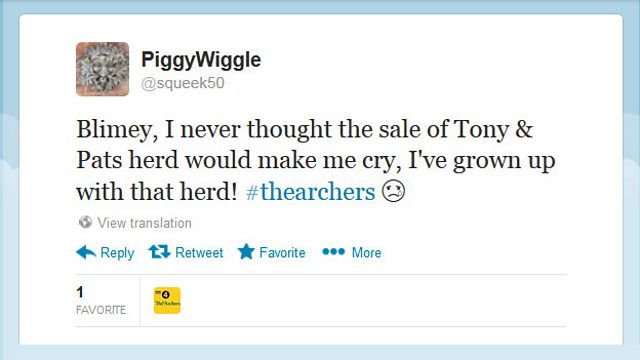 Post from @squeek50 on Twitter
As we say farewell to the Bridge Farm cows, many listeners admit to shedding a tear. But is romance and heartbreak heading Helen's way?
There's advice – and perhaps a job opportunity? – for Brenda, and concern for Clarrie. Plus more speculation about Matt and Lilian which spills over into the debate about Ambridge Extra – will you be tuning in?
Here's my pick of online discussions between 20 and 26 June 2013
 As the Bridge Farm cows went under the hammer, many listeners felt for Pat and Tony and there are concerns for Lonely Cow. Perhaps Pat should keep her?
Coming from farming stock, I'm finding the sale very difficult. #feelchoked #TheArchers (@WoodyBucks on Twitter)  
Selling Pat and Tony's herd - one of the saddest things on @BBCTheArchers. 'Give me your hand' had me in tears. #lonelycow #lonelypat (@JudithBuntingLD on Twitter)  
Strange how the only episode of the Archers in 20 years that has made me cry was today's where they sold off all the cows! #thearchers (@LizJRudd on Twitter)  
I was worried they would all be bought for the mega-dairy. (Lorna McLaren on BBC The Archers Facebook page)
That went swimmingly. I was expecting Pat clinging to a cow's neck screaming "no I won't let you go" & "Tom you're dead to me" (@debdev36 on Twitter)  
It's my guess that will Pat will take to her bed, never to get up again. (David White on BBC The Archers Facebook page)
Very much hoping Lonely Cow gets her own spin-off show. #thearchers (@dixewills on Twitter)  
They must find a couple of companions for the lonely cow. It is cruel keeping her on her own. I hope Tom is satisfied. He has a cash register where his heart should be. (Janice Betson on BBC The Archers Facebook page)
Helen seems to have other things on her mind. Is a romance looming between her and Rob? Many can see nothing but heartache ahead…
Flirting and cheese! I'm in heaven. (@SteveBrooks13 on Twitter) 
I actually really think Rob and Helen could be interesting. #theArchers (@kitty_gamble on Twitter)  
Helen, Rob has a wife tucked away somewhere!! Behave #TheArchers (@janeredrosa on Twitter)  
For goodness sake Helen, he has a partner and everyone is 'nice' when you first meet them. He is not kind to cows keeping them on concrete all their lives. (Lynda Everington on BBC The Archers Facebook page)
Stay well clear of him Helen. He is definitely not organic, although he appears to be free range. (Janice Beston on BBC The Archers Facebook page)
Definitely something dodgy with Rob - watch out, Helen, don't fall for another hopeless case with baggage #TheArchers (@SarahPlayfair on Twitter)  
Helen's heart....like a cut glass bowl, ready to shatter, yet again. Get thee to a nunnery. We'll survive *brave face* #TheArchers (@lomelindi12 on Twitter)  
Over at Willow Farm, Brenda seems to be having problems at home – and at work. Many think it's time she braved "life beyond Lakey Hill"
Poor Brenda had a lucky escape [from Tom] - now all she needs to do is get away from Amside and Ambridge and spread her wings. (Vivian Oldaker on BBC The Archers Facebook page)
@BBCTheArchers apart from anything else she needs to give her niece her bedroom back. (@janeknitstart on Twitter)   
Now that Caroline is rushed off her feet, that is an opening for Brenda to apply for. (Carol Lynne Smith on Archers Addicts Facebook group)
She's too flipping lazy! That girl has no drive. (January Jones on Archers Addicts Facebook group)
Time for Brenda to take time away from Ambridge. There is life beyond Lakey Hill. #thearchers  (@archerslistener on Twitter)  
Preparation for the Flower Festival is worrying some listeners who think that Clarrie isn't herself at the moment.
I cannot stand by and let Clarrie do this. Isn't there some Gardener's Question Time Emergency Rescue Number I can call? #TheArchers (@RadioAmbridge on Twitter)   
It's Clarrie's obsessive, aggressive approach to it that doesn't ring true. She's turned really nasty. (Sophie Cat on Archers Addicts Facebook group)
Please, men in white coats, come and fetch Clarrie #thearchers before you need to fetch me. (@JasperBarry2 on Twitter)   
"If you think squash is a competitive activity, try flower arranging." Alan Bennet (Jo Tomalin on Archers Addicts Facebook page)
As Lilian and Matt head off to Montenegro listeners speculate about what will happen next. Will she leave him? Will he admit that he knows about Paul?
Will Matt get caught for having Paul roughed up? (Hannah Warren on BBC The Archers Facebook page)
What will happen to the flat? When will Lillian confess? Is there a dodgy will twist? Will Lillian have a breakdown? Best story line for a while. (Chris Kondic on BBC The Archers Facebook page)
I previously asked....why hasn't anyone found Lilian's messages on Paul's mobile?? Surely one of Paul's children would have accessed it by now? (Sue Cee on BBC The Archers Facebook page)
I wish Matt would just come out and tell Lilian what he really thinks and feels. #TheArchers (@JillRowan1 on Twitter)  
Matt's not such a bad sort and he does really love Lillian. (Sir Kevin on The Archers blog)
I know Lillian has gone off Matt. But please can I have him? Furs? Jewellery? Foreign holidays? Yes please. (Katherine Dendle on BBC The Archers Facebook page)
And finally, with Ambridge Extra starting a new series on Tuesday 2 July over on Radio 4 Extra, listeners speculate on the storylines and debate whether they'll be tuning in
Let's see. Who else could be there? … Lil's foul son James and his ghastly girlfriend who would reveal [Lilian] as an alibi liar?  (Agnes Brown Montenegro on Archers Addicts Facebook group)
A kidnapping by Balkan insurgents? (Susan Baines on Archers Addicts Facebook group)
Oh no. Ambridge Extra is coming back. More confusion for those of us who can't bear to listen to it. #thearchers (@DustySubstances on Twitter) 
I'm unconvinced by Ambridge Extra normally but Matt & Lillian could persuade me #thearchers (@mylesrun on Twitter) 
I can't wait! Love Amex and get withdrawal symptoms when it's not on.  (Kathy Bartlett on Archers Addicts Facebook group)
Tayler Cresswell is The Archers' social media host.
Or join the discussions on Archers fan forums: