"They will probably arrest Vicky"- listener discussions to 11 July 2012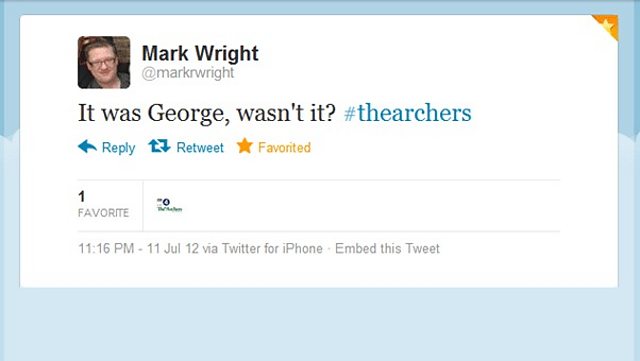 As Kenton drove Ruth up to her mum's to pick up the children, there was some praise for his calm, level-headedness in the light of the growing terror at Brookfield. And after Wednesday's fire, listeners turned detective to work out who'd done it.
There's some sympathy for "poor Hayley", having to deal with "selfish Kate" and with a husband with no backbone.
Darrell needs to watch out, according to listeners. Matt's dodgy dealings have some wondering just how bad he really is.
And over in Ambridge Extra, they're wondering if Kate be back in Ambridge before long. Or will Phoebe return with some "extra baggage"?
Here's my pick of listener discussions on The Archers message board, Twitter and Facebook between 5-11 July 2012.

Well done Kenton for keeping calm in the face of rising terror at Brookfield. But he's not always been so sensible - particularly when it comes to the lack of contact with his daughter Meriel over in New Zealand.
Ed & Kenton. Who would have thought that they'd be the most sensible pair in Ambridge!!! #thearchers (@Bethan1967 on Twitter)
The only person in this whole sorry episode who manages to take a balanced view.
I've always liked Kenton, and this demonstrates his very caring nature. (NewEssexWoman on the message board)
Kenton is the sort of bloke (as he would put it) who is very sensible at major crises in other people's lives. The bit he hasn't got the hang of is introducing this skill to his own. (Jacks Parakeet on the message board)
Kenton - 'care'? He hasn't seen his only child for years. When she was here, he dumped her on Kathy. (locki on the message board)
Good guy or bad lot? Share your views in the Kenton thread on the message board.

As the last of the embers glowed in Brookfield's barn on Wednesday night, listeners wondered who was behind the fire...
The voice sounded young to me. And quite shocked at the speed it took hold... I don't know why, but the first name I thought of was Jamie. (ladymarmalade on the message board)
I don't think it was a kid, Emma saw someone running away from the scene and called after them, sounds like she had a hint of recognition in her voice? (whistlinggnome on the message board)
I think Elizabeth is a possibility. (mike on the message board)
#thearchers well my money is on Daryl for the arsonist/threatening man. suddenly got money/nervous/ secretive. Knew the kids weren't there. (@Shoegalsedgwick on Twitter)
Obviously it's the ghost of Nigel.... Perhaps he was wearing his Dame outfit. In which case they will probably arrest Vicky (if my vision of Vicky's fashion sense is right). (Sidney-rabbit on the message board)
I think it's a Horrobin. No other reason for Keith suddenly sucking up to the village gossip. (Rachael2001 on the message board)
Air your suspicions in the Who do you think lit the fire? thread.
For reaction to Wednesday night's episode, see "Farmageddon" - listeners react on the blog.

It's been a sad week for Hayley. Her big plans for Phoebe's return were ruined after a call from Kate. There have been many discussions about their parenting styles (dull and dependable vs exciting and risky?) and whether Roy should have insisted on Phoebe coming home as planned. It seems the only consensus is that Kate is someone listeners love to hate...
Oh! That was so sad! Poor, poor Hayley. That child is going to break her heart... It will end in tears and not Kate's I dare say. (Skyebird on the message board)
Yes, that self righteous I'm in charge voice and Phoebe's sounding quite a lot like her. (mademoisellecompost on the message board)
Kate did not want to "keep her child." She positively threw her away. She is a very poor excuse for a parent, and should not go near a child. Hayley has given Feebs more parenting than Roy and Kate put together. (Dinah Shore on the message board)
Mind you, a choice between Hayley and Roy or Kate. That's like choosing between food poisoning or root canal work. (Stephen Āh Burroughs on Facebook)
I do so 'love to hate' when it comes to Kate but if 'Feebs' turns out like her mum then reluctantly I'll just have to 'share my love' between them! (Mizzle Snow n Whine on the message board)
Back on FULL insufferable form! I would almost say, 'Yippeee!' (mountetna2 on the message board)
I don't think Kate was deliberately rubbing it in to Roy and Hayley - she just didn't consider their feelings at all. (Elasticwoman on the message board)
Join the debate in the Poor Hayley! and I would like to kill Kate threads.

Don't do it Darrell! Matt's "dodgy deals" have some wondering how low Matt would stoop when it comes to business. And what will happen when Lilian finds out?
Daryl...please find yourself another job - you don't deserve to go back to HMP Borchester #thearchers (@Mistress_Fiona on Twitter)
I wonder if we're seeing the "real Matt" here. Shorn of all the property deals and the high-flying boardroom glamour, deep down in the core, Matt is simply a nasty piece of work. Perhaps Lillian will eventually see him for what he is, too. (Cuddly Giant Squid on the message board)
He's always been a bully, so I don't find that part hard to believe. I do find it surprising that he'd take the risk of doing anything dodgy given that he's got a record. Surely it's not worth the risk to him to go back to prison. (JustJanie - Fairweather Jogger on the message board)
Lil will find out at some stage. But will she do her Tammy Wynette routine? Again? (Froginasock on the message board)
Add your thoughts to the What's going on with Matt? thread on the message board.

Over in Johannesburg, Kate's affair with Johan in Ambridge Extra has raised a few eyebrows and many wonder if Kate will turn up in Ambridge before long. However, some think it'll be Phoebe coming home with some "extra baggage".
Good old Kate, she never lets you down. No wait, she ALWAYS lets you down. #AmbridgeExtra Loving it so far! (@TheBloopster on Twitter)
I'm enjoying juxtaposing the characters in Melville with the characters in Ambridge. And, so, to my mind, in this latest episode Delia is the new Jennifer: Successful dinner parties, makes a good pudding, is crafty, dresses for an occasion and thinks her son is marvellous. (orson cartier on the message board)
Sounds like Johann may be more the Brian type though... wonder if that's the subliminal attraction? (ermintrude on the message board)
I really like how they are experimenting with Ambridge extra first the thought streaming and now SA I really look forward to the episodes. The characters in SA are developing nicely and I really am pleased that Kate has not changed her horrid "gives Helen a run for self centredness" personality one iota. (Dailyfix on the message board)
Aren't Brian & Jennifer going to be surprised when Kate and the kids turn up expecting to be housed? (@SteveBrooks13 on Twitter)
What's the odds on Phoebe coming home with extra baggage that pops out in 9 months time? #ambridgeextra (@shepherd_999 on Twitter)
Join the Ambridge Extra discussion on the message board.

Tayler Cresswell is host of The Archers message board.