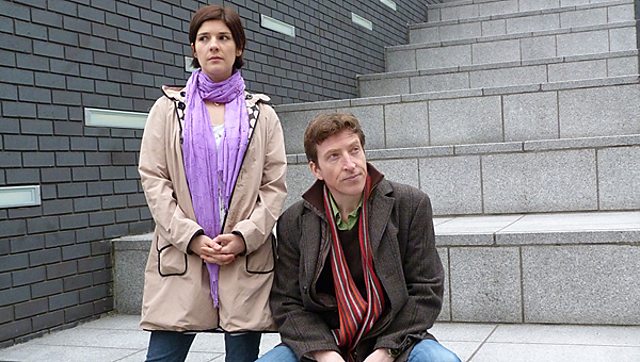 James and Leonie caused great excitement with their flight over Ambridge, but in Easter Monday's episode we only heard the before, during and after from the ground.
This exclusive online-only scene takes us into the helicopter itself. Decide for yourself whether Leonie was justifed in calling James a 'klutz'. You may even think he got off lightly...
The scene was written by Archers scriptwriter Adrian Flynn and directed by... er, me.

Update 16 April 2012 - some listeners using screen readers have not been able to access the audio, so here is a copy of the script:
1. INT. HELICOPTER. 1435 HRS
HELICOPTER ENGINE. JAMES AND LEONIE SPEAK THROUGH HEADSETS, SO THEIR VOICES ARE DISTORTED THROUGHOUT.
JAMES (HUMS 'THE RIDE OF THE VALKYRIES')
LEONIE (TETCHY) James...
JAMES (CONTINUES HUMMING)
LEONIE James!
JAMES What?
LEONIE You're doing it again.
JAMES Tch!
LEONIE We're approaching Ambridge. Not about to start a firefight in 'Nam.
JAMES What's wrong with a little music?
LEONIE It's very annoying.
JAMES Annoying is as annoying does, Leonie.
LEONIE What on earth that's supposed to mean?
JAMES Well, if you don't understand...
LEONIE (POINTED) Anyway, it's not just me.
JAMES Oh, Christian's in the zone. Always is when he's flying. Aren't you, Christian?
(BEAT. NO ANSWER)
JAMES (UNCONVINCING) See. Totally focussed on what he's doing.
LEONIE Fed up with you barking orders at him, more like?
JAMES I haven't been barking orders.
LEONIE You made us fly over Lower Loxley twice.
JAMES That wasn't my fault.
LEONIE No?
JAMES It's jolly difficult getting the exposure right up here.
LEONIE (INNOCENTLY) Despite all your experience in helicopters?
JAMES Ssh! (FUMBLES WITH CAMERA) We're almost there. (TO HIMSELF) O.k. Let's check the I.S.O... and the shutter speed. (ADJUSTING CONTROLS ON CAMERA)
LEONIE And the lens cap?
JAMES I only forgot to take it off because you were yammering on at me.
LEONIE To stop you mixing up Loxley Barratt Primary School with the finest stately home in the county.
JAMES (STOPS ADJUSTING CAMERA) That's it. What am I looking out for first?
LEONIE The Brownies Easter Bonnet parade.
LEONIE Tiny girls, brown uniforms, big hats? If only there was some clue.
JAMES Let me just...
LEONIE Hurry up. You've got a great view.
JAMES (WORKING CONTROLS ON CAMERA) Hold on. It's very contrasty.
LEONIE Quick! They're looking up and waving.
JAMES There's too much shadow. They need to move. (CALLS TO THE BROWNIES, FRUITLESSLY) This way!
LEONIE For goodness' sake!
JAMES Why don't they get what I mean?
LEONIE Perhaps they haven't passed their telepathy badge.
JAMES Good Lord.
LEONIE What?
JAMES On the green. A fight's broken out. They're belting each other with sticks.
LEONIE (WITHERING) I think you'll find those are Morris dancers.
JAMES I know! (RAPID SERIES OF SHOTS) Real Ale drinkers on heat. That's more like it.
LEONIE Get plenty of shots. I want a section on mumming plays in the book.
JAMES (DRY) That'll help it fly off the shelf. (BEAT) What are that lot doing?
LEONIE What?
JAMES In the pub garden.
LEONIE Dad said they're making the shape of bulls' horns, to signify the pub.
JAMES That's nothing like horns.
LEONIE Just take the photos!
JAMES They're at completely the wrong angle. (RAPID SERIES OF SHOTS) That's more like fingers.
LEONIE Oh, marvellous. So now we've got the pub sticking two fingers up at us.
JAMES (CAMERA STOPS) What on earth...
LEONIE What is it now?
JAMES (COVERING) Nothing, nothing. I just need to change the battery.
LEONIE You were going to do that when we left Lower Loxley!
JAMES If you hadn't been going on at me.
LEONIE Telling you to be prepared.
JAMES It's not a problem. Swing round the village again like a good chap, Christian.
LEONIE (FRUSTRATED) Ohh!
JAMES See if we can take in some farm buildings this time. (SNIFFS THEN QUOTES 'APOCALYPSE NOW') 'I love the smell of hay-barns in the morning.' (RESUMES HUMMING 'RIDE OF THE VALKYRIES'. FADE)

Keri Davies is an Archers (and Ambridge Extra) scriptwriter and web producer.