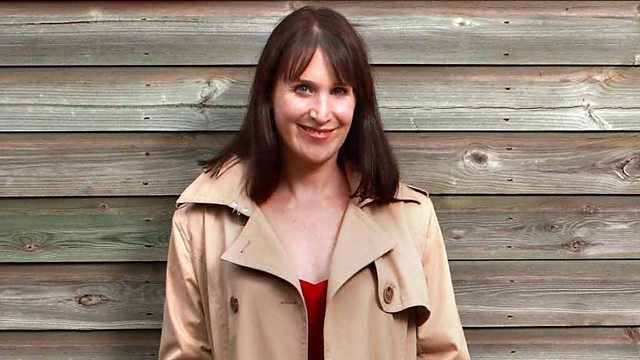 Amy Shindler (Brenda Tucker)
Amy Shindler (Brenda) is not just a talented actor. She has a strong track record in writing comedy scripts for television, too. And she's just achieved the holy grail of aspiring comedy writers – a series of her own, with writing partner Beth Chalmers. Pat and Cabbage starts next week.
My Family
One of Amy's first jobs as a writer was on three series of My Family, which was team-written in the American style. "I found it an amazing training ground", she said. "It was a masterclass in learning how to structure a sitcom and put together several different stories for an episode. But it was also quite challenging, because you had to pitch your lines across a large table of up to 14 or 15 people.
"It's different from the way we usually do it in this country, where you have a meeting with a producer and then you go off and create a script and then go through it with one person.  Usually you're not dealing with more than two people at a time."
Up to that point Amy and Beth (whose beautifully modulated tones you may have heard on Quote Unquote) had mainly written sketches for other people's shows. "We were still pretty junior at that point and in terms of narrative comedy we didn't really know what we were doing. So I was really lucky as a young writer to get a chance to train like that. You work fast, you produce a show a week and there are lots of challenges like turning round an episode in seven to ten days, taking lots of notes, learning how to structure. Structure is a real beast and it kind of went in by osmosis, having to do it day after day."
Amy and Beth subsequently worked on a series called Threesome for Comedy Central. And Amy herself recently wrote two episodes of Trollied, which is out at the moment on Sky.
Pat and Cabbage
The new series focusses on two women in their 60s. "They've come out of relationships for different reasons. They're finding their feet and helping each other out and having a laugh. And it's also about their families and what it means to be the age we all are.
"When I was at school, I was told to help OAPs across the road. But my father is now in his 60s and he's on an exercise bike every day, so I think that the meaning of age has changed. People are living at home into their 30s and 40s sometimes, or moving back home after experiencing divorce and not being able to afford mortgages themselves.
"When we were writing it, we were thinking a lot about the baby boomer generation and those 60s kids who saw enormous social changes and who are now officially pensioners. If projected ages are correct and they're going to live into their 90s or longer, then they're not really in their twilight years. They're somewhere else and we've got to change our thinking about where we all are and how we're going to live."
The title roles are played by Barbara Flynn and Cheri Lunghi. "Beth and I are keen to write good comic parts for women. Traditionally there haven't been many. Women tend to be cast as foils or in various unflattering stereotypes, so we've got lots of female characters in this.
"But it's also about their families. We cover things like is it fair to ask your parents for your inheritance while they're still alive, if you can't afford a mortgage and they're having a comfortable retirement. But we're trying to approach it through comedy – as best we can!"
Keri Davies is an Archers scriptwriter and web producer