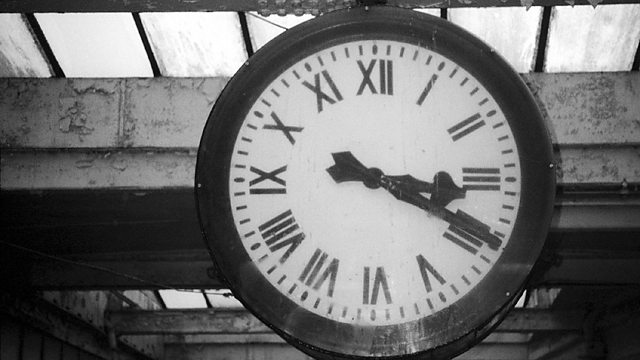 As featured in the film Brief Encounter
You may have noticed more than a passing similarity between tonight's episode of The Archers and Noel Coward's film Brief Encounter. Here's the inside track from the scriptwriter, Nawal Gadalla.
Writing a set piece in The Archers is a sweet responsibility. So when our editor Vanessa Whitburn suggested an episode for Paul and Lilian based on Brief Encounter, my creative motor started running.
The immediate image that sprung to my mind was of Celia Johnson with a piece of grit in her eye. I knew I wanted Lilian to experience the same. And I needed a third person to act as a foil to Paul and Lilian. The obvious choice was the Dolly Messiter character, who cuts into Laura and Alec's poignant last meeting like a blast of unwelcome steam. I called her Connie and gave her the same chatty, intrusive role. She is the express train to their two local trains.
It's easy to forget that in the film Laura and Alec meet at many locations. We tend only to place them at Milford Junction because those scenes are iconic. Their two trains pull away in different directions, symbolising their lives ultimately moving in different directions.
Logistics
We'd already established that Cheltenham was one of Paul and Lilian's special places. But I had typical Archers logistics to think about. Would Lilian need a platform ticket?  Was there a platform level café at Cheltenham Spa?
Paul couldn't come from the west towards Paddington when he alighted from his train, because Connie would have boarded the same train to go on to London, and I needed her for the rest of the episode. So I had Paul's first train coming from the north, en route to Cardiff Central.
Why was Connie forced to sit at their table? I had to invent a large party of tourists, in order for the café to be busy at that time in the afternoon.
I'm not sure that TV soap writers would lose sleep over these details, but Archers listeners are sharp.
Compare and Contrast
Aside from how they sounded, the other obvious difference between then and now is the sense of social shame that Laura, in particular, felt. She can't bring herself to be unfaithful. Paul and Lilian are already lovers, so instead I tried to create a kind of inhibited longing in their dialogue.
A parallel between the two couples could be the underlying sense of hopelessness in an affair, in which no one wants to leave their partner.
Spot the homage
You may recognise these direct quotes:
Lilian: "No, I've got something in my eye."

 

Connie: "Try pulling your eyelid out as far as it will go, and then blowing your nose."

 

(I had to get that one in!)
Lilian, about her eye: "It was agony".
Lilian "You suddenly look much younger"
Paul: "We've still got a few minutes."

 
I was also delighted to squeeze in the following exchange, before Connie bursts in:
Paul: "Are you all right darling?" 
Lilian: "Yes, I'm all right." 
Paul: "I do love you (Lilian). With all my heart and soul"
And I referenced:
Churley – Alec's station in the film
Johannesburg – where he plans to go and work as a doctor with his brother
The grit in the eye
Bath buns
A boating lake
Dolly (Messiter in the original). She is Connie's friend who has been looking after her cat
And of course Lilian dashing out of the café at the end – not to throw herself under a train, but to get away from Connie. In the film, Laura comes back in to the café, and Dolly buys her a brandy. In the scene, I have Connie saying, "What I really need's a brandy!" 
I hope you enjoyed the episode. While writing it, I assiduously avoided looking up Victoria Wood's spoof, where Laura carelessly rams a mince pie into her eye!
Nawal Gadalla is an Archers scriptwriter