"Lock up your silver Alan , Clive's coming" - listener discussions to 9 November 2011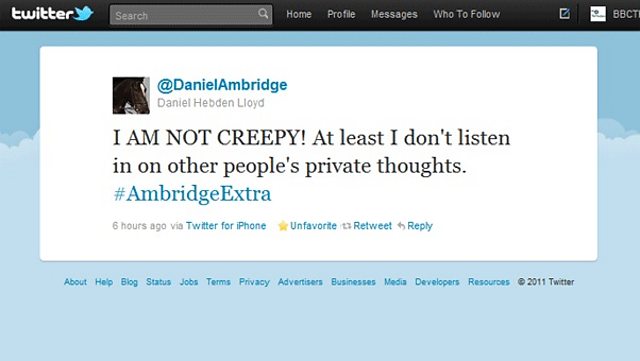 Plans for Ivy's funeral and the seating plan for Peggy's lunch - bets are on for which will host a "full on punch up" - the Archers or the Horrobins?
Memories of Sharon Richards, her undies, and her relationship with John Archer have surfaced - bringing with them some speculation.
Elona's arrival in Ambridge has started a debate about why listeners do and don't like her. In Ambridge Extra, Neil is hailed a hero after his confrontation with Clive, and on Twitter, one "@DanielAmbridge" insists he's "NOT CREEPY!"
Here's my pick of listener discussions on The Archers message board, Twitter and Facebook between 4-9 November 2011.

As plans for Ivy's funeral come together, some wonder if the Horrobins will cause problems in The Bull as Tony predicted on Wednesday...
Lock up your silver Alan , Clive's coming. #thearchers (@Airscraper on Twitter)
Cloive will have the brass off the casket before it goes through the curtains in any event. (Feral_Ralph)
Horrobins "like half a dozen ferrets in a sack"...don't go blaming Eddie, Tony! #thearchers #archers (@DustySubstances on Twitter)

Tony was almost universally lambasted on Friday after his row with Jennifer ... will his disparaging remark about the Horrobins' come back to haunt him if everyone ends up at loggerheads at Peggy's birthday lunch?
Oh for god's sake Tony GIVE IT A REST!!!! #thearchers (@pboropixie on Twitter)
#TheArchers Well i for one am enjoying Tony's passive aggression. Plus, a classic "Byeeeee" tonight i thought. (@ThatJoelFella on Twitter)
So Tony doesn't want to sit by Jenny - Brian will not want to sit by Matt, Tom will not want to be next to Tony or Helen... I suggest they have a Buffet ! (fabsupergran)
If it were me I'd put Tone next to JennyDahhhling, Brine next to mAdam, Kenton next to Jill or possibly St Shugs, light the blue touch-paper and retire to a safe distance (100 yards)! (mountetna2)
Will Kenny Boy be invited alone or with his latest bit of stuff? (MsMumbo-Jumbo)
Add your suggestion for the seating plans in the Oh put a sock in it Tony thread.
And get exasperated in the Tony - what a twit! thread.

Bless Tom Archer - his offer to Helen and his parents of "a share in my success" had some listeners laughing out loud
I'm offering you a share in my success. Oh thank you, thank you SWs! A real laugh out loud moment, the SLT at his very best. (loveinamist)
Come now, Lovers - have some respec'. Tarm has sold another 10 packs this week alone. At PREMIUM prices, for a PREMIUM product remember: that's at least another £36 in turnover. (RS Acre)
Is he also offering a share of what he owes Peggy? (JacksParakeet)
Can't believe I'm saying this but: Team Helen. #thearchers (@stevenperkins on Twitter)
Read all about it on the message board.

With the re-appearance of Sharon Richards and her daughter Kylie, there's been a huge amount of speculation about where this storyline is heading. Most were delighted to hear that Kylie had made it to University.
How wonderful to hear from Sharon and (at one remove) from Kylie, it takes me back to the days of the caravan, let's hope there's a fight at the funeral. (Crispin Taylor)
So, another child answered the phone. IT'S JOHN ARCHERS, ISN'T IT? (BTW, We all cheered when we heard Kylie was at university didn't we?) (JoLean)
I REALLY want a little FitzArcher to stir up the village and put Henry's nose out of joint. With any luck he'll look just like his dad. (dean volcape)
I'd love this to be John's child. As he was so involved with Hayley at the time of his death, it would have been sensible of Sharon to sneak off and have a baby elsewhere, rather than create further distress for Pat and Tony. But it would be great if Henry could be upstaged by another grandchild! (shulascat)
The rightful heir to the sausage empire? (Nelson_G)
Get the gossip in the Sharon, kylie & John's child thread on the message board.

As Elona and her family move into Ambridge's No 3 The Green, listeners debate her good and not-so-good points...
Well I suppose it's not my husband she's taking care of. Peggoi believes every word she says. Peggoi must love it, because she does nothing but grovel. (binocular)
I think she has a sinister side, perhaps to be revealed later. She certainly knows how to manipulate (ANDROMEDAKRAKEN)
I think she is great. Her personality really fits with her profession, she is sweet and kind. I'm actually already starting to loathe Darryl before we even meet him because he sounds like an idiot who is just making this nice woman's life so much harder than it has to be... Now that she is in the village, I can imagine her really coming into her own...
(statesidefan)
Add your thoughts to the Why do I not like Elona? thread.

In Ambridge Extra, listeners are giving Neil a well deserved pat on the back after his run in with Clive on Tuesday. And "Daniel" on Twitter insists he's "NOT CREEPY!"
I AM NOT CREEPY! At least I don't listen in on other people's private thoughts. #AmbridgeExtra (@DanielAmbridge on Twitter)
Lots of testosterone flying round AmEx this afternoon. Well done chaps but watch your backs all the same (Janluke)
I have always liked Neil but recently he has been a really great. Standing up to the horrible Clive, doing Ed's job in telling him to leave Emma and the kids alone, supporting Susan so well in her grief, having insight into how Emma resents not being the centre of attention and even giving Tony great common sense advice in a sensitive manner. He really is an unsung hero IMO. (Dailyfix)
Isn't he great! Such an example for Daniel, too. Good for them both. (Bette)
Neil and Clive, photos and bin bags, just how real life is. The actor playing Neil conveys his resentment/anger with Clive very realistically... looking forward to the next episode. (AustralianJulie)
Join the Ambridge Extra conversation on the message board.

And one listener (@jamspangle) has set up an Archers' bird watch (or rather, 'listen') on Twitter using the #TAbirdlist hashtag.
#TAbirdlist I'm sure I heard the strangled cry of a godwit in the background as Susan was droning on. #thearchers (@BarwickGreenon Twitter)

Tayler Cresswell is host of The Archers message board.