'Yay, Clarrie's back!!!' – listener discussions to 13 February 2013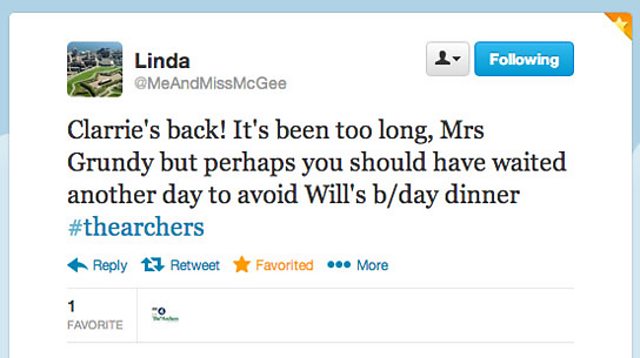 Post from @MeAndMissMcGee on Twitter
It was a case of irreconcilable differences between listeners as Lilian and Paul's relationship got the Brief Encounter treatment.
Meanwhile, Clarrie received a warm welcome back – though some couldn't quite put their finger on what was different about her.
Polarising opinion throughout the week was Pip, whose recent fits of pique have been condemned by some but applauded by others.
Here's my pick of listener discussions on The Archers message board, Twitter and Facebook between 7 and 13 February 2013.
Inspired pastiche or poor imitation: those were the two main responses to Lilian and Paul's emotional meeting at the railway station.
At last a script with a sense of humour/irony. Absolutely loved it. (Joanbunting on the message board) 
Loving the campness of #TheArchers tonight. I'm sure they are pandering to the whims of the Sunday morning tweetalongers (@Whyjay99 on Twitter)
 Sorry if this has been said, but the 'Brief Encounter' spoof lightened up the tedious Lilian/ Paul story. Well done. And we all know that Trevor Howard played a real cad!! Paul is a needy manipulative pain, and I hope Lills chooses her Tiger; they rub along just as they should at their age. Time to stop behaving like a teenager, Lills. (cat_lady on the message board)
 Enough with this tawdry affair - no amount of gimmickery can begin to make it either palatable or believable. (Claire Kulagowski on Facebook)
What annoys me is that some of us over the years have bought into the idea that Ambridge etc is real, but in a paralell universe. These sort of self-indulgent pastiches … totally demolish any sense that it is anything other than a contrived soap (peter-francis on the message board) 
#thearchers I wasn't impressed with the Brief Encounter pastiche. The Archers is not a sketch show after all. (@Monx61 on Twitter)
 Have your say on the message board: How very Brief Encounter! 
Returning to Ambridge after something of a break, Clarrie was welcomed back with enthusiasm – and the odd conflicted emotion.
The old/new Clary Grundy makes appearance tonight I'm happy/sad #thearchers (@ElaineCottrell on Twitter)
 It's great to hear Heather Bell, the original Clarrie again. (Rosie T on the message board) 
It was lovely to hear her again. You'd have thought they'd have checked the toilets in the Bull a bit more carefully over the last 30 years or so. (old cath on the message board) 
Yay, Clarrie's back!!! #thearchers (@DaveWhe on Twitter)
 My friends don't get why today is so flipping exciting!! @BBCTheArchers #TheArchers #Clarrie #HeatherBell (@Alexjh9 on Twitter)
 Gosh Clarrie, you sound sort-of not like you today. It's almost as if you were a different person #TheArchers (@LisaSays on Twitter)
 Read more in the Clarrie Grundy and Clarrie came back threads on the message board
Elsewhere, sides were being taken as "arrogant" Pip gave "curmudgeonly" parents Ruth and David cause for concern.
What a nightmare she is being, thoughtless, arrogant, and a right pain in the behind... She's growing on me... (EsmeandSebastiansGrannyNic on the message board)
Agreed she is awful. However at her age I would not have expected my parents to organise how I would spend my birthday without THEM asking if I would like to go along with it. (Heliganhoney on the message board) 
Feeling sympathy - bizarrely - with Pip. Ruth & David the parents from hell. #thearchers (@bevclack on Twitter)
 Were David & Ruth #thearchers never young? Or were they just born curmudgeonly? (@AdamSuzanne on Twitter)
 It can't be much fun for Pip to be tied to the farm when she's just discovering freedom (Susan Temple on Facebook) 
If she were 16, I might forgive the way she is behaving, but she's nearly 20! It's appalling. (Lakey_Hill on the message board) 
 Pip has slipped back into full-blown whiney brat mode. A touch old for this stropping surely? (Annette JayCee on Facebook)
I usually defend Pip, but her selfishness knows no bounds at the moment. #thearchers (@myates263 on Twitter)
Old enough to remember Pip as a baby, all she ever did was cry. Ruth often at end of tether. Nothing changes. @BBCTheArchers  (@BikerBid on Twitter)
Should Ruth and David give Pip a break? Join the debate online.
 Finally, some listeners are suspicious about why the horsemeat scandal hasn't been a topic of conversation – particularly for Tom.  
No mention of the meat crisis and Tom doing ready meals very strange (Sue Jones on Facebook)
Will there be a topical insert about the horse meat scandal? I can hear Tom talking about his superior pork dishes not containing horse. (elizabeth church on the message board)
I note the horse meat scandal hasn't been a subject of discussion in #thearchers. They obviously have bigger concerns. (@felixrandal on Twitter)
 Anyone seen Bartleby? (joe on the message board)
Read all about it in the Horse meat thread. 
Tayler Cresswell is host of The Archers message board.